Dhaka-Kuala Lumpur to sign MoU on defense training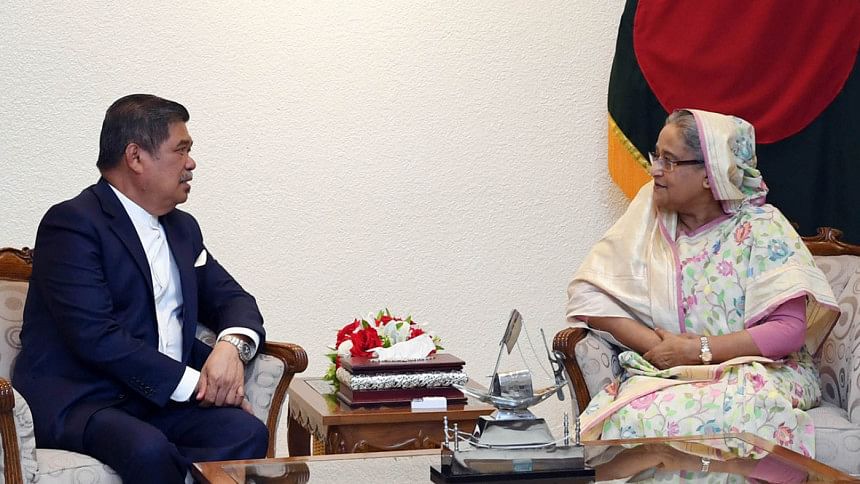 Bangladesh and Malaysia are preparing to sign a Memorandum of Understanding (MoU) on defense training and technical cooperation.
It was told in a meeting with Prime Minister Sheikh Hasina and visiting Malaysian Defense Minister Mohamad bin Sabu at Prime Minister's Office (PMO) in Dhaka today.
PM's press secretary Ihsanul Karim said the prime minister and Malaysian minister discussed the issues of cooperation in defense sector, Rohingya and matters of other mutual interests.
The press secretary said the prime minister laid importance on continued international pressure on Myanmar to take back their nationals. She said an island is being developed to relocate the Rohingyas to facilitate them to live in a better condition.
Malaysian minister appreciated the gesture of Bangladesh for giving shelter to a large number of displaced Rohingays saying his country would continue support for repatriation of the Myanmar nationals to their homeland.
The prime minister conveyed her greetings to Mahathir Muhammad as he was elected as the prime minister of Malaysia. She also greeted Mohamad bin Sabu for being elected in the parliament of Malaysia and becoming the defense minister in the cabinet of Mahathir Muhammad.
The press secretary said the Prime Minister and Malaysian minister expressed satisfaction over very excellent brotherly relation between the two countries and agreed to continue to promote this relation for promotion of mutual relation of the two countries.
Sheikh Hasina said resourceful countries of South and South East Asian region can expedite their development through cooperation. She recalled her visit to Malaysia in December 2014.
Sheikh Hasina briefed the Malaysian minister on Bangladesh's progress in the agriculture sector, success of research in producing saline and drought tolerant rice and archiving self sufficiency in food production.
The prime minister emphasized on greater integrity of Muslim countries saying the fratricidal conflict is unfortunate.
Mohamad bin Sabu praised Bangladesh's overall development under the leadership of Prime Minister Sheikh Hasina saying 7.78 percent GDP growth is highly appreciable.
Principal Secretary to the Prime Minister Md. Nojibur Rahman, Principal Staff Office of Armed Forces Division Lt General Mahfuzur Rahman and PM's Military Secretary Major General Mia Muhammad Zainul Abedin were present.