Sacked Catalan leader freed on bail in Belgium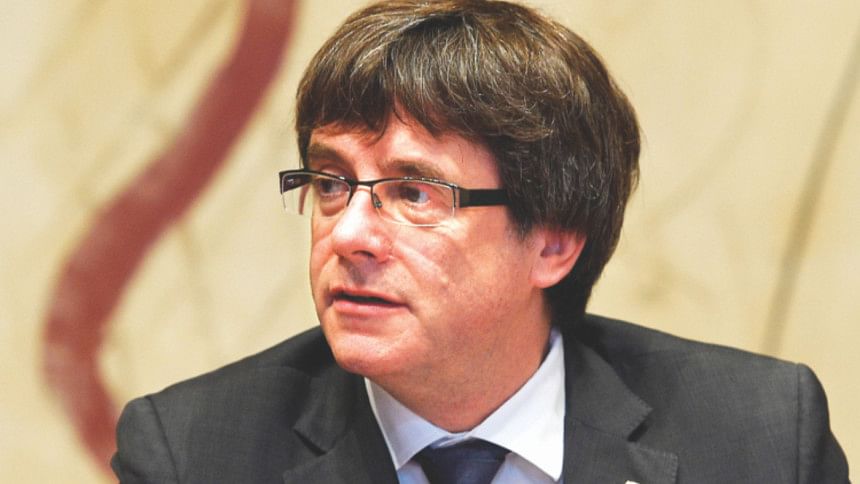 Catalonia's sacked separatist leader Carles Puigdemont and four of his former ministers were released with conditions in Belgium on Sunday after turning themselves in to face a Spanish warrant for their arrest.
A judge ordered the five, who fled Spain earlier this week after being accused of rebellion and sedition, not to leave Belgium until their extradition case is heard.
It is the latest twist in the crisis unleashed by the Catalan separatists' push to break away from Spain, sending shock waves across Europe.
'Fair and impartial' process
Puigdemont and his allies escaped to Belgium last Monday after Spain dismissed the Catalan executive and imposed direct rule on the semi-autonomous region following the declaration of independence by the parliament there last month.
"They were taken into custody at 9:17 am (0817 GMT)," said Gilles Dejemeppe, a spokesman for Belgian prosecutors.
A white van believed to be carrying Puigdemont raced out of the Belgian prosecutor's office around 15 hours later, AFP reporters witnessed.
"The request made this afternoon by the Brussels' Prosecutor's Office for the provisional release of all persons sought has been granted by the investigative judge," said the statement by the prosecutor's office shortly afterwards.
The next court hearing will be in the following 15 days. Belgium has up to 60 days to decide whether to send the Catalans back to Spain.
Puigdemont's PDeCAT party said Sunday that he had turned himself in to show his "willingness not to flee from the judicial process but to defend himself in a fair and impartial process, which is possible in Belgium, and highly doubtful in Spain".
Puigdemont wrote on Twitter on Saturday that he and his colleagues -- Meritxell Serret, Antoni Comin, Lluis Puig and Clara Ponsati -- would cooperate with the Belgian authorities.
Spain issued European arrest warrants on Friday after Puigdemont and his allies ignored a summons to appear before a judge on allegations linked to the move to declare Catalonia an independent republic.
The judge in Madrid had on Thursday put Puigdemont's deputy and seven other deposed regional ministers behind bars because of a risk they would flee.
'Political influence'
Puigdemont, 54, insists that Catalonia earned the right to declare independence following a banned referendum last month and has described his detained colleagues as "political prisoners".
On Sunday, protesters in Catalan cities took to the streets to demand their release.
In Barcelona, city police said about 350 people gathered on the central University Square, shouting "Freedom" and carrying posters that read "Freedom for political prisoners".
Others stuck posters demanding their release on walls throughout the city.
Puigdemont said he was not convinced by guarantees of a fair trial back home, denouncing the "enormous pressure and political influence on judicial power in Spain."
The judge could "refuse to hand over Puigdemont if there is a proven serious risk to his fundamental rights," said Anne Weyembergh, president of the Institute of European Studies at the Free University of Brussels.
She said the court would need to see evidence of criminal offences before executing the warrant.
But cases of refusal are rare, according to several lawyers interviewed by AFP.
Election candidate
Puigdemont, who still describes himself as Catalonia's "president," has also said he is willing to run as a candidate in the December 21 regional election called by Prime Minister Mariano Rajoy to "restore normality" to Catalonia.
"We want president Puigdemont to be the person who leads the big offensive we will carry out on the 21st at the polls," said Marta Pascal, a PDeCAT spokeswoman.
She said the conservative, pro-independence party was looking to put together a "big united list", a day after Puigdemont himself called for separatists to unite in the election.
During the last regional election in September 2015, Puigdemont's PDeCAT and the leftwing ERC party joined for a "Together for Yes" coalition in Catalonia, a region of 7.5 million people.
With the help of the separatist far-left CUP party, they held an absolute majority in the 135-seat Catalan parliament, which was swiftly dissolved by Madrid under a never-used constitutional move after the October 27 independence proclamation.
But there have been growing tensions between the two allies over strategy and it is not clear if they will stand together again.
ERC leader Oriol Junqueras has been in custody since Thursday along with other members of Puigdemont's dismissed government who did not flee to Belgium.
Opinion polls published in several newspapers Sunday indicated that the ERC would come first in the December election, but that the independence coalition as a whole could lose its absolute majority.
But Puigdemont's party, which has been in power in the wealthy northeastern region for much of Spain's modern democratic era, would come fourth, the surveys suggest.