Spain to grab Catalonia powers as crisis intensifies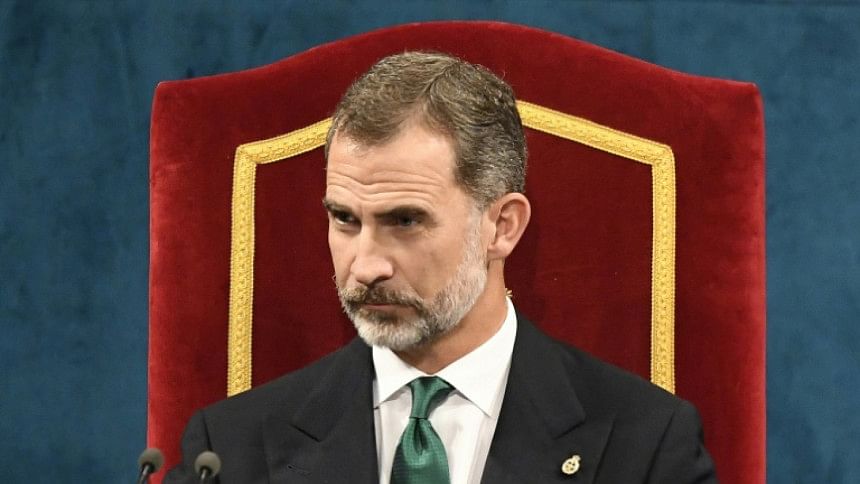 Spain will on Saturday take unprecedented steps to seize powers from Catalonia's separatist government after Madrid won powerful backing from the king and the EU in its battle to keep the country together.
Prime Minister Mariano Rajoy will meet with his cabinet at 10.00 am (0800 GMT) to set out specific powers it plans to take away from the wealthy northeast region, which currently enjoys wide autonomy including control over its own policing, education and healthcare.
The measures -- which take the country into uncharted legal waters -- come after Spain's King Felipe VI on Friday blasted what he said was an "unacceptable secession attempt" and said the crisis sparked by the region's banned October 1 independence referendum must be resolved "through legitimate democratic institutions".
"We do not want to give up that which we have built together," he pleaded.
Madrid enjoys constitutional powers to wrest back control of rebellious regions in one of the Western world's most decentralised nations, but it has never used them.
Autonomy is a hugely sensitive issue in semi-autonomous Catalonia, which saw its powers taken away under Spain's military dictatorship. Home to 7.5 million people, the region fiercely defends its own language and culture.
'Critical point'
There are fears of unrest if Madrid seeks to impose direct rule of any kind, and Catalan leader Carles Puigdemont has said such a move could push regional lawmakers to declare unilateral independence.
But Rajoy said Friday that Spain had reached a "critical point" after weeks of political limbo and that his government had to act to stop the rule of law being "liquidated".
Rajoy is likely to announce plans to take control of Catalonia's 16,000-strong police force, the Mossos d'Esquadra, whose leader Josep Lluis Trapero could face up to 15 years in jail on sedition charges for failing to contain separatist protests ahead of the referendum.
Madrid could also seek to force new elections -- its preferred solution to Spain's most protracted political crisis since it returned to democracy in 1977 -- as early as January.
Rajoy is due to hold a press conference early Saturday afternoon to announce his plans, which must pass through the Senate where his conservative Popular Party holds a majority -- a process that would take about a week.
Speaking on Friday night at the Princess of Asturias Awards -- Spain's answer to the Nobels -- King Felipe described Catalonia as "an essential part of 21st century Spain".
'Hellish mess'
EU leaders, who were at the ceremony to collect a prize for encouraging harmony in Europe, used their acceptance speeches to demand respect for the law in words that offered implicit backing to Madrid.
"Some are sowing discord by deliberately ignoring law," Tajani said at the awards night in the northern city of Oviedo.
He added pointedly: "All too often in the past the prospect of redrawing borders has been presented as a heavenly panacea that has resulted in a hellish mess."
As tensions continue to run high, independence supporters are set to rally in Barcelona Saturday evening calling for the release of Jordi Cuixart and Jordi Sanchez, the leaders of two powerful grassroots separatist groups who have been in jail since Monday pending investigation into sedition charges.
Puigdemont says he has a mandate to declare independence after the referendum, which his administration says resulted in a 90 percent Yes vote.
But turnout was given as only 43 percent as many Catalans who back unity stayed away from the banned vote.
Accounting for about a fifth of Spain's economic output, Catalonia is evenly split over whether to break away from Spain, according to polls.
Supporters say the wealthy region does too much to prop up the rest of the national economy and would thrive if it went its own way, but opponents say Catalonia is stronger as part of Spain and that a split would spell economic and political disaster.
Nearly 1,200 companies that have shifted their registered domiciles to other parts of Spain since the referendum, hoping to minimise instability.
Madrid this week cut its national growth forecast for next year from 2.6 percent to 2.3 percent, saying the standoff was creating uncertainty.