Spain set to impose direct rule in Catalonia as crisis spirals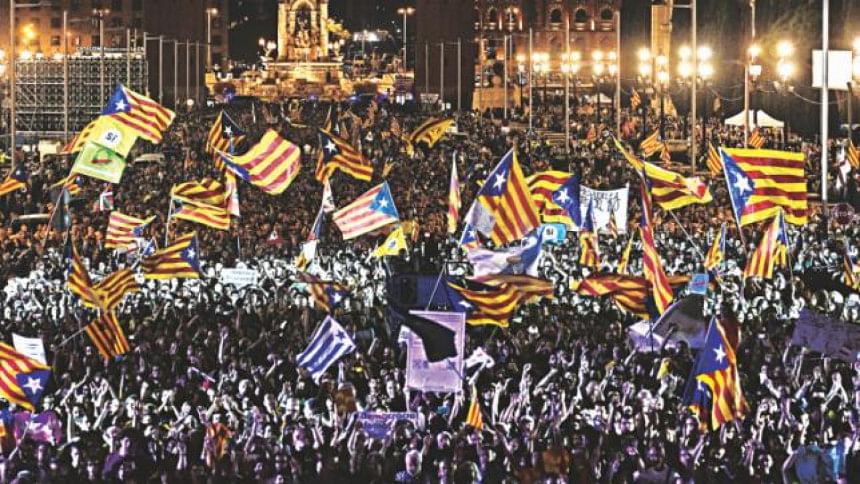 Spain prepared to impose direct rule in Catalonia on Friday, an unprecedented step that risks sparking unrest with secessionists calling on the Catalan parliament to make a defiant declaration of independence.
The upper house of Spain's parliament - the Senate - convened at 10:00 am (0800 GMT) to consider the government's application of Article 155 of the constitution that allows the central administration to take over a region when it breaks the law.
But there was great uncertainty over how this would work on the ground and whether Catalans would accept it. Some independence supporters have promised a campaign of civil disobedience.
The crisis has split Catalonia and caused deep resentment around Spain. It has also prompted a flight of business from the wealthy region and alarmed European leaders who fear the crisis could fan separatist sentiment around the continent.
The authorisation of the Senate, where Prime Minister Mariano Rajoy's People's Party holds an absolute majority, is a necessary step for the government to impose direct rule. A vote in the chamber was expected by 2:00 pm (1200 GMT).
Rajoy was then expected to convene his cabinet to adopt the first measures to govern Catalonia directly. This could include sacking the Barcelona government and assuming direct supervision of Catalan police forces.
What could happen in the regional parliament of Catalonia, which was due to meet at noon (1000 GMT), was unclear.
When he ruled out a snap regional election on Thursday, Catalonia's president, Carles Puigdemont, said it was now up to its parliament to act on a mandate to break from Spain following an independence referendum on October 1.
The referendum, which drew only a 43 percent turnout as Catalans who oppose independence largely boycotted the vote, was declared illegal by Madrid and national police used heavy-handed tactics to try to stop it.
Puigdemont made an ambiguous declaration of independence on October 10, which he immediately suspended to allow for talks with the government.
But no discussions were held and Puigdemont later spurned an invitation to appear before the Senate to explain his position.
The Catalan assembly could decide to simply lift this suspension, make a more explicit declaration of independence or put a formal motion to split from Spain to a vote.
Gabriel Rufian, a Catalan lawmaker in Spain's parliament, said a vote would likely take place. "I know for sure that there is a deal on this," he said.
None of these options was expected to have any direct consequence as Spain's constitutional court would immediately block any claim for statehood and other countries have made clear they would not recognise Catalonia as an independent state.
Pro-independence supporters started to gather outside the parliament where a demonstration was called from 10.30 am (0830 GMT).