Paris climate deal 'more likely'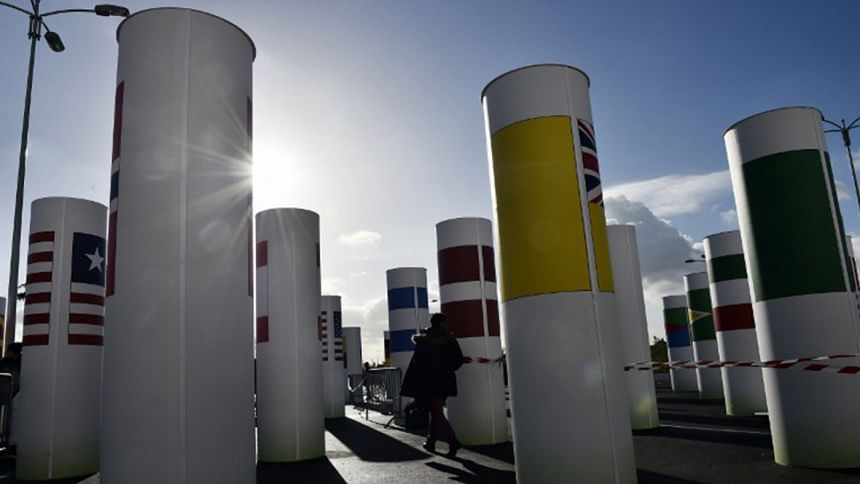 Nearly 150 global leaders are gathering in Paris on Sunday for a critical UN climate meeting, amid tight security.
The conference, known as COP21, will attempt to craft a long-term deal to limit carbon emissions.
Observers say that the recent terror attacks on the French capital will increase the chances of a new agreement.
Around 40,000 people are expected to participate in the event, which runs until 11 December.
The gathering of 147 heads of state and government is set to be far bigger than the 115 or so who came to Copenhagen in 2009, the last time the world came close to agreeing a long term deal on climate change.
While many leaders including Presidents Obama and Xi Jinping were always set to attend this conference, the recent violent attacks in Paris have encouraged others to come in an expression of solidarity with the French people.
Unlike at Copenhagen, the French organisers are bringing the leaders in at the start of the conference rather than waiting for them to come in at the end, a tactic which failed spectacularly in the Danish capital.
Considerable differences
Delegates are in little doubt that the shadow cast over the city by the attacks will enhance the chances of agreement.
"I believe that it will make a deal more likely, because what I feel from the parties is that they are very eager to move," said Amjad Abdulla from the Maldives, who chairs the Alliance of Small Island States in the negotiations.
A former UK government adviser on climate change and now chairman of environmental think tank E3G, Tom Burke, believes that some leaders will push the line that, by tackling rising temperatures, you remove one of the causes of terrorism.
While the mood music around the event is very positive, there are still considerable differences between the parties.
Security for the summit
-Already planned to be tight even before the attacks
-Following the attacks, border controls temporarily imposed. They were set to begin on 30 November anyway
-Almost 1,000 people considered security risks refused entry since 13 November
-8,000 police and gendarmes to carry out border checks
-2,800 of them at the conference venue at Le Bourget north of Paris
-120,000 police and troops already mobilised across France since the attacks
-Sale and transport of flammable materials such as gas cylinders, domestic solvents, barbeque firelighters and firecrackers banned until 13 December
-Some major roads to be closed for two days
One key problem is what form an agreement will take. The US for instance will not sign up to a legally binding deal as there would be little hope of getting it through a Senate dominated by Republicans.
"We're looking for an agreement that has broad, really full participation," said US lead negotiator Todd Stern at a news briefing earlier this week.
"We were quite convinced that an agreement that required actually legally binding targets would have many countries unable to participate."
Many developing countries fundamentally disagree. As does the European Union.
"We must translate the momentum we have seen on the road to Paris into an ambitious, operational, legally binding agreement," said EU commissioner Miguel Arias Canete, in a statement.
As well as the form there are also many issues with the content.
There are a wide range of views on what the long-term goal of the agreement should be.
While it will ostensibly come down to keeping temperatures from rising more than 2C above the pre-industrial level, how that will be represented in the text is the subject of much wrangling.
Some countries reject the very notion of 2C and say 1.5C must be the standard. Others want to talk about decarbonising the world by the middle or end of this century.
For major oil producers the very idea is anathema.
'Trust and confidence'
While the fact that some 170 countries have put forward national plans to cut emissions is a major strength of this conference, there are still big questions marks about how to verify those commitments that will actually be carried out.
"People in the negotiations, people outside the negotiations are going to be looking for the capacity to have trust and confidence in what countries say they are doing," Todd Stern told reporters.
"[You] can't run the system without that."
UN climate conference 30 Nov - 11 Dec 2015
COP 21 - the 21st session of the Conference of the Parties - will see more than 190 nations gather in Paris to discuss a possible new global agreement on climate change, aimed at reducing greenhouse gas emissions to avoid the threat of dangerous warming due to human activities.
While there is some consensus among the parties that the plans will need to be reviewed every five years, there is no question of punitive restrictions if a country doesn't meet its targets.
And among the many other issues in dispute, almost inevitably, is money. While rich countries promised they would give $100bn by 2020 to the developing world back in 2009, the cash has been slow in coming. Right now there is no agreement about what happens after 2020.
While there is a general air of optimism and a willingness to get a deal done, success isn't guaranteed this time round. Many believe that a country such as India, with close to 300 million people without electricity, will refuse to sign up to a strong agreement that limits future fossil fuel use.
If that happens, the whole process could come unstuck, as nothing is agreed until everything is agreed.
Tom Burke for one believes that going against the flow will be particularly difficult this time round.
"I think one of the reasons people will find it hard to hold out at the end will be because of the level of political capital that Obama has invested in climate change, making it clear it is a primary legacy issue for him," he said.