The Earth Society successfully organises Climate Expo 2023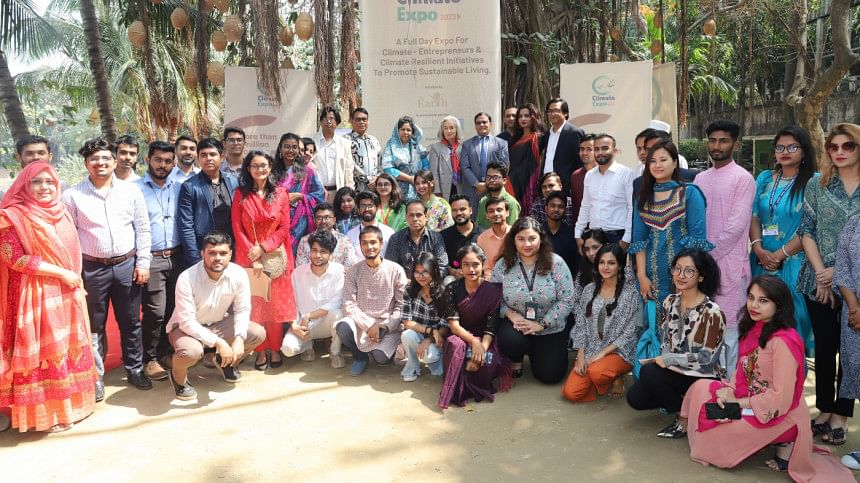 The Earth Society, in partnership with the Climate Parliament of Bangladesh, the Bangladesh Movers Program, RR Kabel Bangladesh, and UNDP conducted Climate Expo 2023 at Gulshan Society Park on February 25, 2023, with the goal of showcasing, connecting, and collaborating on sustainable goods, services, innovation, and eco-friendly activities in order to contribute to SDG-13.
The goal of Climate EXPO 2023 was to connect climate entrepreneurs and change-makers with diverse stakeholders such as corporations, incubators, investors, policymakers, and public visitors. There were small workshops, panel discussions, exhibitor stalls, and interactive activities for leading new solutions to raise awareness on the topic.
"The purpose of today is to promote sustainable living, whether via work or on a personal level. We wanted to provide exposure to what we do and how we promote sustainable living in Bangladesh," said Mashiat Fariha Alam, Senior Project Manager at SOLshare.
SOLShare, Palki Motors Limited, Antobihin, Wastech, Aicha, Safepad Bangladesh, Dr. Chashi, and several other eco-friendly startups were among the green projects showcased at the Expo.
Jabir Al Mahdi, Co-founder, Wastech describes his experience, "We've wanted to participate in an expo like this for a long time but haven't had the chance until now. We make handcrafted items out of scrap plastic. Our flagship product, the eco-pen made from recycled and discarded papers, will launch next month. We were able to network with many delegates and significant personnel here, and we received feedback from them, which I feel is our most essential takeaway from this Expo. We didn't expect to get so much exposure today, so we're highly satisfied with the outcome."
The final panel discussion led on the agenda "Green Partnership – Collaboration for sustainable solution" and the panellists included, Shamima Akhter, Head of Corporate Affairs, Partnership, and Communication, Unilever; Farhana Islam, Head of Social Impact, Grameenphone; Robert Chatterton Dickson, British High Commissioner to Bangladesh; Keith Metzner, team leader, Climate and Environment, USAID Bangladesh; Sarder M. Asaduzzaman, Assitant Resident Representative and Head of Programme Management and Partnership, UNDP Bangladesh; Dr Saiful Momen, Assistant Professor & Chair of the Department of Environmental Science and Management, North South University.
Saber Hossain Chowdhury, MP, Chairman, Standing Committee on Ministry of Forest, Environment and Climate Change Chief Patron, Climate Parliament Bangladesh chaired the panel session and concluded the expo by sharing his viewpoint, "If I can make a confession, I had no idea that so much work was actually being done at the grassroots level by young people. But that is inspiring also because we always think of climate and environment as challenges, at liabilities, but I think there are also opportunities. The young generation in particular are trying to catch up on and that is very exciting. It's a great initiative, I commend and salute the work you're doing. You talked about the SDGs and SDG 17 is about partnerships and I think as we look forward, we need to look at how do we bring governments, how do we bring the academia, the corporate sector, the entrepreneurs and even perhaps development partners together. And I think that's really one puzzle that we need to solve first and I'm sure we are all on the same page."