Obama, Putin clash over Assad's fate in UN duel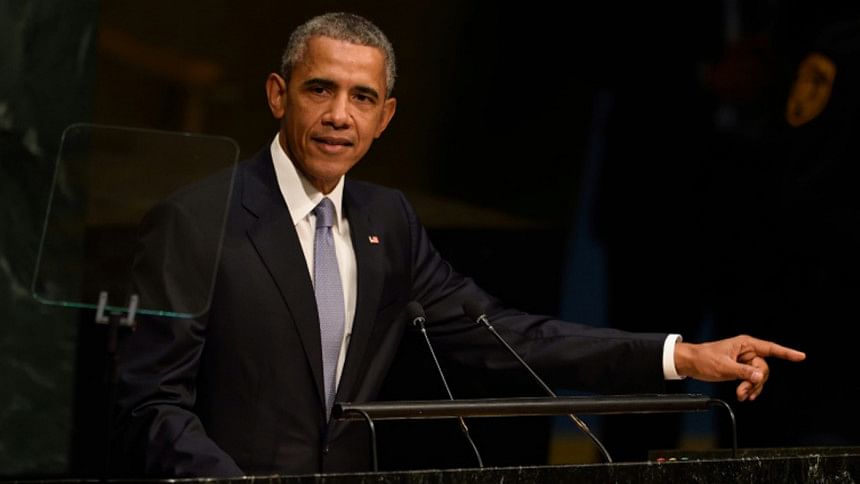 Russian President Vladimir Putin and his US counterpart Barack Obama sparred over Syria in duelling UN speeches on Monday, as Moscow and Tehran mounted a fierce defense of Bashar al-Assad.
The Russian leader urged UN General Assembly members to unite to fight the Islamic State group and said it would be a disastrous error not to support Syria's beleaguered president.
Iran piled on behind Russia, but Western leaders remained adamant Assad must step down and Obama branded him a child-killing tyrant whose actions had fuelled the jihadists' rise.
The US and Russian leaders clinked glasses and shook hands at lunch with UN Secretary-General Ban Ki-moon after their speeches, but nothing could disguise the gulf in their positions.
"We must address the problems that we are all facing and create a broad anti-terror coalition," Putin declared, in his first speech to the world body in a decade.
It is, he argued, an "enormous mistake to not cooperate with the Syrian group which is fighting the terrorists face-to-face."
Afterwards, the Kremlin's UN envoy Vitaly Churkin said Russia would propose a Security Council resolution to build an anti-IS coalition that would include Assad and his ally Iran.
'Innocent children' 
Obama said Washington was ready to work with Russia and even Iran against the Islamic State jihadists, but warned this must not mean keeping Assad in power in Damascus indefinitely.
"The United States is prepared to work with any nation, including Russia and Iran, to resolve the conflict," he said.
Rather than a bulwark against jihadist extremism, Obama argued, Assad drives Syrians into the arms of such groups by such acts as dropping "barrel bombs to massacre innocent children."
Not to be outdone, the Russian leader blamed the rise of violent extremism on the US military interventions in Iraq and Libya, which he said unleashed chaos in the Middle East.
He argued that the IS group now running rampant in Syria and Iraq sprang out of the chaos left behind after US-backed forces ousted Saddam Hussein from Baghdad and Moamer Kadhafi in Libya.
After the end of the Cold War, Putin argued, the West emerged as a new "center of domination" of the world and arrogantly took it upon itself to resolve conflicts through force.
This power led to the "emergence of areas of anarchy in the Middle East, with extremists and terrorists," he said.
"Tens of thousands of militants are fighting under the banners of the so-called Islamic State, and their ranks include former Iraqi servicemen," Putin added.
The Russian leader said the current US policy of training and arming local rebel groups to fight jihadists was only adding fuel to the fire.
"The ranks of the radicals have been joined by the moderate Syrian opposition," he said. "First, they are armed and trained, and then they defect to the so-called Islamic State."
France backs US
US Secretary of State John Kerry met ministers from the main countries of the US-led anti-IS coalition -- Britain, France, Germany, Saudi Arabia, Jordan, and Turkey -- in New York.
Afterwards, according to Kerry's spokesman, they agreed to seek "an end to the conflict and allow Syrians to chart a peaceful future without Assad."
Some European powers seem to be softening their stance, signalling he could stay on in an interim role, but France's President Francois Hollande stuck close to Obama's line.
"Russia and Iran say they want to be part of a solution," he said. "So we must work with these countries to explain to them that the route to a solution does not go through Bashar al-Assad."
In his address, Obama did not specifically address Assad's fate, a key bone of contention in efforts to re-launch a bid to end a war that has left more than 240,000 dead since 2011.
But he declared that there could be no return to the pre-war status quo, when Assad held sway.
Moscow has put Washington on the back foot by dispatching troops and aircraft to the war-torn country and pushing reluctant world leaders to admit that Assad could cling to power.
On the ground, Russia has started putting the pieces together by agreeing with Iraq, Syria and Iran that their officers will work together in Baghdad to share intelligence on IS.
Assad or IS? 
Western powers say Assad's military is responsible for the vast majority of deaths in the war and maintain his brutal rule has allowed the Islamic State's extremist views to flourish.
But with their military response to IS making little headway, Western powers have allowed the Syrian president's backers to present him as the only practical option for a return to stability.
"If we are to succeed in fighting terrorism, the government in Damascus cannot be weakened. It must be able to carry on the fight," Iran's President Hassan Rouhani said.
"If the Syrian government is taken out of the equation, the terrorists will enter Damascus" and "the whole country will become controlled territory, a safe haven for terrorists."
Syria's northern neighbor Turkey has been one of Assad's most implacable critics, but Prime Minister Ahmet Davutoglu told reporters it was ready to work with Russia to find a settlement.