4 killed in Canada school shooting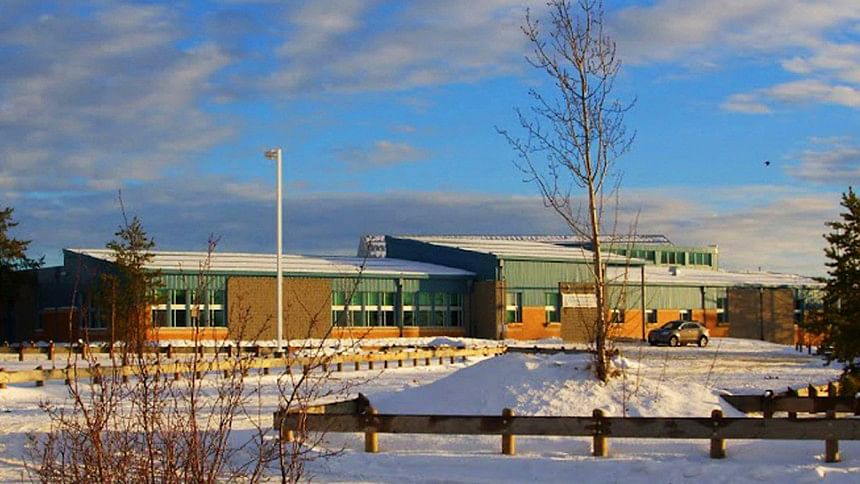 Shots rang out at a school in western Canada, leaving four people dead and several others critically injured in the nation's worst such shooting in a quarter of a century.
"Obviously, this is every parent's worst nightmare," said Prime Minster Justin Trudeau.
Trudeau held a news conference in Davos, Switzerland, where he was attending the World Economic Summit, to announce the death toll in the remote northern aboriginal community of La Loche in the province of Saskatchewan.
Trudeau said five people had been killed and two others were in critical condition but a Royal Canadian Mounted Police spokeswoman later revised the death toll down to four.
The suspected shooter was taken into custody after police received an emergency call about "a person discharging a weapon in the community," RCMP superintendent Maureen Levy told reporters.
She said police were also investigating a second location in a nearby residential neighborhood, but provided no further details.
Authorities did not disclose the age and identify of the shooter and victims.
"We all grieve with and stand with the community of La Loche and all of Saskatchewan on this terrible tragic day," Trudeau said.
La Loche students said they heard six or seven shots ring out at around 1:00 pm (1900 GMT).
Several witnesses reported seeing a "boy," who was either a student or formerly attended the school, opening fire inside the building.
"I ran outside the school," Noel Desjarlais, a Grade 10 student at the school, told public broadcaster CBC.
"There was lots of screaming. There was about six, seven shots before I got outside. I believe there was more shots by the time I did get out."
The town's hospital told AFP they were treating the victims for gunshot wounds.
The high school and a nearby elementary school were locked down as police responded.
"It's just tragic and everybody's running around," said Kevin Janvier, acting mayor, adding that to his understanding the shooting took place when an individual walked in and "opened fire in the building."
Located deep in Canada's northern boreal forest, 600 kilometers (375 miles) north of Saskatoon, this town of about 3,000 is particularly isolated and authorities had to send in police reinforcements and dispatch a medical helicopter to airlift some victims to a hospital.
'Shocked'
The school shooting is Canada's deadliest in 26 years.
On December 6, 1989, a 25-year-old man opened fire at the Polytechnic School in Montreal, killing 14 people, including 10 female students.
Unlike in the United States, shootings are rare in Canada, where firearms are more regulated than south of the border.
"We have experienced similar tragedies far too often in the United States and understand all too well the heartache and sadness that result from such a horrific event," said the US ambassador to Canada, Bruce Heyman.
A flurry of condolences and declarations of shock quickly also poured in from political leaders across Canada after news of the tragedy broke.
"My thoughts and prayers are with all the victims, their families and friends and all the people of the community," said Saskatchewan Premier Brad Wall, who also expressed "shock and sorrow at the horrific events."
The province, he said, was preparing to send up "crisis support" to the community.
Assembly of First Nations chief Perry Bellegarde, opposition Conservative leader Rona Ambrose, and New Democratic Party MP Georgina Joliebois, who was once the mayor of La Loche, said they too were "shocked and saddened" by the apparent shooting rampage.
"The shooting hits close to home for me as my family members attend the school," Joliebois said.
Trudeau, meanwhile, said his Liberal government would have to reflect on Canada's current gun laws in the coming weeks and months in light of what happened.
The previous Tory government had scrapped a short-lived national registry of rifles and shotguns.
Many Canadians living in rural parts own long guns like the one that appears to have been used in the shooting, and led a strong opposition to the registry they said wrongly targeted farmers and hunters.