France train shooting: Americans overpower gunman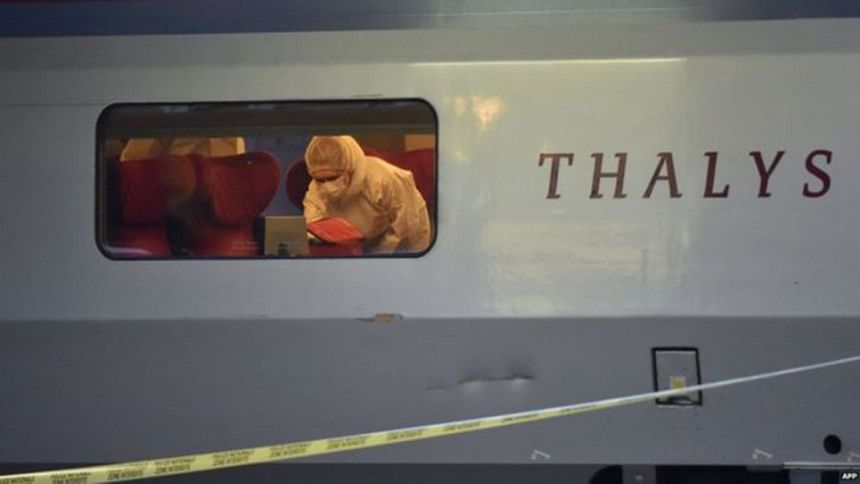 Three people have been hurt after a heavily armed man opened fire on a train in northern France, before being overpowered by American passengers.
The incident happened on the high-speed Thalys service near Arras, and the attacker was arrested at Arras station.
US President Barack Obama praised the passengers, who included two off-duty US military personnel.
The man arrested was a 26-year-old Moroccan. Anti-terrorist officers have taken over the case.
The weapons were said to include a Kalashnikov, a knife, an automatic pistol and cartridges.
French authorities said three people were injured, two of them seriously - one with a gunshot wound, the other a knife wound.
Interior Minister Bernard Cazeneuve said the attack took place at 17:45 local time (15:45 GMT) on Friday.
French media said the arrested man was known to the intelligence services. The suspect has so far refused to talk to police in Arras.
"The president expressed his profound gratitude for the courage and quick thinking of several passengers, including US service members, who selflessly subdued the attacker," the White House said in a statement.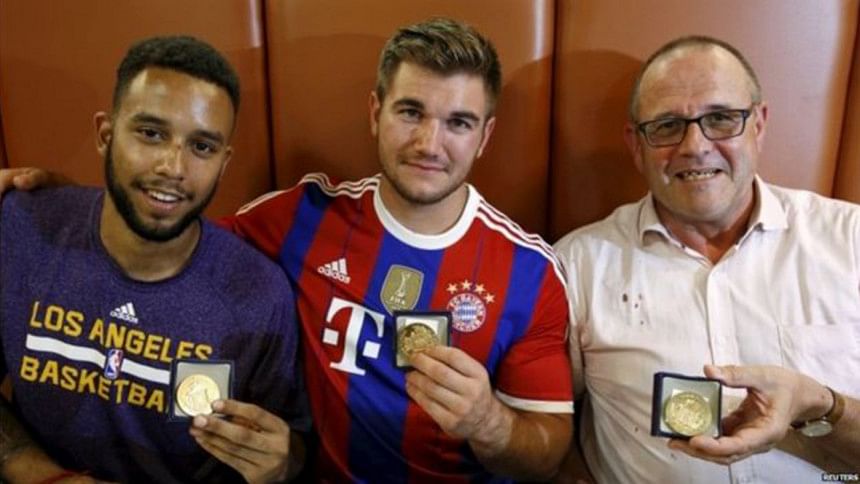 "It is clear that their heroic actions may have prevented a far worse tragedy."
Belgian Prime Minister Charles Michel called the incident a "terrorist attack".
The passengers included French actor Jean-Hugues Anglade who was lightly wounded breaking glass to sound the alarm, and Chris Norman, a British man living in France.
He and two other men from the US were awarded medals for bravery at a restaurant in Arras, Reuters reported.
Cazeneuve said the passengers were "particularly courageous and showed great bravery in very difficult circumstances", adding: "Without their composure we could have been confronted with a terrible incident."
French media said the passengers who overpowered the suspect were US Marines who had heard the man loading a weapon in a toilet cubicle and confronted him when he came out.
Social worker Christina Coons from New York was on the train and told BBC Radio 5 Live she had ducked under her seat when she heard shots.
She said she saw a man running through her carriage bleeding heavily from the neck who identified himself as a paramedic.
She said: "None of these men were in uniform. They were just regular passengers, this afternoon, who stepped up to the plate as soon as they saw what was happening."
'Under control'
Images shared on social media appeared to show a man being restrained on the station platform in Arras.
One photograph showed an injured man in a blue top and jeans lying on the floor of the train.
French rail firm SNCF said there had been 554 people on board the train.
Thalys said several trains had been delayed in the wake of the attack.
France has been on edge since the attack on the Charlie Hebdo magazine and a Jewish supermarket in Paris in January, which left 17 people dead.
And in June a man said to be inspired by the Islamic State group beheaded his boss and tried to blow up a gas plant in southern France.