NY blast suspect 'Bangladeshi'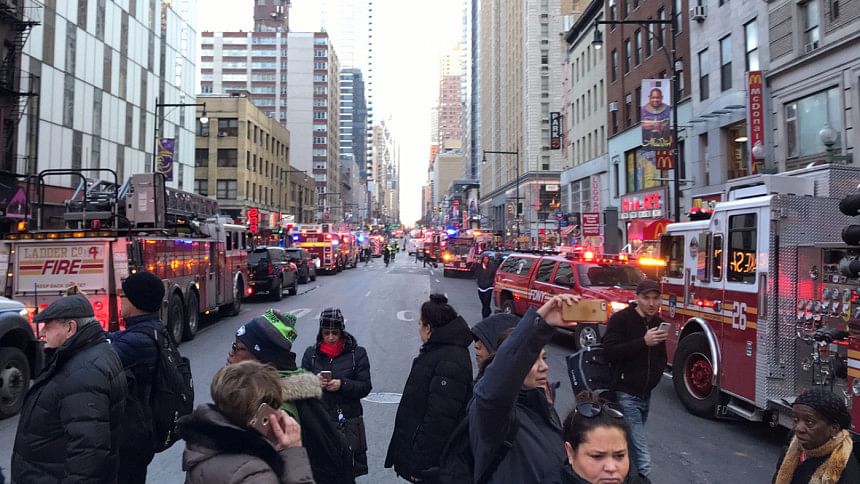 A man with a pipe bomb strapped to him set off the crude device in the subway near Times Square this morning, injuring the suspect and three other people at the height of the morning rush hour.
The suspect was identified as 27-year-old Akayed Ullah.
Law enforcement officials said he was inspired by the Islamic State group but had apparently not had any direct contact with the group. The officials said he lives in Brooklyn and may be of Bangladeshi descent. The officials spoke to The Associated Press on condition of anonymity because they were not authorized to speak publicly about the blast.
The man and three others were being treated for non-life-threatening injuries in what the mayor and police labeled an attempted terror attack.
The explosion happened in an underground passageway under 42nd Street between 7th and 8th Avenues. The 7:30 am blast caused smoke to fill the passageway, which was crowded with throngs of Monday morning commuters.
Mayor Bill de Blasio and Police Commissioner James P. O'Neill labeled it an attempted terror attack.
"Thank God the perpetrator did not achieve his ultimate goals," de Blasio said.
Authorities said the bomb was a low-tech explosive device attached to the man with Velcro and plastic ties. They were investigating how it was made.
A photo published by the New York Post showed a bearded man crumpled on the ground with his shirt apparently blown off and black soot covering his bare midriff. A police officer is holding the man's hands behind his back.
The explosion triggered a massive emergency response by police and firefighters both above and below ground, tangling subway and bus service at the nearby Port Authority bus terminal.
Elrana Peralta, a customer service worker for Greyhound, said she works in the Port Authority terminal complex near where the blast happened, but didn't hear the explosion.
"All we could hear was the chaos," she said. "We could hear people yelling, 'Get out! Get out! Get out!'"
John Miles, 28, from Vermont, was waiting for a bus to Massachusetts. He also didn't hear the blast, but saw police react.
 "I didn't know what was going on. Officers were running around. I was freaking out," he said. There was an announcement that people should take their bags and leave. "They didn't incite panic. It was fairly orderly."
Video from above the "Crossroads of the World" showed lines of police and emergency vehicles, their lights flashing, lining the streets and no other vehicle traffic moving.
Everything around the Port Authority area was shut down — a surreal scene of still at what would ordinarily be a bustling rush hour.
New Jersey Transit buses headed to the Port Authority were diverting to other locations. NJ Transit said buses were taking passengers to Secaucus and Hoboken, where they could take trains into the city.
White House Press Secretary Sarah Sanders tweeted that President Donald Trump had been briefed on the explosion.