Malaysia police note terrorist threats against Asean summit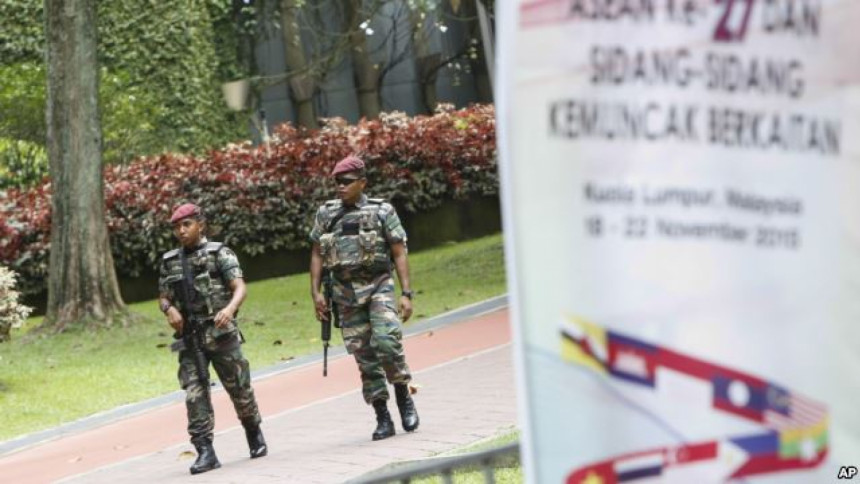 Malaysian authorities say already tight security has been increased at and near the venue of the ASEAN summit following a reported, but unconfirmed, terrorist threat, reports Voice of America.
At least 2,000 army personnel are stationed in Kuala Lumpur and another 2,500 are on standby, according to General Zulkifeli Mohd Zin, chief of Malaysia's defense forces.
Outside the Kuala Lumpur Convention Center, the main venue for the summit, police are posted in tandem with red beret Malaysian paratroopers armed with M4 carbines.
US President Barack Obama, one of 18 leaders expected to join the meetings, arrived in Malaysia aboard Air Force One on Friday afternoon after a flight from Manila where he attended the APEC summit, Voice of America reported.
"There have been reports of imminent terrorist threats in Malaysia," Malaysia's police inspector-general Khalid Abu Bakar said in a statement. "I would like to underline that they have yet to be confirmed."
The statement was released after police confirmed that they had circulated an alert about a meeting last Sunday in the southern Philippines autonomous province of Sulu among elements of the so-called Islamic State, the Abu Sayyaf terrorist group and the Moro National Liberation Front.
The communique, issued by Sabah (Malaysia) police said the militants had dispatched suicide bombers to Sabah and Kuala Lumpur.
In addition to President Obama, leaders from China, India, Japan and Russia are also among those scheduled to hold discussions with the heads of government of the ten ASEAN members, and U.N. Secretary General Ban Ki-moon.
In Malaysia, where the majority of the population is Muslim, the militant jihadi movement has been growing for decades, according to analysts.
Malaysia Defense Minister Hishammuddin Hussein on Monday noted increased concerns about militants in the region.
"I see certain areas in this region are not being managed well, particularly well, particularly southern Thailand and southern Philippines, not to mention the free movement of peoples and smuggling of weapons," he said. "These are all issues which need to be taken seriously based on recent developments in Europe and the Middle East.
The Philippines' Jolo island, in the Sulu archipelago northeast of Malaysia's Sabah province, is a stronghold of the Abu Sayyaf group, known for its bombings and kidnappings of foreigners for ransom.
Authorities on Jolo say a severed head was left in a bag in front of a police station there on Tuesday, after Abu Sayyaf claimed to have beheaded a Malaysian engineer who was abducted in May.
Earlier in the week, Malaysian authorities said they had doubled security for the ASEAN events following the bombings and shootings in Paris by Islamic State terrorists.
The regional fight against terrorism is taking a more prominent place on the agenda for leaders meeting here, as it was at the G-20 and APEC gatherings this past week.