The Indian girl who Diana called 'my daughter'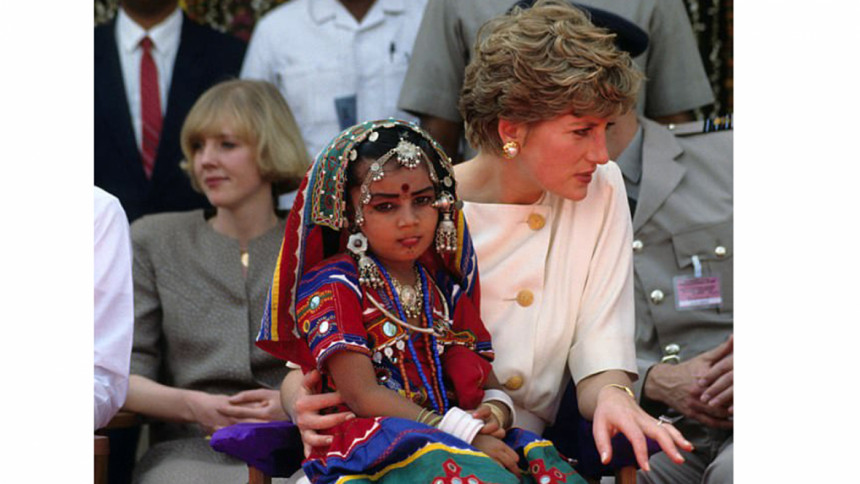 Wearing a traditional Indian dancing costume with her face painted and feet bare, she was the four-year-old whom Princess Diana described as 'my daughter'.
Baby Avanti Reddy instantly captured the princess's heart when she visited Lalapet Government High School, Hyderabad, in 1992 and the image of her cradling the child on her knee became one of the most famous from that royal tour of India, Mail Online reports.
Diana reportedly was so smitten with the adorable girl who had danced for her, she refused to let her go and they later corresponded by mail.
She never forgot Avanti Reddy, now 28 years old and a qualified dance and primary school teacher. But just days before they planned to meet again in 1997, when the youngster had traveled to Europe with her family, Diana's life was cut short in a tragic car accident.
Today Avanti proudly displays the framed and signed picture the princess sent her. Though she was too young to remember much detail, she recalls the February day they met fondly.
'I was the youngest girl there. We performed a tribal Lambadi dance. Diana saw me sitting on the ground, picked me up and took me back to stage and put me on her knee, Avanti told the Mail Online.
'She asked me what my name was, so I told her and which my school was and class. I had a cold so she wiped my nose with her own handkerchief,' explains Avanti, adding: 'She kept me with her the whole time then as she was going said, "I don't want to leave you".
'She was a very motherly figure, I can remember that. She said "I don't have a daughter, so today you are my daughter".'
Avanti was born into dance as her mother, Japamala Rani, 55, was a dance teacher who had choreographed the royal visit.
Her talents also took her dance troupe to Leuven in Belgium where they performed at a number of schools in 1997. At the end Avanti's uncle made plans for her to visit Diana, which were sadly curtailed by her death in the Paris accident.
Avanti says: 'When I got older I started to realize more about who Princess Diana was.
'I read her biography and I always wanted layered hair like hers, but it's not possible to become Princess Diana.
'I appreciate all the work she did for charities and all the things she did for poor children and people with leprosy.
'I used to show the letter she sent me to everybody.
'When she passed away we were in Belgium. I was ten at the time. We were staying there and performing dances in a number of schools. I performed on the day she died.
'At the end of the trip, we were going to tie up our work and go over and see her again, but it never happened. It was the only time I've ever been out of the country.
'I remember the funeral, it was very sad.'



Source: Mail Online