If the Choo fits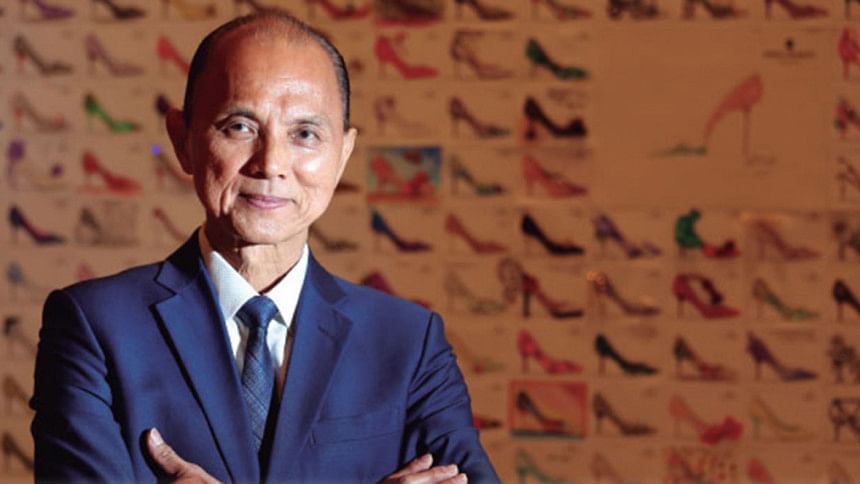 Jimmy Choo prefers not to be called by the name that makes him such a favourite among the world's fashionistas. The co-founder of the world-class shoe brand named after him — whose high-profile client list includes the late princess Diana, actress Meryl Streep, US first lady Michelle Obama — would rather be called his Chinese name Zhou Yangjie. He was born in Penang, Malaysia, where his Chinese parents had emigrated in search of a better life since they were teenagers. Choo has gone places since then but remains a Chinese at heart.
He now has nothing to do with the luxury brand specialising in high-heel shoe design he once founded. He sold his shares in the company in 2001 and now travels around the globe, teaching the craft of making fine shoes, narrating the story of how he became a "slumdog billionaire".
At the core of his inspirational talks is the message that patience and perseverance are the keys to success in any field. Choo considers these to be traditional Chinese virtues, of which he is immensely proud.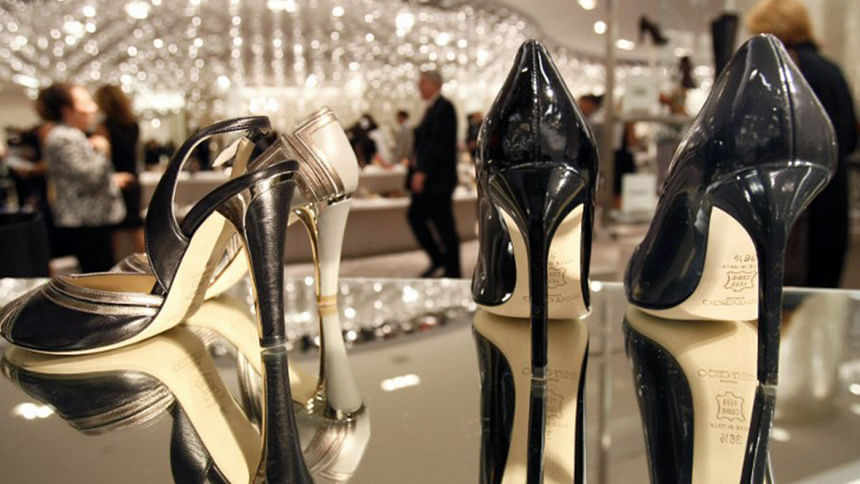 He took a big gamble when he moved from Malaysia to London, setting up his first shop in 1986. He had called it "Lucky Shoe". The shoes, handcrafted by him, sold only at 50 pounds a pair. He got by, selling cheap flats and slippers at weekend flea markets, and surviving on instant noodles, relying so heavily on the sodium-laced servings that his face started to swell.
It took him years to make a name for himself. After he became Princess Diana's shoemaker in the 1990s, he created the eponymous brand in 1996, which quickly found favour with other "royalty". Madonna, still the reigning "Queen of Pop" at the time, wore Jimmy Choo at her wedding. In one of the episodes of the long-enduring television sit-com, Sex and the City, the narrator character, Carrie Bradshaw, shrieked in dismay, "I lost my Choo!"
His designs became renowned for elegance, fashion and comfort. One would often find the stilettos of the famous walking the red carpets and attending royal weddings were Jimmy Choo. Within a short space of time, the brand became iconic in pop culture. Owning a pair of Jimmy Choo became "every woman's dream" — a dream out of reach for most people. The price of a pair of Choo's hand-made high heels shot up as high as HK$120,000 a pair (US$15,000).
After leaving the company, over a reported disagreement between his dedication to the ideal of quality handmade shoes and "the corporate will" to turn to factory production, he continued designing handmade shoes at Jimmy Choo Couture, a small shop in London. The rich and famous continued their love affair with his comfortable designs.
Three years ago, Choo closed the only couture store in London and devoted himself whole-heartedly to education.

In 2014, the company he founded and then broke up with, Jimmy Choo Ltd, went public, the first luxury shoe brand to do so. The company continues to flourish, mass producing shoes that are sold in 167 shops in 35 countries and regions.
"I have never regretted (selling the stocks)," said Choo firmly. He was happy. He had more time with his family. Instead of crafting towering stilettos that 99 per cent people could not afford, he now spends more time mentoring young shoe artists, struggling to compete with the high-end brands.
Starting from scratchAfter his parents migrated to Malaysia, Choo's father trained to be a shoe designer. Choo learned his skills from his father. The family, however, were not well-off. Choo quit primary school and went to work to keep the family afloat.

In the 1980s Choo made his way to London and enrolled in a shoe design program in what's now called the London College of Fashion. His tuition came from what Chinese called the "coffin money", the meager savings put aside for his father's funeral.
Two years after opening "Lucky Shoe" in London, Choo emerged from obscurity, when Vogue magazine gave an eight-page spread to his creations — stylish, Oriental designs with carefully stitched plum blossoms.
Choo was introduced to Princess Diana by a friend, a British fashion designer. After designing a pair of red high-heels for her, he was given a personal introduction to the royal lady, who became his regular client.
Hundreds of designers sent their creations to Diana as gifts at the time, but she was impressed by Choo's shoes. Noting she was taller than Prince Charles, Choo designed flats for her to wear at home, and elegant high-heels to wear on public occasions. After her divorce from Prince Charles, Choo crafted heels that rose much higher. Diana was his customer for seven years. He had crafted a pair of flat shoes for her the day before she was killed in a car crash in Paris. Choo has held on to the pair as a memento.
He believes underprivileged people, such as he was once, do have a chance to move up, even in a city like Hong Kong where the wealth gap is most glaring. It's a matter of working hard, he says.
"Even if you are a canteen waitress, if you work hard you can get a promotion," said Choo. "With patience and perseverance one can always expect the big break to come."
Choo recalled the time when he was a shoe-maker's apprentice in London. The factory opened at 8am. Choo arrived sharp at 7:30 every day, to make tea for his master, cleaned the house and did other chores. His master asked why he continued working after hours. He replied that he wanted to help the married workers, so they could get off early to spend more time with their families.
The creator of the world's most expensive high-heels is a down-to-earth fellow. Jimmy Choo came to Hong Kong for a charity event, co-organised by Shangri-La. Each donor pays HK$50 to buy a printed shoe outline sketched by Choo, which they get to fill with colour and other decorations.

The designer of the most eye-catching entry was to receive a miniature shoe handmade by Choo. Three days into his Hong Kong visit, when China Daily interviewed him, he hadn't managed to step out of the hotel to have a view of the city. He was worried about eating something that might upset his stomach, so that he would be unavailable for his scheduled interview the next day. When people asked to have a photo taken with him in the hotel lobby, he promptly leaned forward and bowed 90 degrees to shake hands with them.
Handmade beautiesWhen Choo's father opened his shop in Penang, shoemakers were seen as "cobblers". It was a poorly-paid occupation and one that garnered scant respect.
Not surprisingly, Choo attaches great value to craftsmanship. He recalled the moment he held up the first pair of shoes he had made, admiring the roses blossoming on them and the elegant lines, and marveling at "how beautiful" his own handiwork was.
He considers designing shoes an art, not just putting together things for people to put on their feet. "Handmaking shoes is just like the way one treats his loved ones. It takes time to foster love," reflected Choo, preferring the lengthy hand-made craft work over the quick factory manufactured products, any day.
He talks animatedly about the necessity of hard work, raising his fists in the air. His tone turns mellow when he is speaking of his family.
For instance, he wouldn't talk about his son, Danny Choo. He said it would make him cry. Danny Choo, in his personal blog, had written about being traumatised as a child, tossed from one foster home to another, because his parents worked day and night and had no time for him. He spoke of being bullied by the children of his foster families, who choked him and beat him with their toys. Danny Choo now is the owner of a smart doll company Mirai Inc and a popular TV host in Japan. He has since thanked his father for teaching him to be independent.
Jimmy Choo's wife is from Hong Kong. He admires her typical "Hong Kong spirit" in being able to endure difficult times. Also a prominent shoe designer, Choo's wife prefers to keep a low profile and never gives interviews.
Choo believes the craft of shoemaking is endangered. The younger generations do not want to follow their fathers to sit at the bench, heads bowed, immersed in the strenuous labour of stitching leather to the sole.
He loves Hong Kong's culture, and confessed that he cried as he watched the Hong Kong film, Echoes of the Rainbow, about a family of shoemakers in colonial times, who could barely make ends meet. The father, a shoemaker, made a pair of soft sheepskin leather shoes for his wife, trying to ease her daily travail. She named the pair one "best of times" and the other "worst of times". In life, one step could lead to good times and the next could be bad time, round and round.
The story reminded him of his own life. It was an example of how a family could stick together through hard times.

Now a frequent traveller, he is happy to teach anyone willing to learn to make shoes, even if they never hope to go into the business.
Since he closed Jimmy Choo Couture in London in 2012, he has never made another pair of shoes to sell, even though celebrities have offered princely remunerations to have him design one last pair for them. For Jimmy Choo, making shoes has led to a journey into a higher plane, where he teaches his craft to thousands, both young shoe designers and amateurs, with the aim of fostering love and hope.

Copyright: Asian News Network/ China Daily