Icelandic PM quits over offshore firm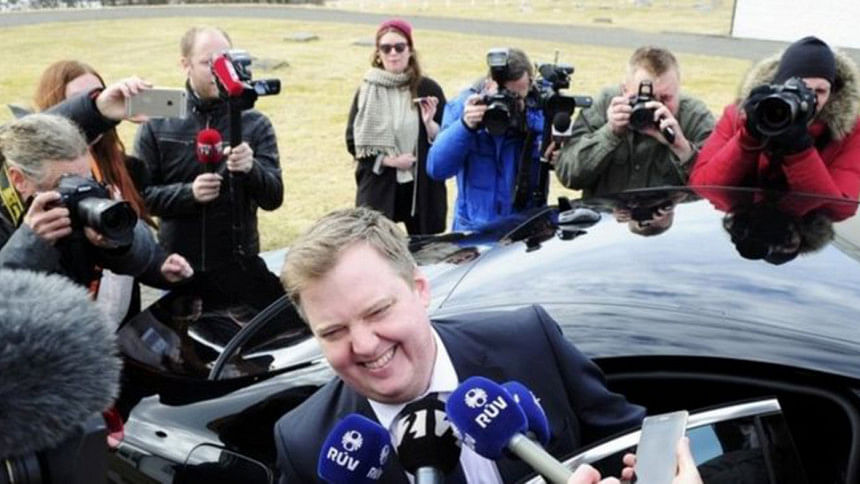 The prime minister of Iceland has resigned - the first major casualty of the Panama Papers leaks which have shed an embarrassing spotlight on the world of offshore finance.
The leaks, from Panama law firm Mossack Fonseca, showed PM Sigmundur Gunnlaugsson owned an offshore company, Wintris, with his wife.
He was accused of concealing millions of dollars worth of family assets.
A big protest was held in front of parliament in Iceland on Monday.
Reports suggest the agriculture minister will be the new PM.
Dozens of high-profile global figures are named in the huge Mossack Fonseca leak.
Gunnlaugsson had earlier called on the President Olafur Ragnar Grimsson to dissolve parliament, but that was refused.
Grimsson said he wanted to speak to political parties first.
"I do not think it is normal that the prime minister alone... should be given the authority to dissolve the parliament without the majority of the parliament being satisfied with that decision," the president told reporters.
Some observers describe his rejection of the prime minister's request as highly unusual.
After refusing to resign on Monday, the prime minister appeared to come under increasing pressure from within his governing coalition too.
He took to Facebook on Tuesday to outline his position.
"I told the leader of the Independence Party that if the party's parliamentarians think they cannot support the government in completing joint tasks, I would dissolve parliament and call a general election," he wrote.
Other Panama Papers reaction
France returns Panama to a list of countries which fail to co-operate over tax evasion
The US Department of Justice is reviewing the leaked documents to look for evidence of corruption that could be prosecuted in the US, the Wall Street Journal reports
Panamanian President Juan Carlos Varela says his government has "zero tolerance" for illicit financial activities and would co-operate vigorously with any judicial investigation in any country.
The so-called Panama Papers leaked from Mossack Fonseca show that Gunnlaugsson and his wife bought Wintris in 2007.
He did not declare an interest in the company when entering parliament in 2009. He sold his 50% of Wintris to his wife, Anna Sigurlaug Palsdottir, for $1 (70p), eight months later.
Gunnlaugsson says no rules were broken and his wife did not benefit financially.
The offshore company was used to invest millions of dollars of inherited money, according to a document signed by Palsdottir in 2015.
Court records show that Wintris had significant investments in the bonds of three major Icelandic banks that collapsed during the financial crisis which began in 2008.
Some of Icelanders' anger is believed to stem from the perceived conflict of interest.
The prime minister was involved in negotiations about the banks' future and had characterised foreign creditors who wanted their money back as "vultures", while Wintris itself was a creditor.
Gunnlaugsson kept his wife's interest in the outcome a secret.
A spokesman for the prime minister said on Monday that Palsdottir had always declared the assets to the tax authorities and that, under parliamentary rules, Gunnlaugsson did not have to declare an interest in Wintris.