Harvey Weinstein charged with rape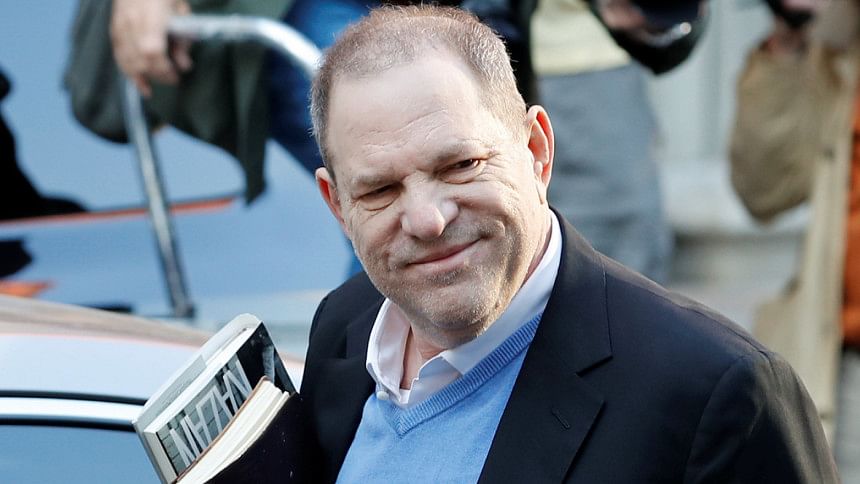 Disgraced Hollywood mogul Harvey Weinstein was arraigned in a New York court Friday, charged with rape and a criminal sex act on two women, nearly eight months after his career imploded in a blaze of accusations that triggered the #MeToo movement.
The former mogul -- once the toast of Hollywood and whose films won scores of Oscars -- grinned as he was escorted into a Manhattan court building in handcuffs.
The Manhattan District Attorney's Office said he was charged with rape in the first and third degrees, stemming from an attack on a woman in 2013, and a criminal sex act against another woman in 2004. Neither victims were named.
"Today's charges reflect significant progress in this active, ongoing investigation," said District Attorney Cyrus Vance, thanking "brave survivors" for coming forward and urging others to call a sex crimes hotline.
They are the first criminal charges against the twice-married, shamed former titan, who already faces a slew of civil lawsuits, is reportedly under federal investigation and whose former studio has filed for bankruptcy.
His defense attorney told reporters that Weinstein would enter a not guilty plea. "We intend to move very quickly to dismiss these charges," Ben Brafman said. "We believe that they are not factually supported by the evidence."
The 66-year-old former studio boss surrendered to police shortly before 7:30 am (1130 GMT) wearing a white shirt, pale blue sweater and dark blazer before a mob of television cameras and photographers.
He stepped out of a black SUV, clutching several books, among them what appeared to be the Rodgers and Hammerstein biography "Something Wonderful" and a book on director Elia Kazan, before walking into the police station.
Handcuffs
The New York Police Department announced that Weinstein had been "arrested, processed and charged with rape, criminal sex act, sex abuse and sexual misconduct."
After having his mugshots and fingerprints taken, he was escorted out in handcuffs and driven to court in the back of a smart SUV.
Under a previously agreed bail package, Weinstein's travel will be restricted to New York and the neighboring state of Connecticut, and he agreed to surrender his passport. The case has been adjourned until July 30.
The district attorney and police have been investigating Weinstein for months, under growing pressure from the Time's Up movement and Hollywood actresses to bring the disgraced producer to justice.
Lucia Evans, who said Weinstein forced her into oral sex in 2004, is thought to be one of the women whose cases triggered charges.
New York police previously confirmed another credible rape allegation after "Boardwalk Empire" actress Paz de la Huerta accused the former producer of raping her twice at her New York apartment in late 2010.
Weinstein's career went down in flames in October over sexual assault allegations following bombshell articles in The New York Times and New Yorker, which sparked a sexual harassment watershed across the United States.
More than 100 women have since accused Weinstein of crimes ranging from sexual harassment to assault and rape going back 40 years.
Salma Hayek, Gwyneth Paltrow and Angelina Jolie are among more than two dozen actresses who say they were sexually harassed by the producer. A few, including Asia Argento and Rose McGowan, said they were raped.
'Stop, don't'
"I have to admit I didn't think I would see the day that he would have handcuffs on him," McGowan told ABC television.
The #MeToo movement has seen people around the world come forward with cases of sexual mistreatment, leading to the downfall of powerful men across industries, including double Oscar winner Kevin Spacey.
Evans, now a marketing consultant, told The New Yorker that Weinstein approached her in a club in 2004 and assaulted her in a Tribeca office.
"He forced me to perform oral sex on him," she said. "I said, over and over, 'I don't want to do this, stop, don't,'" she added.
Weinstein denies any non-consensual sex and has reportedly been in treatment for sex addiction. His fashion designer wife, Georgina Chapman, has left him.
But for all the media hoopla Friday, experts warn that any trial -- let alone a criminal conviction -- would still be a long way off.
Sexual assault cases, particularly those that allegedly happened years ago, are notoriously difficult to prosecute and often lack substantive forensic evidence.
Weinstein's lawyer is one of America's most celebrated criminal defense attorneys. One of Brafman's past clients, former IMF boss Dominique Strauss-Kahn, ultimately escaped criminal prosecution for alleged sexual assault in 2011.