Dozen hurt in Burundi grenade blast as UN chief visits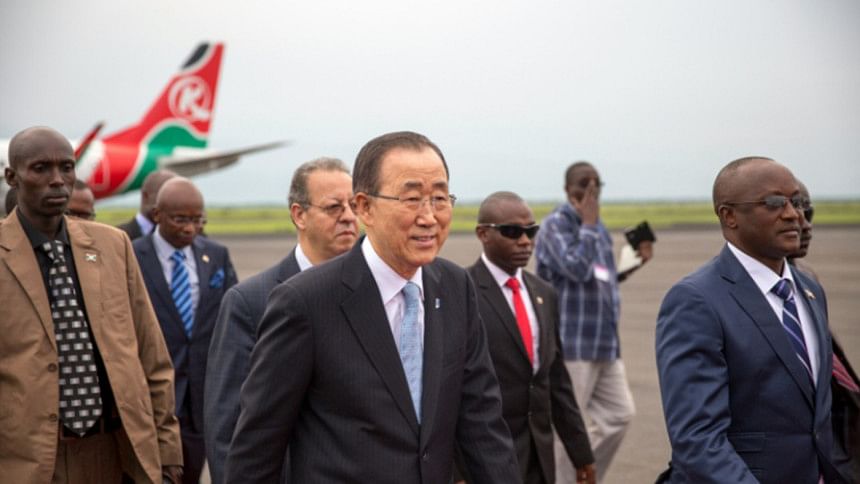 A dozen people were injured in at least 10 grenade blasts overnight in Bujumbura, police said Tuesday, as UN Secretary General Ban Ki-moon visited Burundi.
"Last night, ten grenades exploded in several districts of Bujumbura, leaving a dozen people wounded," a senior police officer told AFP on condition of anonymity.
The officer said two soldiers were among the injured as well as civilians after the series of explosions in outlying parts of the capital.
Ban arrived in Bujumbura on Monday afternoon, hoping to bring fresh impetus to stalled efforts to resolve the 10-month-old crisis that has left more than 400 dead, caused over 240,000 to leave the country and seen violent attacks in the capital become routine.
The UN chief is due to hold talks with President Pierre Nkurunziza on Tuesday after meeting with leaders of political parties and civil society. Afterwards Ban will travel to the Democratic Republic of Congo on the second leg of an Africa tour that will also take him to South Sudan, where civil war erupted in December 2013.
At least four people were killed in attacks ahead of Ban's arrival Monday.
It remains unclear who carried out the grenade blasts, which have increased in the past few weeks. Security forces, rebels and the opposition all blame each other for the killings.
The police officer told AFP "criminals" were responsible for Monday night's blasts and credited the security forces for ensuring the UN chief's visit was "less violent" than expected.
"Most of the grenades exploded in deserted places, which shows that these criminals only want to show the UN secretary general that there is no security, but everything is under control," the officer said.