Advise BNP to shun path of terrorist, Hasina tells UN chief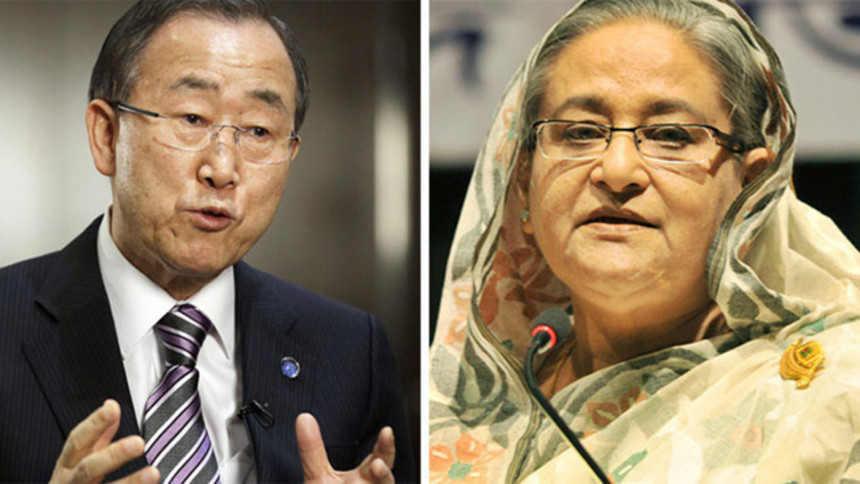 Prime Minister Sheikh Hasina on Friday expressed her hope that UN Secretary General Ban Ki-moon will advise BNP to return to the democratic politics shunning the path of terrorist and militant activities.
She made the request when the UN Secretary General called her over phone in the afternoon.
Briefing reporters about the telephonic conversation, Prime Minister's Press Secretary AKM Shameem Chowdhuri said Ban Ki-moon phoned Sheikh Hasina around 01:48pm and held talks for about 14 minutes.
He said the Prime Minister told the UN General Secretary that BNP has created anarchy across the country over last three months since 5th January, burning innocent people to death through hurling petrol bombs and arson attacks.
About the recent city corporation polls held in Dhaka and Chittagong, the Prime Minister said common voters participated spontaneously in the polls and law enforcers played a very strong role in holding the election in a peaceful manner.
"There happened not a single casualty in the polls which was rare in the history of Bangladesh in the past," she said.
As a result, on average over 44 percent voters exercised their franchise and the number of votes cast was not abnormal, Hasina said adding that there is no scope to raise any question over the fairness of voting.
In this connection, the Prime Minister mentioned that the Election Commission announced the results discarding 5 percent of the votes over which there were some allegations.
Referring to the skipping of BNP from the polls on the election day, Sheikh Hasina said their aim was to make the polls questionable.
In this connection, she said, the people of Bangladesh hope to see BNP returning to the path of democracy shunning violent and destructive activities.
The Prime Minister said the people of the country never liked BNP for petrol bombs attacks, and for destroying public and private properties.
That is why, BNP boycotted the city corporation polls in just three hours after voting had begun as its leadership realized that the sentiments of the voters were not in their favour, she said.
Sheikh Hasina said the government is committed to ensuring that democracy will make progress uninterrupted as well as the security and safety of people.
During the conversation, UN Secretary General Ban Ki-moon highly praised the government of Sheikh Hasina for its continued and tireless efforts in consolidating democracy of Bangladesh.