Death toll from Sierra Leone floods passes 400: Red Cross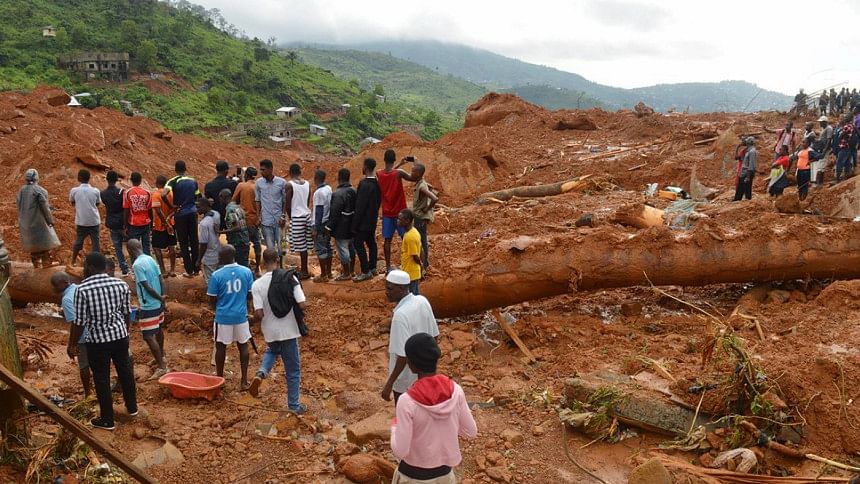 More than 400 people have died in mudslides and flooding in Sierra Leone with 600 people still missing in the stricken capital, the Red Cross said Friday, as Britain promised £5 million in fresh aid.
The disaster began on Monday when heavy rains hit the city and the partial collapse of a hillside triggered mudslides, engulfing homes and wreaking destruction.
"Today we are counting more than 400 people dead," the secretary-general of the International Federation of Red Cross and Red Crescent societies, Elhadj As Sy, told reporters in Geneva.
Citizens and experts alike have questioned why the government has not done more to tackle illegal construction and deforestation on the outskirts of the overcrowded capital of Freetown.
An unofficial morgue estimate had previously put the toll at around 400 dead, but the figure had not been confirmed until Friday.
Sy said the government of the west African country was facing a crisis "way beyond (its) capacity" and appealed to the international community to significantly ramp up its support.
The displaced are still sleeping outside "because there are not enough shelters for everybody," he said.
More than 300 victims were buried on Thursday in a ceremony in the nearby town of Waterloo, laid to rest alongside victims of the country's last crisis, Ebola. Around a third of them were children.
- 'Step up to the plate' -
Britain meanwhile announced £5 million ($6.45 million) in funding for several charities working on the ground, targeting children's bedding and clothing and clean water and sanitation for all survivors, as well as medical supplies.
"Our new support will provide basic life-saving supplies like food, water, shelter and clothing to people who have lost everything. The international community must follow our lead and step up to the plate," said Britain's International Development Secretary Priti Patel.
The Red Cross said it will launch an emergency funding appeal later on Friday, while China has pledged $1 million, Togo $500,000, and Israel and several west African nations have contributed food and cash.
The organisation has warned that smaller mudslides have occurred since Monday in eastern Freetown and in Sierra Leone's second city of Bo, with the rainy season far from over.
So far evacuations have been voluntary from affected areas, which Sy said would remain the policy for the foreseeable future. "Coming by force in the middle of hardship may not be the best way," he added.
Jens Laerke, spokesman for the UN Office for the Coordination of Humanitarian Affairs in Geneva, told reporters the toll "may rise" noting the number of people still missing.
- 'Nothing can be enough' -
In affected communities, many said the emergency response had been too slow.
AFP visited a school building in the devastated Regent community where 350 people were living crammed together. Aid workers said survivors lacked basic necessities to stay warm.
"Nothing can be enough for now," said Rosemary Blake of the Living Water SL charity. "We need blankets; we need used clothing or even unused clothing. We need shoes on their feet."
In Pentagon, the community directly below Regent where rocks and mud rained down on homes on Monday, resident Tamba James said the future looked bleak.
"If they do not locate us to a better place, nobody will care about food. It is not the government that used to feed us; we used to feed ourselves. But we don't have a place to live," he told AFP.
In recent years, trees have been cut down from the Western peninsular forest on Freetown's limits, with everything from shacks to mansions springing up haphazardly on the slopes.
The government has said that in the light of the catastrophe, relocation and a new settlement around the Freetown peninsula would be considered, but similar measures have failed in the past as people seek to live close to the city centre for work.