Crash survivors undergo operations in Colombia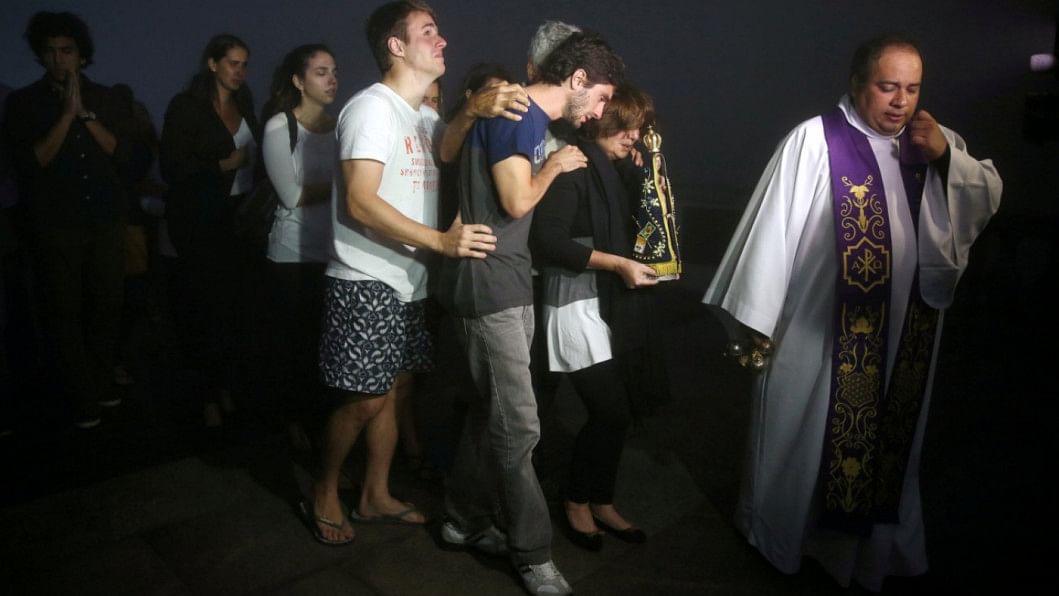 Doctors treated traumatized survivors and an investigation was to get underway on Wednesday into an air crash that killed 71 people and wiped out Brazil's Chapecoense soccer team en route to a cup final in Colombia.
Only six people - three players, a journalist and two crew members - survived the disaster on Monday night when Chapecoense's charter plane hit a mountain en route to their Copa Sudamericana showdown in Medellin city.
All were being treated at local hospitals.
Of the players, goalkeeper Jackson Follmann was recovering from the amputation of his right leg, doctors said.
Defender Helio Neto remained in intensive care with severe trauma to his skull, thorax and lungs.
Fellow defender Alan Ruschel had spine surgery.
Investigators from Brazil were flying in to join Colombian counterparts checking two black boxes from the crash site on a muddy hillside in wooded highlands near La Union town.
Soldiers guarded the wreckage overnight after rescuers left, and investigators were to start work at first light.
Bolivia, where the charter company LAMIA was based, and the United Kingdom, also sent in experts to help the probe.
Prior to crashing, the BAe 146 had radioed it was having electrical problems, and weather conditions were poor - but there was still no official word on the cause.
Locals are accustomed to planes flying overhead at all hours, but many were disturbed by the massive crash noise that interrupted their sleep and evening television.
"It came over my house, but there was no noise, the engine must have gone," said Nancy Munoz, 35, who grows strawberries in the area.
"I thought it was a bomb, because the FARC rebels used to attack military infrastructure here. Then we heard the rescuers arriving," said her husband Fabian.
By nightfall on Tuesday, rescuers had recovered most of the bodies which were to be repatriated to Brazil and to Bolivia, where all the plane's nine-person crew were from.
Soccer-mad Brazil declared three days of mourning.
Chapecoense's opponents, Atletico Nacional of Medellin, asked for the tournament to be awarded to the Brazilians in honor of the dead.
Fellow top division Brazilian sides also showed solidarity, offering loan players to Chapecoense and urging the national federation to give it a three-year stay against relegation while the club got back on its feet.
Global soccer greats from Lionel Messi to Pele sent condolences.
It was an appalling twist to a fairy-tale story for Chapecoense, which rose since 2009 from Brazil's fourth to top division and was about to play the biggest match in its history in the first leg of the regional cup final in Medellin.
Distraught fans gathered around the team's Conda stadium in Chapeco, a town of about 200,000 people in south Brazil.