Brussels police arrest 6 over 'New Year terror plot'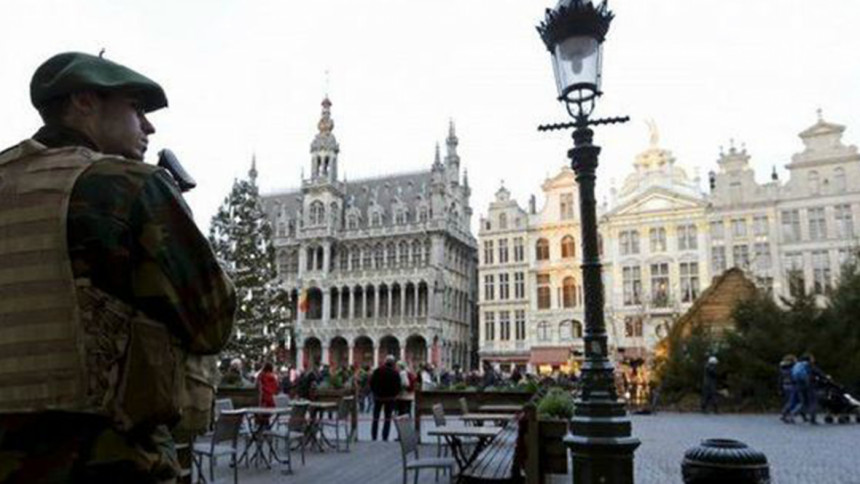 Police in Brussels have arrested six people in connection with an alleged plot to target the city on New Year's Eve, prosecutors say.
The arrests come as cities around the world heighten security measures ahead of large-scale New Year celebrations.
The arrests in Brussels were made during raids in suburbs including Molenbeek, which was used as a base by the 13 November Paris attackers.
The city's main fireworks display has been cancelled over the feared plot.
None of the six people arrested on Thursday have been identified. Two people arrested in Brussels earlier this week, named as 30-year-old Said S and 27-year-old Mohammed K, have been charged with threatening to carry out a terrorist attack.
Brussels police say the apparent plots to target New Year celebrations are not related to the network behind the Paris attacks.
EXTRA MEASURES
Security is being stepped up in major European cities ahead of New Year celebrations, with officials wary of possible terror plots.
New Year fireworks and festivities have been cancelled in Brussels and extra measures are being put in place in other cities, including Paris, London, Berlin and Moscow.
Meanwhile in Turkey, security services say they have thwarted a major plot to attack celebrations in Ankara.
Earlier this week, Austrian police claimed a "friendly intelligence service" had tipped them off that major European capitals were at risk of being attacked over the holiday period.
Belgian Prime Minister Charles Michel said the Brussels decision had been taken "given information we have received".
Last year 100,000 people turned out in Brussels to welcome in the New Year. "In these circumstances, we can't check everyone," Brussels Mayor Yvan Mayeur said.
Brussels was put on a far-reaching lockdown in November in the wake of the Paris attacks, as police hunted suspects linked to the city.
An escalation of the perceived terror threat to the maximum level four led to the metro network being suspended and a curfew imposed for four days.
Belgium remains on high alert but the threat level has been downgraded to three. Restrictions in place over the New Year relate to specific events and celebrations.
TIGHT SECURITY IN PARIS
The French capital has cancelled its main New Year fireworks display but the traditional gathering on the Champs-Elysees will take place, amid tight security.
Projections on the Arc de Triomphe will be shorter than normal and four giant screens will be placed at intervals to avoid creating tightly packed crowds.
ARRESTS IN ANKARA
On Wednesday, Turkish police arrested two suspected IS members over an alleged plot to attack celebrations in Ankara.
State media said they were planning two separate attacks on crowded areas. Suicide vests and explosives were found during police raids.
Security will also be stepped up in Istanbul, with local media reports saying that some officers will be wearing Father Christmas outfits and other disguises to patrol crowds undetected.
RED SQUARE CLOSED
Security is also being tightened in cities where the authorities say there is no specific intelligence about a possible attack.
Authorities in Moscow will completely close off Red Square, where crowds normally count down to midnight.
BERLIN BAG BAN
In Berlin, backpacks and fireworks will be prohibited and bags searched on the "fan mile" in front of the Brandenburg Gate, which has reportedly been closed off since Christmas.
Up to a million people are expected to attend the celebration.
Berlin's interior minister Frank Henkel encouraged party-goers to not allow fear to sour their celebratory mood. "Caution is a good counsellor, fear is not," he told broadcaster RBB.
PRECAUTIONS IN LONDON
London's Metropolitan Police will deploy 3,000 officers in the inner city, including extra armed officers.
More than 100,000 people are expected to watch the Mayor of London's fireworks show, a ticketed event.
"Our plans are purely precautionary and not as a result of any specific intelligence," said a spokesperson.
ASIA DRILLS
Australian officials assured revellers that thousands of extra police would patrol major cities, but urged residents to celebrate. "Don't change your way of life," said Melbourne's Lord Mayor Robert Doyle.
The US embassy in Dhaka, Bangladesh, warned its citizens of "possible attacks" against hotels and clubs in the city in connection with New Year's Eve celebrations.
And a number of other cities around the world have been put on high alert or called up additional police officers, including Tokyo, Kuala Lumpur and New Delhi, where police and anti-terror squads have conducted mock terror drills this week.