Pakistan SC bars Sharif from holding office for life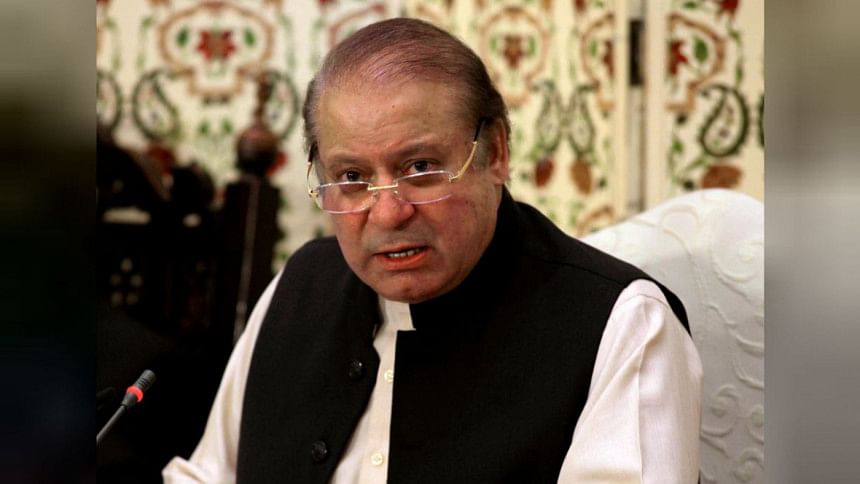 Pakistan's Supreme Court disqualified deposed prime minister Nawaz Sharif from holding office for life today, Dawn News TV reports.
According to television news channels, the verdict was issued unanimously by all five judges of the bench.
Article 62(1)(f), which sets the precondition for a member of parliament to be "sadiq and ameen" (honest and righteous), is the same provision under which Nawaz Sharif was disqualified by a five-judge SC bench headed by Justice Asif Saeed Khosa on July 28, 2017, in the Panama Papers case. Likewise, Pakistan Tehreek-i-Insaf (PTI) leader Jahangir Tareen was disqualified on Dec 15 last year by a separate bench of the apex court under the same provision.
Following the verdict, both Sharif and Tareen have become ineligible to ever hold public office.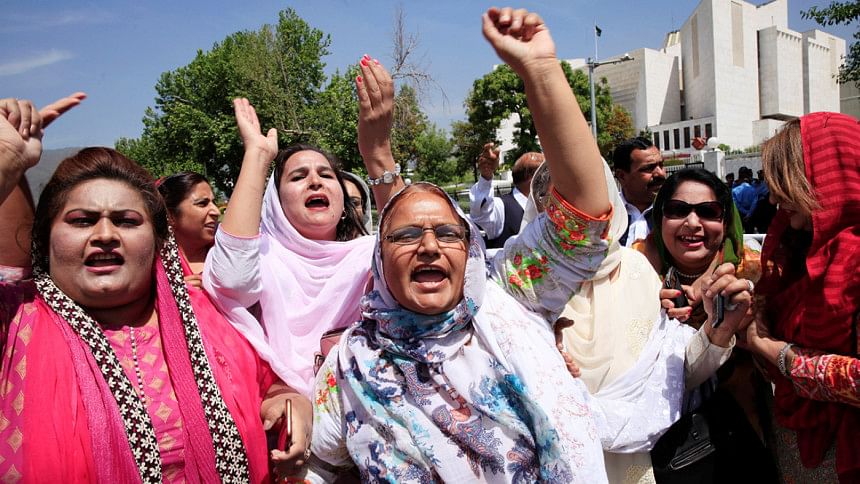 It has been stated in the decision read out Justice Umar Ata Bandial that the disqualification of any member of parliament or a public servant under Article 62 (1)(f) in the future will be permanent. Such a person cannot contest elections or become a member of parliament.
Chief Justice Mian Saqib Nisar, who was heading the bench, remarked before the verdict was announced that the public deserves "leaders of good character". A detailed version of the judgment is currently awaited.
'Question should be left to parliament'
A five-judge bench ─ headed by CJP Nisar and comprising Justice Sheikh Azmat Saeed, Justice Umar Ata Bandial, Justice Ijazul Ahsan and Justice Sajjad Ali Shah ─ had on February 14 reserved the judgment on 17 appeals and petitions challenging the length of disqualification under Article 62(1)(f) for possessing fake degrees.
At the last hearing, Attorney General Ashtar Ausaf had told the bench that it was not the function of courts to say that the disqualification under Article 62(1)(f) of the Constitution was for life or to give any timeline. The question should be best left for parliament to decide, he had argued.
The AG had also emphasised that the provision did not determine the length of disqualification, adding that the court would have to look into the matter on a case-to-case basis.
Past precedents
Though there was no clear determination about the length of disqualification in Article 62 (1)(f), former chief justice Iftikhar Mohammad Chaudhry had held in the 2013 Abdul Ghafoor Lehri case that under Article 63, there were certain disqualifications which were of temporary nature and a person disqualified under Article 63 could become qualified after the lapse of a certain period.
Whereas, the verdict held, the disqualification under Article 62 was of permanent nature and a person had to fulfil certain qualifications/conditions to become eligible to be elected or chosen as a member of parliament. Thus Article 62 did not provide any period after which a person, who was declared disqualified under this article, could be eligible to contest the elections, it said.
Former prime minister Yousuf Raza Gilani was disqualified on June 19, 2012 from holding a seat in parliament for committing contempt of the court on moral turpitude in terms of Article 63 of the Constitution which specifies disqualification for a period of five years.
Legal observers say the Supreme Court has handed down different verdicts on the disqualification of legislators like in the case of Iftikhar Ahmed Cheema who was de-seated in 2015 from the NA-101 constituency for concealing assets. Subsequently, he contested the by-election and regained his seat.
But in the case of Rae Hassan Nawaz, the apex court disqualified him under Article 62(1)(f). Likewise, the court allowed Jamshed Dasti to contest the election, but disqualified Rizwan Gill, Samina Khawar Hayat and Amir Yar under Article 62(1)(f) of the Constitution.
Copyright: Dawn/ Asia News Network