NKorea fires ballistic missile over Japan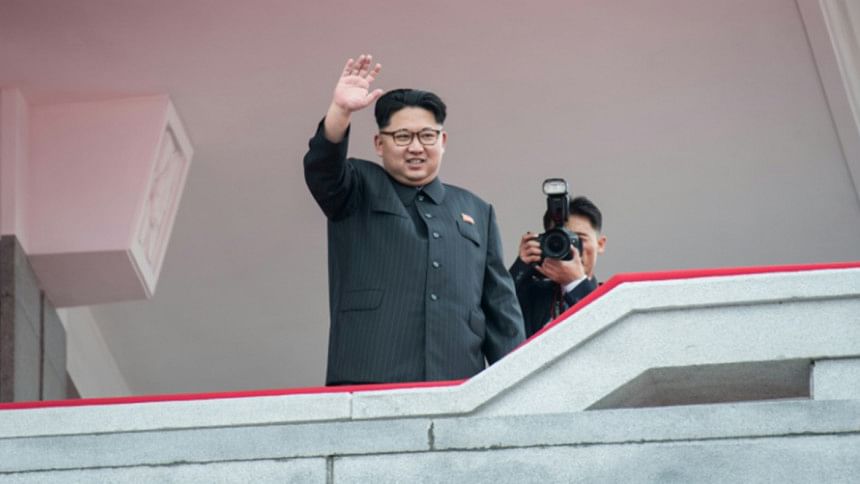 Nuclear-armed North Korea fired a ballistic missile over Japan and into the Pacific Ocean on Tuesday in a major escalation by Pyongyang amid tensions over its weapons ambitions.
Japanese Prime Minister Shinzo Abe said it was an "unprecedented, serious and grave threat" and called for an emergency UN Security Council meeting.
The last time a North Korean rocket overflew Japan was in 2009, when Pyongyang said it was satellite launch. Washington, Seoul and Tokyo believed it was a clandestine test of an intercontinental ballistic missile (ICBM).
Pyongyang last month carried out two overt ICBM tests that appeared to bring much of the US mainland within reach for the first time and heightened strains in the region.
At the time, US President Donald Trump issued an apocalyptic warning of raining "fire and fury" on the North, saying Washington's weapons were "locked and loaded", while Pyongyang threatened to fire a salvo of missiles over Japan towards the US territory of Guam.
The latest missile was launched at around 2057 GMT Monday from Sunan, near Pyongyang, travelling "over Japan", the South Korea's Joint Chiefs of Staff said.
It flew around 2,700 kilometres (1,700 miles) at a maximum altitude of around 550 kilometres.
Guam is about 3,500 kilometres from North Korea -- although the missile was fired in an easterly direction and not towards the US outpost, home to 160,000 people and host to major military facilities.
Abe said the overflight was an "outrageous act" that "greatly damages regional peace and security", telling reporters Tokyo had protested to Pyongyang.
In a 40-minute telephone call with Trump, he said, the two allies had agreed to "further strengthen pressure against North Korea".
The UN Security Council imposed a seventh set of sanctions on Pyongyang earlier this month, tightening restrictions on its exports, and investments into the North.
The US confirmed the launch and the overflight of Japan, with Pentagon spokesman Colonel Rob Manning saying the North American Aerospace Defense Command (NORAD) determined it "did not pose a threat to North America".
'Not a chicken'
Any launch towards Guam would have to pass over the Asian island nation first and analysts said Tuesday's overflight presents a major challenge to both Tokyo and Washington.
When it carried out its ICBM tests last month -- which leader Kim Jong-Un described as a "gift" to "American bastards" -- it fired them on lofted trajectories that avoided Japan.
Before 2009, the only time it had traversed Japanese airspace was in 1998, in what it also claimed it was a space launch. The US said it was a Taepodong-1 missile.
After Pyongyang appeared to postpone the Guam scheme, Trump told a rally in Phoenix that Kim was "starting to respect us".
As a result, Cha Du-Hyeogn of the Asan Institute of Policy Studies in Seoul, told AFP: "It looked like North Korea backed off from a game of chicken.
"But Pyongyang is showing that is not how it is," he said. "That it is not a chicken, it has not backed off and that Washington is the one who is bluffing with no concrete plan."
'Horrible day'
Japan has in the past vowed to shoot down North Korean missiles or rockets that threaten to hit its territory.
But it made no attempt to do so on Tuesday -- when the missile flew over the country for two minutes -- with defence minister Itsunori Onodera saying generals believed it "posed no risk of flying into our country".
But as a precaution, millions of residents in northern Japan received an early morning text message from the government warning them to take cover.
When the North sent a missile into Japan's exclusive economic zone -- waters extending 200 nautical miles from its coast -- last year it only triggered protests and anger, and it subsequently carried out several similar launches.
"Today is really quite a horrible day for Japan," security commentator Ankit Panda said on Twitter following Tuesday's overflight.
"If North Korea assesses the costs of overflying Japan to be *anything* but intolerable, we'll see more of these kinds of tests."
Pyongyang says it needs nuclear weapons to protect itself against the US, and the firing comes during the annual Ulchi Freedom Guardian South Korean-US joint military exercise, which the North always condemns as rehearsals for invasion.
Under Kim, Pyongyang has made rapid strides in its ballistic missile technology, revealing significant technological advances and ambitions last week.
Analysts said pictures of a visit by Kim to the Chemical Material Institute of the Academy of Defence Science showed a wound-filament rocket motor casing -- much lighter than metal, giving a longer range and the ability to carry a heavier payload.
Other images included missile schematics and what appeared to be production processes, with the official KCNA news agency saying the nosecones and engine jets were made of "carbon/carbon compound material"