Hasina discusses security, politics with Modi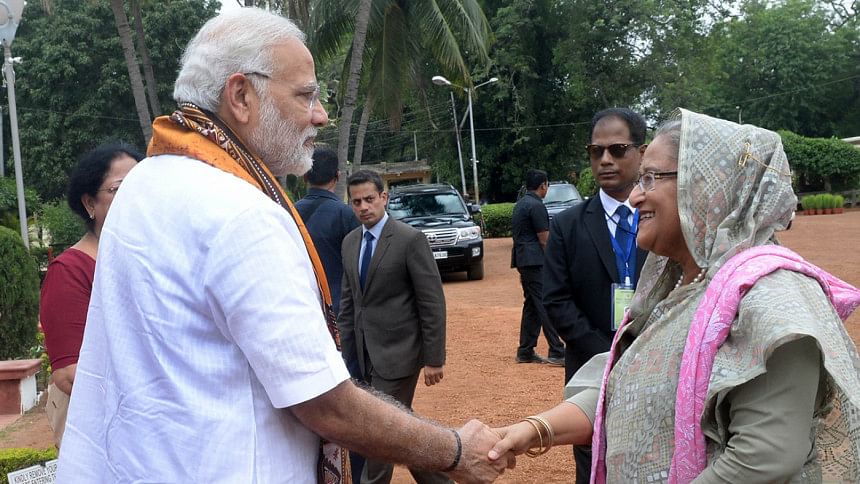 Prime Minister Sheikh Hasina has met her Indian counterpart Narendra Modi at Santiniketan and discussed a range of bilateral issues including security and politics.
The half-an-hour meeting was held at the newly-inaugurated Bangladesh Bhavan in Visva Bharati University in Santiniketan, our New Delhi correspondent reports quoting a senior official of the Bangladesh High Commission.
"Although I was not present at the meeting but we can say that bilateral issues were discussed. Issues related to the security and politics of the region were also discussed," Bangladesh's Minister of State for Foreign Affairs Mohammed Shahriar Alam told reporters.
Bangladesh and India are on the "same page" with regard to the return of the Rohingya refugees to Myanmar, he said referring to Hasina's remarks about early repatriation of the refugees who are now lodged in Bangladesh.
"Bangladesh is grateful to India for especially the assurances made by Minister of External Affairs Sushma Swaraj when she visited Myanmar recently. Swaraj had expressed India's views regarding quick, sustainable and dignified return of the Rohingya refugees," Alam said.
On the issue of Teesta water-sharing, he said "we have full faith in Prime Minister Narendra Modi ... A track two dialogue is already on regarding this issue."