PM Hasina, Narendra Modi unveil Bangladesh Bhaban at Santiniketan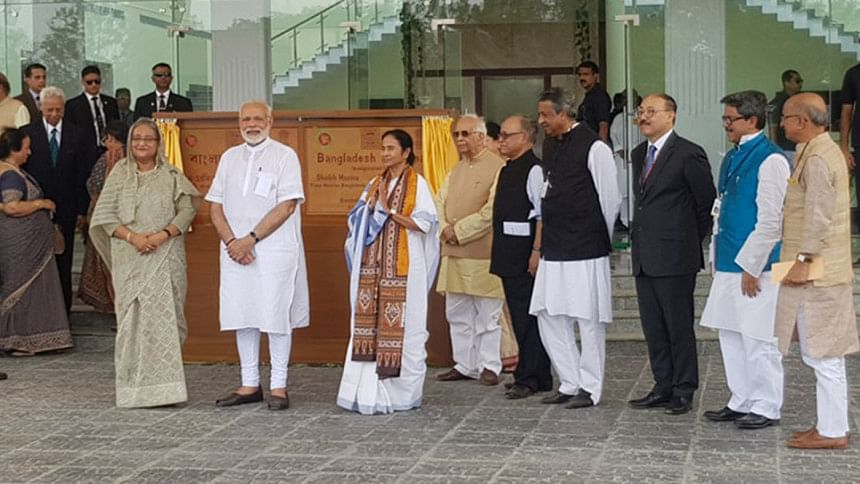 Prime Minister Sheikh Hasina today inaugurated the 'Bangladesh Bhaban' jointly with her Indian counterpart Narendra Modi at Visva Bharati University in Santiniketan.
PM Hasina also attended Visva Bharati Convocation Ceremony as the Guest of Honour there.
She also held a meeting with Indian PM Narendra Modi there later today.
'Bangladesh Bhaban' houses a museum showcasing Rabindranath Tagore's association with Bangladesh, Indo-Bangla relations, and the Liberation War of Bangladesh. The Bhaban has been built with funds from the Bangladesh government.
In her speech after the inauguration of 'Bangladesh Bhaban', PM Hasina said Rabindranath Tagore belongs to both Bengals, and Shantiniketan is a reminiscent of Tagore.
The 'Bangladesh Bhavan' built in Visva Bharati University is the symbol of unity between the two Bengals, the PM said.
She recalled how her father Bangabandhu Sheikh Mujibur Rahman was inspired and influenced by Rabindranath Tagore.
"Indians stood by Bangladesh, sheltered 10 million refugees, and provided shelter and training to the freedom fighters," the PM said, as she remembered with reverence the contributions of India and the then Indian PM Indira Gandhi during the Liberation War in 1971.
PM Hasina expressed her gratitude to her Indian counterpart as she referred to the resolution of land boundary problem, that had festered between Bangladesh and India for over four decades, in June 2015 during Modi's visit to Dhaka, and completion of exchange of adversely-held enclaves by 2016.
"We have seen wars have been fought over territories in different parts of the world. But Bangladesh and India provided the only example of exchanging the enclaves in an atmosphere of brotherhood and festivities," the PM said.
The PM expressed hope that the unresolved issues between Bangladesh and India will be solved amid friendly relations between the two countries.
"I am confident we two countries can resolve any problem through talks in a friendly atmosphere," she said.
The Bangladesh PM also sought India's cooperation to put pressure on Myanmar to take them back.
"We need your cooperation to put pressure on Myanmar so that Rohingya refugees can return home," she said.
Pointing out that 11 lakh Rohingyas have taken shelter in Bangladesh, she said, "we cannot shut the doors on those who are oppressed and that is why we gave shelter to them."
Speaking after Hasina, Indian PM Narendra Modi said Tagore belongs as much to India as to Bangladesh and added that the poet's idea of universal humanism had influenced Bangabandhu.
Modi also said India would give full support to Bangladesh's effort to become a developed country by 2041 and pointed out how New Delhi has given eight billion dollars line of credit to support Dhaka's development agenda.
Referring to the mutual ties including the similar culture in the two countries, Indian Premier Narendra Modi said the key to development of Bangladesh and India lies in the mutual cooperation between the two countries.
The Indian PM said a "golden chapter" on India-Bangladesh relations has been written in the last few years as they have resolved the land boundary and the territorial water disputes and have begun reviving the road and rail connectivity disrupted in 1965.
"There was a time when there was a perception that a resolution of these complex disputes was impossible. But we have solved them," Modi said.
"The way India-Bangladesh relations have moved in the last few years is an example and a lesson for others in the region," Modi said without naming any other country.  
Congratulating Sheikh Hasina and the people of Bangladesh for the launch of Bangabandhu-1 satellite, Modi said, "I am confident that new avenues will open up for cooperation between India and Bangladesh in the area of space technology."
Bangladesh's achievements in social development indices can inspire India, he added.  
Earlier this morning, the Bangladesh premier arrived Kolkata on a two-day visit to West Bengal at the invitation of Narendra Modi.
A VVIP flight of Biman Bangladesh Airlines carrying Prime Minister Sheikh Hasina and her entourage landed at Netaji Subhas Chandra Bose International (NSCBI) Airport at 9:40am (local time).
Foreign Minister AH Mahmood Ali, Education Minister Nurul Islam Nahid, Cultural Affairs Minister Asaduzzaman Noor and Prime Minister's four Advisers on Political, Economic, Foreign and Energy affairs are accompanying the Prime Minister.
From the NSCBI Airport, Sheikh Hasina left for Visva Bharati, Santiniketan by a helicopter, where the Vice Chancellor of Visva Bharati Prof Sabuj Koli Sen received her.
Hasina attended the Visva Bharati Convocation Ceremony and took part in the convocation procession and oath ceremony.
After the convocation ceremony, the Bangladesh prime minister and her Indian counterpart jointly unveiled the commemorative plaque of Bangladesh Bhaban.
Tagore's song 'Anandaloke Mongolaloke' was played at the ceremony. The vice chancellor of Visva Bharati delivered the welcome speech.