Al-Shabab uses Trump in propaganda film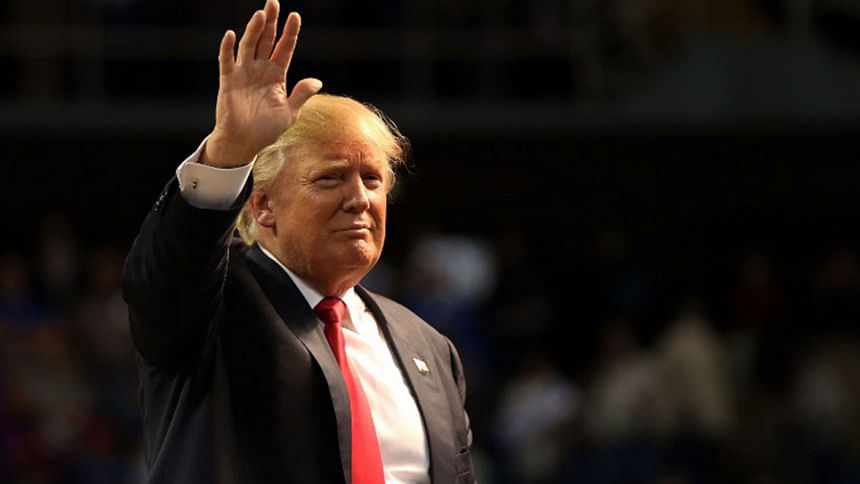 The Somali Islamist group al-Shabab has released a propaganda video featuring footage of the US presidential hopeful, Donald Trump.
It shows his recent call for Muslims to be barred from entering the US.
It also shows al-Shabab - al-Qaeda's East African affiliate - urging African-Americans to convert to Islam and to take part in holy war.
It says racism, police brutality and anti-Muslim sentiment are rife in the US.
Trump's campaign team has not responded to the video.
In recent years, several Somali-Americans from Minnesota have gone to fight for al-Shabab in Somalia.
Trump is shown 10 minutes into the 51-minute film making his December call for the US to bar all Muslims, in the wake of deadly California shootings in San Bernardino on 2 December.
Trump said a "total and complete" shutdown should remain until the US authorities could "figure out" Muslim attitudes to the US. His comments were widely condemned in the US at the time.
And more recently, former US Secretary of State and Democratic presidential candidate Hillary Clinton said that, with his rhetoric, Trump was becoming Islamic State's "best recruiter".
Trump's statement is shown between two clips of militant leader Anwar al-Awlaki, who was killed in a drone strike in Yemen in 2011.
The film was distributed on Twitter on Friday by the al-Kataib media foundation, an Islamist militant organisation, intelligence agency SITE Monitoring reported.
Al-Shabab, which seeks to overthrow Somalia's Western-backed government and impose a strict version of Sharia (Islamic law), has carried out attacks in Kenya and Ethiopia.