Bangladeshi researchers discover new frog that can fit on your thumb
The discovery adds a new species to science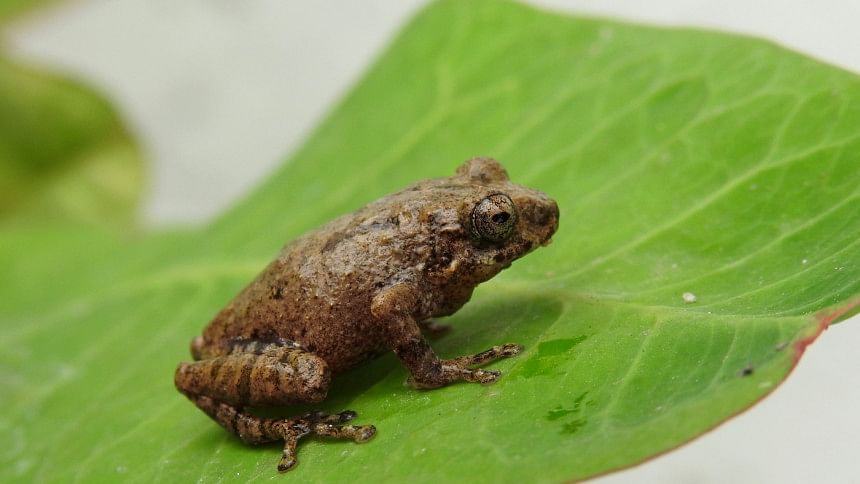 "It is named after one of the most prominent wildlife scientists and conservationist in the country, it mimics the sound of crickets and it is tiny," this is how the team of researchers who determined the presence of a new species of frog describe the amphibian.
The frog is so tiny that it can sit comfortably on your thumb.
Raorchestes rezakhani was the discovery of two young researchers -- Hasan Al Razi Chayan and Marjan Maria -- from Jagannath University, guided and led closely by Sabir Bin Muzaffar, professor of biology at University of United Arab Emirates.
The same group of researchers also recorded another species in the forests of Bangladesh last year. While that was not new to science, it extended the range of Raorchestes longchuanensis all the way from China to Bangladesh. That was the 50th recorded species in the country.
It was the recording of Raorchestes longchuanensis that launched a quest by the researchers to determine if there were more such species that have gone undiscovered due to their size and disguised call.
Thus, started the research journey. Last year surveys were conducted in five different forests of the country, from rainforests to semi-deciduous, in search of possible new recordings.
They looked for frogs of the Raorchestes species group in Lawachara, Satchari, Rema-Kalenga, Adampur and Lathitila forests.
Due to its size, insect-like call and superb camouflaging skills, it can go unnoticed but the group persevered. Between April and May last year, they collected samples of the small frog from Adampur Reserve Forest and Lawachara National Park.
After running genetic tests and going through a few hundred scientific papers, the researchers realised what they are looking at is a completely new addition to the world of frogs.
The team have completed writing a detailed scientific article on the discovery and made the news public just last week. It has been accepted by ZooKeys which is a peer-reviewed open access scientific journal covering zoological taxonomy, phylogeny, and biogeography. 
The article is currently under press.
At a time, when the everyone is being battered by cataclysmic events from the world of wildlife, this discovery is yet another reminder that there is hope. The researchers now plan to further study the frog species in a bid to determine its natural history and its ecological importance.
The discovery of new species, even as we enter a great storm of extinction, is a reminder too that we need to preserve habitats, protect our forests and continue to celebrate wildlife. Because it is full of yet undiscovered mysteries!