A village of mosques
Beraid is a small place in terms of size, but it is huge in terms of popularity, thanks to a large number of ancient mosques.
Though this village is situated in a remote area, seven miles away from North Badda in the capital, it is popularly known as the "village of mosques".
Most of the mosques in the village were built during the Sultanate, Mughal, British and Pakistani periods, according to elderly locals.
The village now has a total of 15 mosques. Surprisingly, seven of the mosques were built before 1900, making this village popular, to the point that it was dubbed "Mosjider Gram" by locals.
Among others, Morolpara Jame Masjid was built in 1833, Purbopara Jame Masjid in 1893, Agarpara and Chotkipara Jame Masjid in 1893, Askartek Jame Masjid in 1888, Chinadipara Jame Masjid in 1893 and Aroiddopara Jame Masjid in 1896.
Apart from these six ancient mosques, Bhuiyapara Jame Masjid, also the central mosque of the village, is the oldest among all. Though there are differing opinions on the mosque's age, some claim it is 200 years old, while others say it is 400 years old.
However, most people think that the mosque was built during the Sultanate period. This mosque is architecturally similar to the Baba Saleh Mosque in Sonargaon.
A nameplate in front of the mosque reads: "Bhuiyapara Jame Masjid mosque was established in 1505, although there are conflicting opinions regarding the authenticity of this information."
According to a booklet named "Mosjider Gram Beraid", published by Beraid Public Library, the mosque stood 17 feet 6 inches tall, while the interior was measured 16 feet by 16 feet.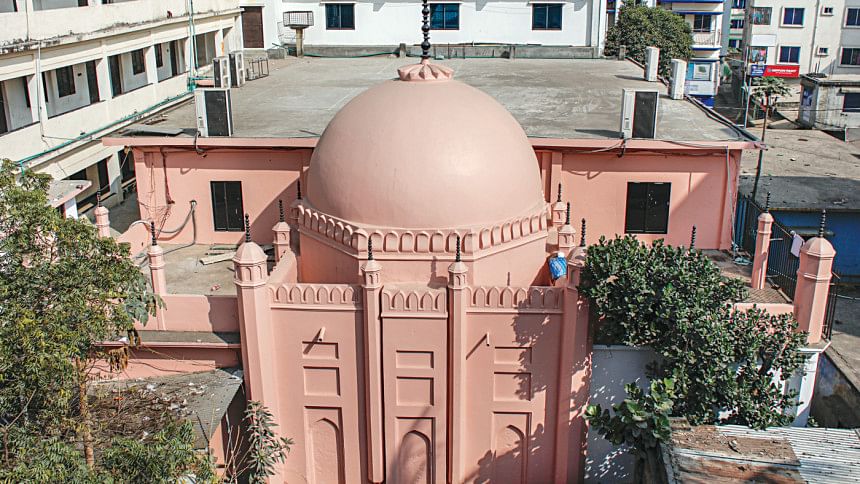 In 1906, the authorities expanded the mosque areas for the first time. Later it was renovated several times, as mentioned in the book.
At present, the total length of the mosque's interior is 52 feet in the north-south and 33 feet in the east-west. The balcony spans 52 feet and is 44 feet wide. The mosque now has a total area of 9,221 square feet.
Md Iqbal, a 70-year-old resident of Beraid, was found chatting with some of his old friends on the premises.
He said, "A long time ago, people knew our village as 'Mosjider Gram'. There are so many old mosques in our village like this one."
The mosque committee's President Haji Belayet Hossain Bhuiyan said people often come from far and wide to see the mosque. The Department of Archeology preserved the original part of the mosque, he said.