Sitakunda's curse of industrial accidents
In Sonaichhari union alone -- where both BM depot and Sheema Oxygen Plant are located -- there are around 50 shipbreaking yards, several re-rolling mills, oxygen plants and one LP gas plant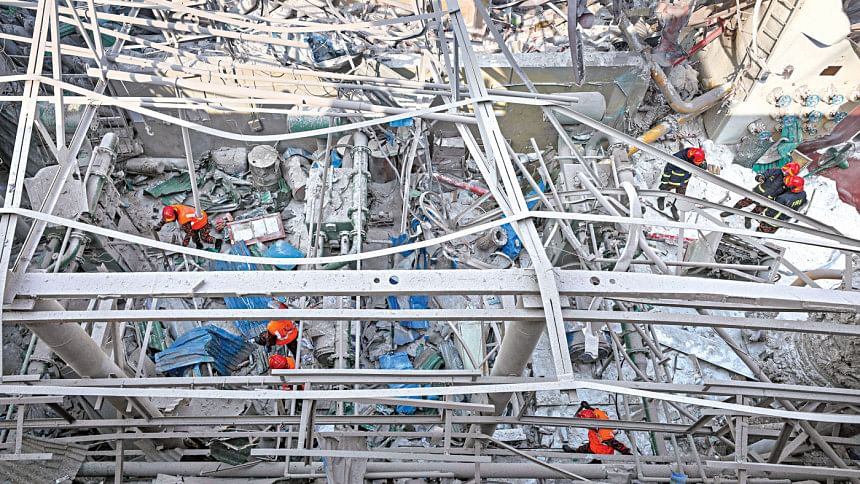 Three devastating explosions and fire incidents in Sitakunda's industrial units within nine months have created panic among its residents who live in close vicinity of such units.
Since the pre-liberation era, several industrial units have been set up in Chattogram's Sitakunda due to being close to the country's premier seaport and the Dhaka-Chattogram highway.
However, the upazila has been rapidly industrialised in the last couple of decades in an unplanned manner. Industrial units have been set up near the residential areas, that too without proper safety measures. All three latest catastrophic incidents unravelled the absence of workers' safety equipment and a lack of regular monitoring by the industry authorities, according to experts.
On June 4 last year, a fire and explosion at a private inland container depot (ICD) -- BM Container Depot -- at Keshabpur ward in Sonaichhari union, claimed the lives of 51 people. The incident left more than 200 injured and damaged a huge quantity of import and export containers.
On March 4, exactly nine months later, at least seven people were killed and over 25 were injured after a huge explosion at Sheema Oxygen Plant in the same ward and within less than one kilometre away from the BM Depot.
The latest incident occurred on Saturday morning. A massive fire that broke out at a cotton warehouse, owned by Unitex Spinning Mill at Chhoto Kumira under Kumira union, took around 30 hours of frantic efforts of firefighters from the Fire Service and Civil Defence and members of the armed forces to douse the blaze.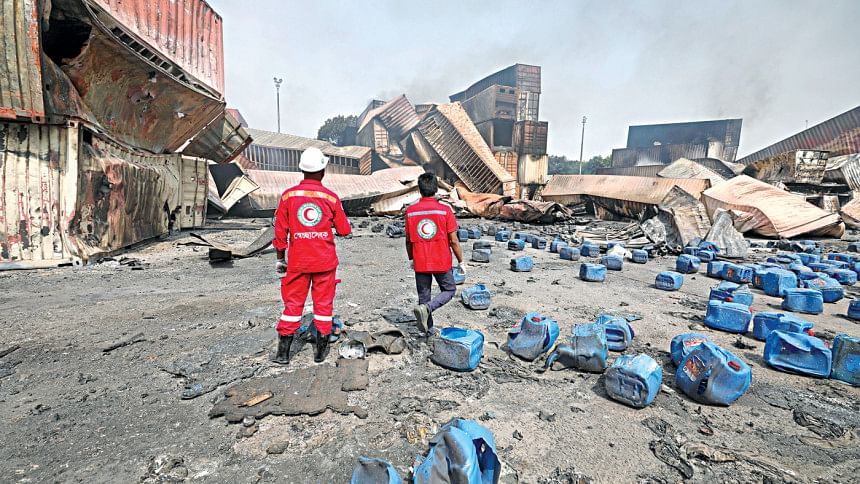 The warehouse stored around 2,700 tonnes of cotton.
According to firefighters, the warehouse had no fire safety equipment to douse the primary blaze.
Sitakunda has frequently made headlines for accidents inside shipbreaking yards, steel re-rolling mills and other factories. In the past 18 years, 251 workers have been killed in accidents at shipbreaking yards in the upazila.
Among the seven deceased in the Sheema Oxygen Plant blast last week, two people died after metal fragments from the blast flew and hit them at Kadamrusul Bazar and Saleh Carpet areas, both nearly half a kilometre away from the site.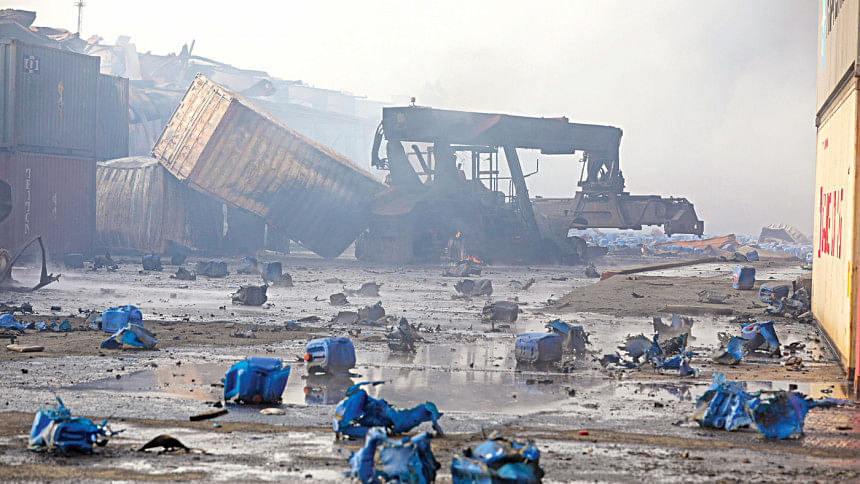 In both incidents, the blasts were heard from several kilometres away and shattered windowpanes of houses nearly a kilometre away from the sites. Many of the injured in the Sheema plant blast suffered from a loss of hearing. Many residents complained of health-related problems due to toxic fumes from the BM Depot fire last year.
In Sonaichhari union alone -- where both BM depot and Sheema Oxygen Plant are located -- there are around 50 shipbreaking yards, several re-rolling mills, oxygen plants and one LP gas plant, said Union Parishad Chair Monir Ahmed. Most of these industries are located within residential areas.
"Previously, we witnessed accidents inside factory premises. But now residents in nearby areas are also getting killed or injured," Monir said.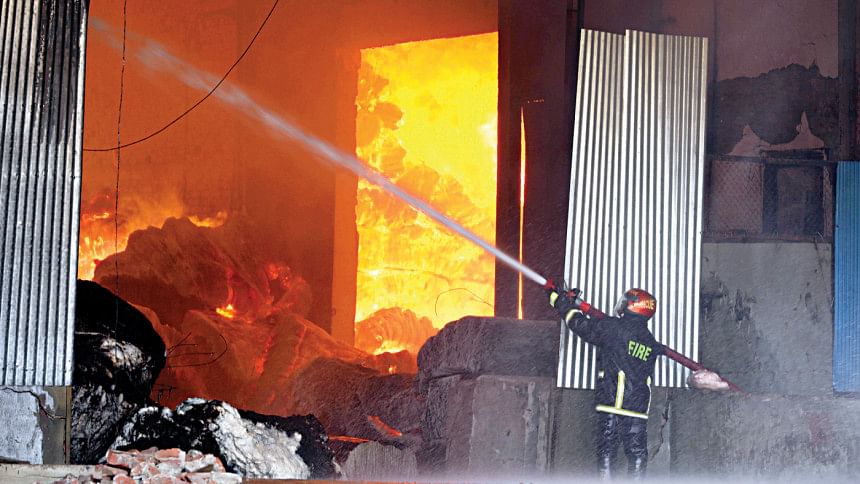 A homemaker, who resides on the ground floor of a three-story building within 200 yards of Sheema Plant, said several windowpanes of the building got damaged due to the blast last week.
"Metal pieces flew and landed in the front yard of the house where our children play. It seems we are now not safe at all even at our homes," she said.
Salim Ullah, a resident of Kadamrusul area, who was on the balcony of his rented house around half a kilometre from the oxygen plant during the blast, said he could feel the impact as though a strong earthquake had hit.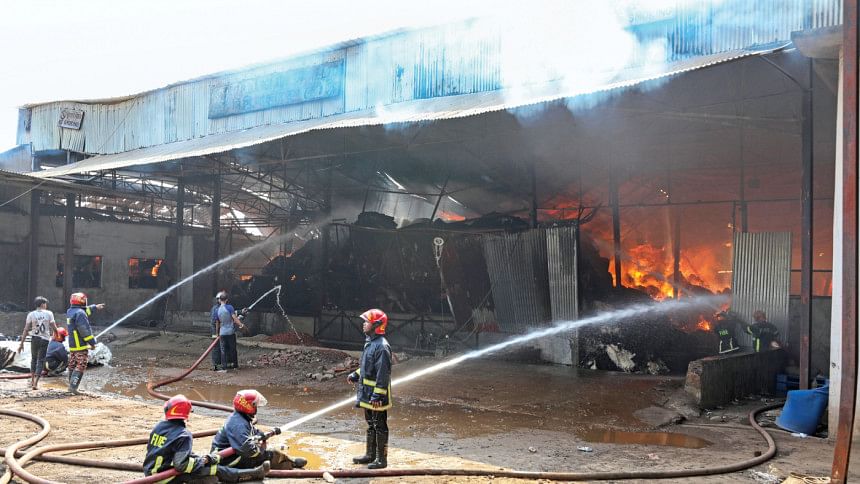 He also said the place where the metal fragment landed and killed a person is not far from his house.
"My family is in a state of constant panic. I feel like we are sitting on bombs," he said.
Shamsul Alam, a resident of Keshabpur, built a house around four years ago just 500 feet away from Sheema Oxygen Plant. During last year's explosion at BM Depot, two window panes of his house were damaged, which have recently been repaired.
However, during the oxygen plant blast, metal fragments hit different parts of his house, damaging the walls, the main gate and the window panes.
"I was about to go out when I heard the blast. My wife fainted after hearing the sound," said the 65-year-old.
There are four to five factories, including two oxygen plants, in close vicinity of his house, said Shamsul.
Sitakunda Upazila Chairman SM Al Mamun said most of these industries were set up in an unplanned manner near the residential areas.
"The government is developing economic zones and those are suitable places for such heavy industries. Regular monitoring by the respective authorities of these units can avert such deadly accidents," he added.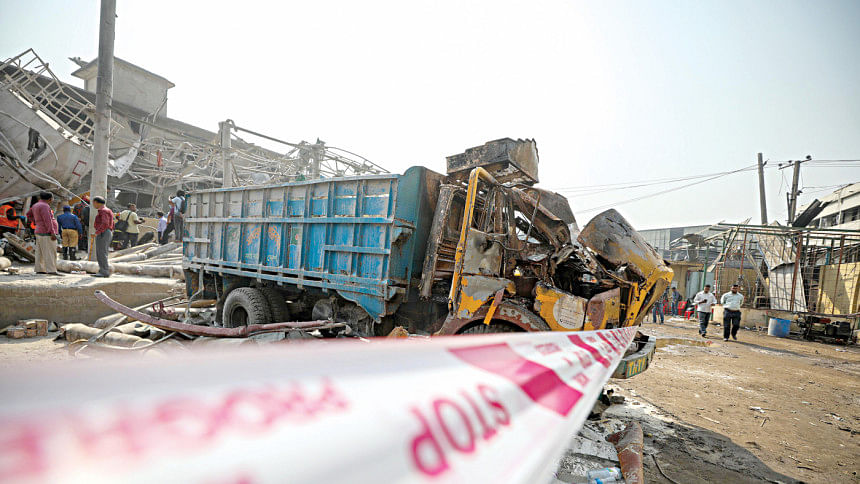 Meanwhile, no relevant government body has the exact figure on how many industrial units are in the upazila.
Officials of the Department of Inspections for Factories and Establishments (DIFE) failed to provide the data when the deputy commissioner (DC) of Chattogram asked for it during a meeting on March 5, following the blast in the oxygen plant.
According to a DIFE official, a total of 335 industries are currently in operation in Barabkunda, Sonaichhari, Bhatiary and Fouzderhat areas of the upazila. Among these, there are 85 shipbreaking yards, 37 steel rerolling mills, three oxygen plants and 204 other small and large industries, he mentioned, wishing anonymity.
However, according to Sitakunda Upazila Nirbahi Officer Shahadat Hossain, around 480 small and large industries are located here.
As many as 12 LP gas plants have been set up in only two villages of the upazila, leaving villagers worried about their safety, said sources.
Contacted, Chattogram DC Abul Bashar Mohammad Fakhruzzaman admitted that the data provided by the UNO is not updated.
"We are going to start a survey in this regard and initiate drives soon to ensure fire safety and other compliances in the Sitakunda industrial unit," said the DC.