All, except farmers, profit from paddy farming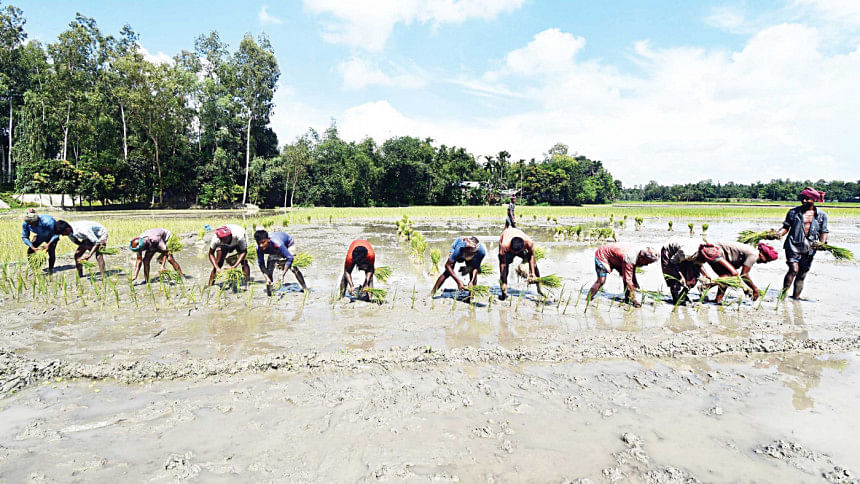 Paddy farmers in the northern districts have struggled to turn a profit for the past five years, as production costs have risen significantly but rice prices have not increased proportionally.
Moreover, the recent hike in fertiliser and diesel prices has made it virtually impossible for marginal farmers to make any profits, said farmers from Bogura, Joypurhat, Gaibandha, and Dinajpur.
Recently, the Department of Agricultural Extension (DAE) office, Bogura region, made estimates of the production cost of T-Aman paddy cultivated in Bogura, Joypurhat, Pabna, and Sirajganj districts.
This document shows the cost of producing paddy per bigha (33 decimal) is Tk 18,607, which results in a yield of 617 kg (or roughly 15.5 maunds). From this venture, a farmer makes Tk 19,659 (including Tk 3,000 earned from selling paddy straws).
The data also shows that farmers spend Tk 30 to produce one kg of paddy, despite the government's current price of Tk 27 per kg.
Speaking to farmers in Bogura, Joypurhat, and Gaibandha, this correspondent found that the actual production cost was a little more in reality.
They said almost never does the cultivation process go exactly as planned, so there are always extra costs associated with the means of production.
Additionally, the costs of leasing land vary from region to region and depend on the land's capacity for yield and crop rotations, they added.
Whereas in India, the Commission for Agricultural Costs and Prices (CACP) estimates that it costs Rs 1,360 to produce one quintal (100 kg) of Aman paddy.
Furthermore, in FY23, the Government of India set the minimum support price of paddy at Rs 2,040 per quintal, so farmers can make a profit of Tk 680 per quintal.
Meanwhile, Bangladeshi farmers are set to incur a loss of Tk 300 per quintal as per the government's current price.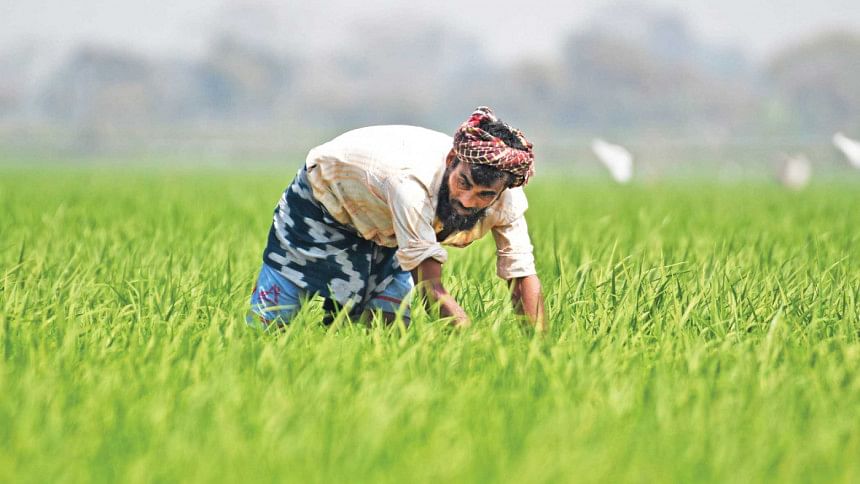 Five years ago, the production costs per bigha for Aman, Boro, and Aus were Tk 11,500, Tk 13,250, and Tk 6,485, according to the DAE.
Salim Sajjad, from Pashchim Palsha village in Dinajpur's Ghoraghat upazila, who cultivated Aman paddy on five acres this season, said, "All businesses related to paddy farming are profiting except the farmers."
Farmers in the village said when landowners cultivate paddy, they can make some profit, but 30 to 40 percent of paddy farmers there worked on leased land and were unable to profit.
Abdul Mozid, a farmer from Chokzora village in Bogura's Shahjahanpur upazila, said he now drives a CNG-run autorickshaw to support his six-member family.
"Farmers have never spent so much money on Aman cultivation as they have this season. This year, it is uncertain whether they can make a profit," he said.
Rashedul Islam, a farmer from Maltia village in Joypurhat's Kalai upazila, said, "After we harvest our crops this season, I'm afraid we have to sell all our crops in order to pay off our loans, which we took in the beginning of the season."
"As a result, I'll have to buy rice from the market to feed my family and borrow money again to cultivate potatoes," he added.
Md Nuruzzaman, deputy director of DAE, Dinajpur, said, "Paddy farming by itself does not produce a profit, so it is important for farmers to also cultivate other types of crops."