Govt to buy 115,000 tonnes of fertilisers
Two UAE companies, Qatar to supply those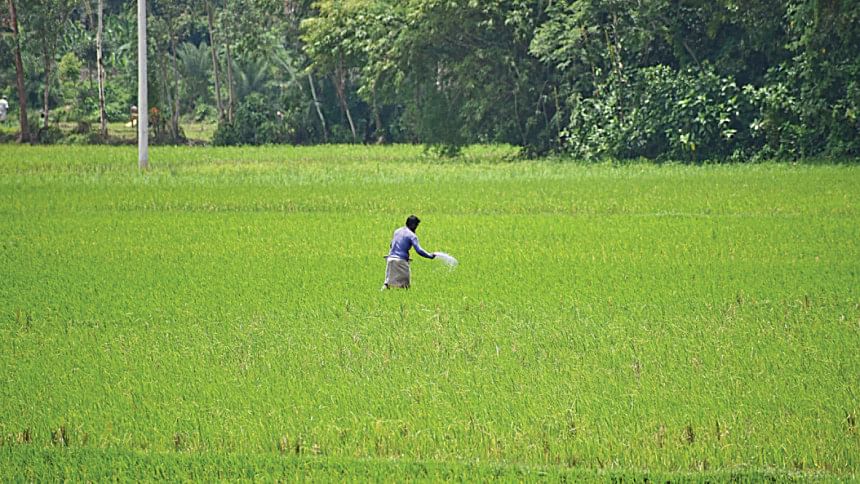 The cabinet committee on government purchase (CCGP) yesterday gave the nod to buy 115,000 tonnes of fertiliser from two Middle Eastern countries to increase fertiliser stock for producing crops in the coming seasons.
Of the amount, the UAE-based Fertiglobe Distribution Ltd, will supply 60,000 tonnes of granular urea at $626.67 per tonne to the Bangladesh Chemical Industries Corporation (BCIC) under the industries ministry.
The remaining 30,000 tonnes will be bought under the state-to-state contract from Qatar at the same price, said Sayeed Mahbub Khan, additional secretary to the Cabinet Division after a meeting chaired by Finance Minister AHM Mustafa Kamal.
The meeting also gave permission to import 25,000 tonnes of triple super phosphate (TSP) to the Bangladesh Agriculture Development Corporation (BADC) at $562 per tonne.
The latest rates for urea and TSP were lower than the rates at which the government gave approval to buy the fertilisers.
In addition, the CCGP approved a proposal from the TSP Complex, Chattogram under the BCIC, to buy 25,000 tonnes of rock phosphate from the UAE-based Gentrade FZE through Desh Trading Corporation.
In September, the government granted clearance to these state agencies to import 90,000 tonnes of fertiliser from Qatar and Morocco under a state-to-state contract to build stock amid the ongoing economic uncertainty stemming from the Russia-Ukraine war.
The agriculture ministry projects a requirement of 55.5 lakh tonnes of chemical fertiliser for fiscal 2022-23 and most of it would be met through imports because of inadequate domestic production.
State factories produce 10 lakh tonnes of urea and insignificant quantities of TSP and diammonium phosphate. Farmers used over 55 lakh tonnes of fertiliser in fiscal 2021-22 and most of the demand was met through imports.
Yesterday, the CCGB also gave clearance to the state Trading Corporation of Bangladesh to buy 800 tonnes of lentils and 15 lakh litres of soybean oil through tenders.
The state corporation, which provides certain essential commodities to one-crore low income families at subsidised rates, will pay $859 for each tonne of lentil and Tk 162.94 per litre of oil to the suppliers, said Cabinet division official Mahbub Khan.