Of Lemon, Soap, Vaseline and EVMs
Should the Election Commission take the controversial route of using EVMs in the next general election?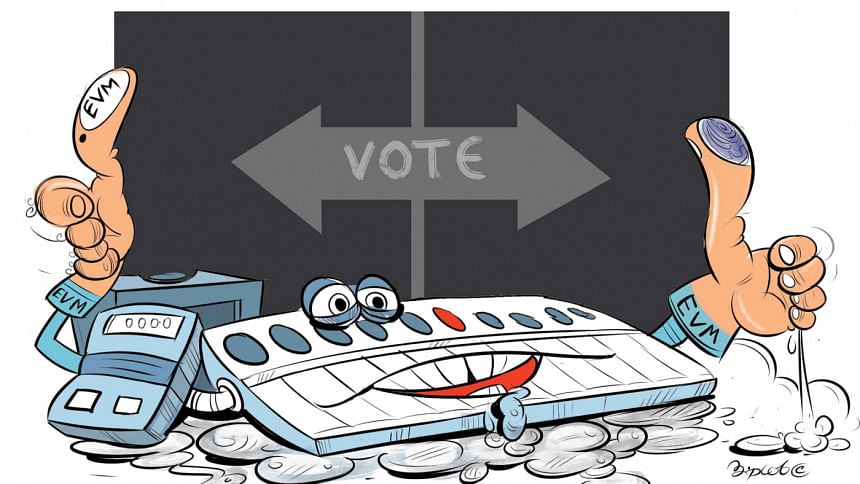 In the Narayanganj City Corporation (NCC) election earlier this year, most polling centres looked pretty much how they should look. There were voters standing in long queues, waiting for their turn to exercise their voting right. Polling agents, officers and law enforcement officials were seen doing their usual election day duties. However, there was one element at almost every polling centre that was very unusual: hand-washing arrangements. At first glance, you would think they were there as part of the usual Covid safety protocol. But if you waited long enough, you would see people actually washing only their thumbs, used in the electronic voting machine (EVM) for identification.
As it turned out, the EVMs could not read many people's fingerprints, especially of the elderly voters, and every time that happened, they rubbed petroleum jelly on their thumbs, which were kept at the polling officers' tables. Some also used other remedies such as lotion and slices of lemon.
Fingerprint mismatch on the EVMs was one of the reasons that slowed down vote-casting during the NCC polls; there was a number of cases where people could not even cast their votes as their fingerprints did not match with the machine. In addition, many voters were confused during voting as they were not familiar with the process. Some were seen expressing frustration as they waited a long time in the queues to vote. But there was the opposite picture, too: it took a considerably short time for young people to cast their votes.
The NCC election was free, fair and peaceful, except for the EVM trouble. In a city corporation election where only 500,000 voters were supposed to cast their votes, EVMs appeared to be a major problem. I saw how the election officials were struggling to manage the situation. If EVMs are used in all 300 constituencies of Bangladesh in the upcoming general election, where some 120 million people are supposed to cast their votes, what would happen? I, for one, am worried.
The issue of EVMs came to the fore as the top leaders of the ruling Awami League said EVMs would be used everywhere during the parliamentary election scheduled next year. It may be the ruling party's desire, but the whole issue grabbed public attention as the performance of the last two Election Commissions in holding free and fair elections was a cause for sheer frustration. The current Election Commission, formed in February, said they were yet to decide on the matter, and were debating whether they would make the decision after speaking with the political parties and other stakeholders. The BNP and some other political parties are completely against using EVMs, terming them "automated vote-rigging machines." They said these machines could be programmed in such a way that, no matter which symbol a voter pressed on in an EVM, the vote would go to a preselected symbol. There would be no paper trail or proof on paper of voting. Although it is absolutely at the Election Commission's discretion whether EVMs will be used in the polls or not, the ruling party's desire for EVMs has put the commission under pressure, and now it has to walk a tightrope.
According to media reports, countries like Namibia, Nepal, Armenia, Bhutan, Australia, Belgium, Bulgaria, Italy, Switzerland, Canada, Mexico, Argentina, Brazil, Chile, Peru, Venezuela and the US use some form of electronic voting. Meanwhile, in October 2006, the Netherlands banned the use of EVMs. In 2009, the Republic of Ireland declared a moratorium on using EVMs. Italy followed suit. In March 2009, the Supreme Court of Germany ruled that voting through EVMs was unconstitutional, saying that transparency was a constitutional obligation, but efficiency was not a constitutionally protected value. Norway stopped using EVMs in 2003. Pakistan, the UK, and France used EVMs once, but these countries stopped it as well.
In Bangladesh, EVMs were used for the first time in 2010, as an experiment, at 14 polling centres of a ward in Chattogram City Corporation polls. The last Election Commission, led by KM Nurul Huda, held talks with various stakeholders, where many were against using EVMs in the polls. The newly formed commission also held talks with various stakeholders, where the majority opined against using EVMs, without reaching consensus. Many even suggested including the Voter-Verified Paper Audit Trail (VVPAT) in the EVMs so that voters would get a printed slip after casting their votes. The Election Commission held talks with information and communications technology experts last week, where they said it would be almost impossible to manipulate the EVMs.
The issue of EVMs is now more of trust than technical. When the distrust between the ruling party and the opposition parties are very high, this EVM debate will do nothing but widen the gap and may foil the government's intention to bring the BNP in the next election. In countries like Bangladesh, voting is a festive activity where people enthusiastically go to the polling centres to cast their votes. But in the last two general elections—in 2014 and 2018—many people were denied their chances to cast their votes. If the Election Commission can ensure a congenial atmosphere where voters will be able to cast their votes without any hassle, that should not be hampered by a controversial issue like EVMs. Machines are supposed to make a task smoother, but if it creates hazards instead, people will be discouraged to cast their votes, and the election will come under question. Moreover, as I said earlier, it is a matter of trust, not a technical issue. If trust is lacking, why make the situation difficult by using EVMs instead of ballots?
Mohammad Al-Masum Molla is deputy chief reporter at The Daily Star.