Voters facing difficulty with EVMs slowing things down
No untoward incident reported so far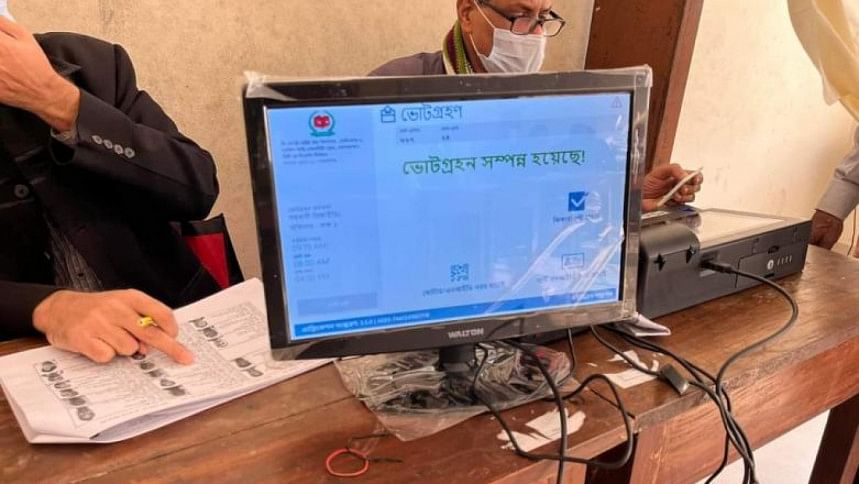 Voters have been facing difficulties in using the electronic voting machine (EVM), which is slowing down voting in the Narayanganj City Corporation elections.
For the first time, EVMs are being used in all 192 centres of NCC.
During visits to at least ten polling centres, it was found that many voters were confused when they arrived at the voting booth to cast their votes.
Take Dipali Rani Sarkar, for example. Soon after the polls opened, she went to Narayanganj Government Girls College to vote.
"I made a mistake when casting vote for the mayor post," she told The Daily Star, adding that she had never voted using an electronic voting machine.
In Chief Judicial Magistrate Court centre 2, there was a long queue.
The reason for the long line is that voting is slow. Around a 100 people were standing in the queue to cast their votes.
Voter Kamal Chandra Ghosh said, people will lose interest if casting a single vote takes so long.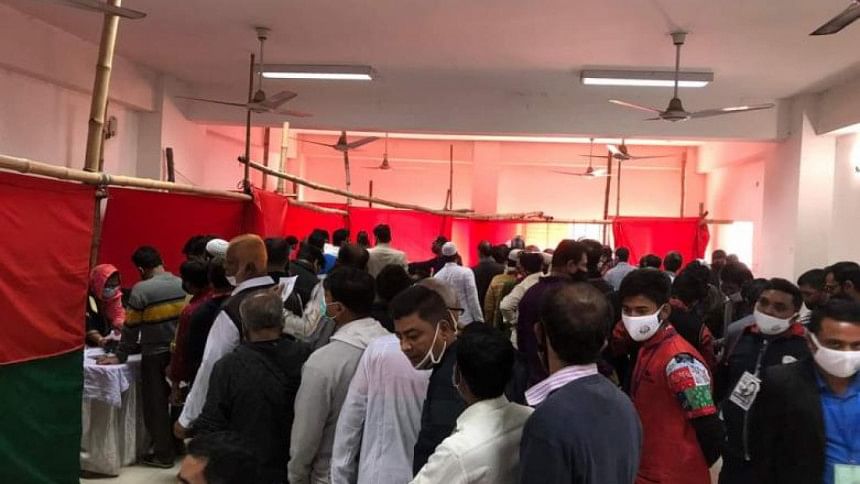 People are unfamiliar with the EVM system, according to Delwar Hossain, the centre's polling officer, which is why it is taking so long.
According to Ramjan Ali, presiding officer of Morgan Girls High School, 250 people voted in the first hour.
"Voting is slow due to the EVM. It took about 20 minutes for the first voter in the centre to cast his vote," he said.
Meanwhile, voting is underway in Narayanganj's Bandar and Madanpur areas, despite low voter turnout.
At 9:40am, slow casting was seen at BN DEW High School and Bandar Girls School, in wards 21 and 22 respectively.
At Bandar Girls School, 416 votes were cast in 10 booths until 10:30 am. At the centre, there are 4,129 registered voters.
The number of voters is growing as the day progresses, said Md Birun Rashid Miah, the centre's presiding officer.
He further said that explaining the EVM voting system takes time. That is why it is taking so long.
Meanwhile, voting at Safura Khatun Pilot Girl High School centre under ward 6 remained suspended for 20 minutes due to technical glitch.
"Voting was suspended due to technical glitch. The problem was resolved as we had extra machines," said Abdul Awal Mollah, presiding officer of the polling centre.
Many voters alleged that they have been not able to cast vote even after standing in line for a long time.
Habiba, a voter, told The Daily Star that she could not vote even after standing in line since 7am.
Polling Officer Munira Akhter said elderly women were facing problems with matching their fingerprints. They had to give fingerprints three times for one vote. Later, at one stage the machine went out of order.
Meanwhile, some voters were seen leaving West Deobhog's Shishubagh School centre after the EVM failed to match their fingerprints, preventing them from voting.
Incidentally, Awami League nominated mayoral candidate Selina Hayat Ivy cast her vote at the centre.
Voters Amir Hossain and Ayesha Begum told The Daily Star that they could not cast vote as their fingerprints did not match. They were asked to come after 3pm.
"One or two people had returned," Narayan Chandra Mandal, presiding officer of the school's women's polling station, said.
"I told them that they could come later. Their ID card is valid, but the EVM is refusing to accept their fingerprints. This has been conveyed to machine operators," he added.
"I found three people whose fingerprints did not match," Abu Khaled Mohammad Raihan, presiding officer of men's polling station, said.
Voting began at 8am in 192 polling centres across 27 wards of the city and will continue uninterrupted until 4pm.
There are 517,361 registered voters. Among them, 259,846 are women, and four people are from the third-gender community.
Seven candidates are contesting for the post of mayor. Thirty-four women are running for nine reserved ward councillor positions and 148 are running for 27 general ward councillor positions.
Despite election-related tension, no untoward incidents have been reported so far.
Chandraban Begum cast her vote at Morgan Primary school. She expressed her excitement after casting the vote.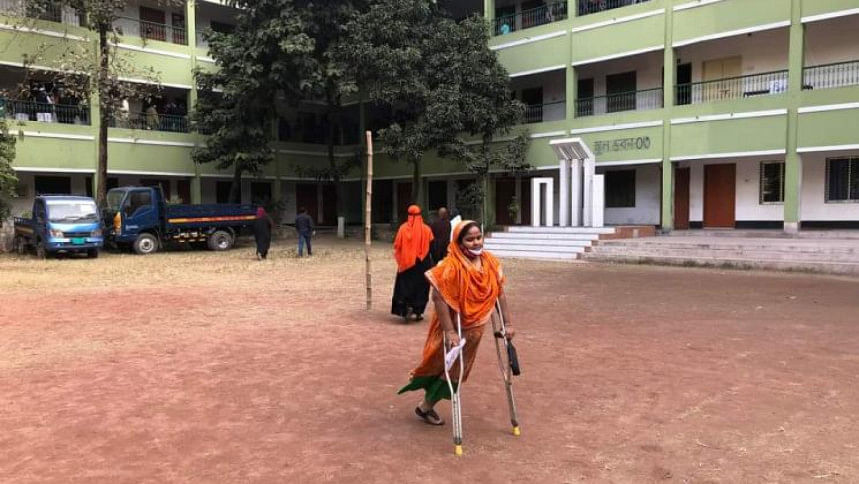 "It was difficult for me to go up to the second floor to cast the vote. But after a long time, I'm able to vote," the woman with physical disability said.
Narayanganj Superintendent of Police, Zayedul Alam, told The Daily Star, "Atmosphere is peaceful. No chaos was reported anywhere. More than 5,000 law enforcement personnel have been deployed and 39 magistrates are working to ensure security."