Imran's ignominious innings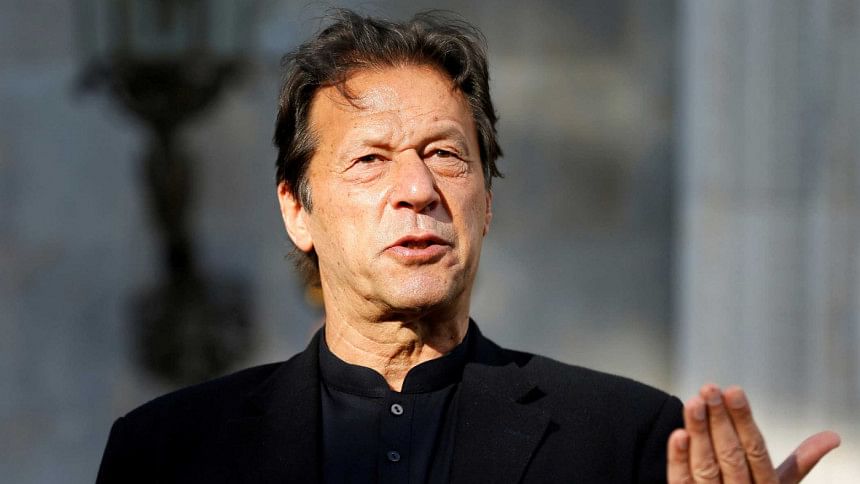 The postcolonial legacy of the Indian subcontinent is closely intertwined with frequent constitutional aberrations of an unnecessarily theatrical nature, by opportunistic political actors—which in simpler words refers to illegal, hostile, autocratic, dictatorial and, traditionally, military-led political takeovers of democratic institutions. The catastrophic political journey of Pakistan since 1947 characterises a recurring trend in the discourse of South Asian politics, and makes one feel pity—if nothing else—for the people of Pakistan. Yet, it perhaps hits harder when a once-in-a-generation icon, whose popularity transcended partisan politics and geographical borders, becomes a module of not simply contention, but through his actions, converts himself to the primary anti-hero who scandalises constitutional conventions and deepens what is already a crisis of magnanimous proportions in Pakistan.
In what is now part and parcel of cricketing folklore, political tyrant and erstwhile Pakistan President General Zia-ul-Haq famously made an emotional appeal to the recently retired captain of his national cricket team and asked the nation's beloved Imran Khan to make a comeback and serve Pakistan. Khan, then 36 years old, responded to the president's request, returned as the captain of his team on January 18, 1988—the rest, as they say, is history. Prior to President Zia's clarion call, the Oxford-educated cricketer had successfully stamped his authority in the world of sports and achieved wide-scale international recognition, fame and glamour—a bowler of impeccable skill, a batsman who had the heart of a lion, and of course, a captain who inspired and directed right from the front. Imran Khan led his team to World Cup glory in 1992—uniting Pakistan to celebrate a rare national achievement. Success on the pitch and broader altruistic ventures on his part signalled the initiation of a different Imran Khan: the apolitical politician whose vision for a Naya Pakistan resonated with the younger generation.
Today, understanding the personal journey and cricketing legacy of Imran Khan is fundamental when trying to comprehend the ongoing political crisis in his country. Historically, military interventions in Pakistan have destabilised democratic processes, but for a change, the elected Imran Khan and his ego have cultivated a unique crisis. As I write this article, the situation in Pakistan remains volatile, fluid and unstable. The country's Supreme Court has ruled that the dissolution of parliament approved by President Arif Alvi and initiated by the deputy speaker of the national assembly on April 3, subsequent to the advice from Khan's cabinet, was unconstitutional. The parliamentary opposition, which includes a coalition comprising the prominent Sharif and Bhutto-Zardari political dynasties, and other parties, invoked a no-confidence motion against the regime of Imran Khan, prior to the deputy speaker's ruling—which effectively triggered, by definition, the process to have a vote on the floor of the national assembly.
Credible media sources indicated that Imran Khan would fail to receive the mandate he needed in parliament to remain prime minister, and that he would either resign or be forced to step down following the vote at the national assembly. Perhaps to the surprise of most, including those in his own party, Pakistan Tehreek-e-Insaf, Imran pulled off what his supporters deemed a masterstroke, which halted the opposition from attaining immediate access to power. He invoked the time-tested go-to policy tool of the national security clause as a means to suspend parliamentary proceedings and put Pakistan towards an unpredictable path.
When he was elected to power in 2018, Khan championed a call to clamp down on corruption and announced his intention to institute a foreign policy agenda that prioritised the sociopolitical and security needs of Pakistan—above and beyond being a conduit for addressing the international policy programmes of its Western allies. His words carried weight: corruption engineered by politicians, particularly the leading political dynasties in Pakistan, has been a cause of grave concern for decades. For this reason, younger and educated voters resonated with the electoral vision portrayed by Tehreek-e-Insaf. Yet, the Pakistani economy is facing unprecedented challenges, even with active support from a friendly China—from having an outrageously high debt burden to facing increasing inflationary pressure, Imran Khan has failed to bring the kind of stability that he had promised to his nation. And that, in a nutshell, has resulted in his government taking a hyper-nationalistic view of not simply redefining foreign policy goals, but advancing a simultaneously anti-Western and pro-Islamic outlook, simply with the hope of ensuring the endurance of the Captain's political ambitions.
The opposition had denounced the results of the 2018 elections and accused the military of fixing the polls on behalf of Khan. Their move to bring down his government in today's context is, therefore, no surprise. Over the past few months, Pakistan's prime minister has publicly showcased his irreverence towards the West: he visited Moscow and raved about the alliance between Russia and Pakistan, at a time when the world remained in shock over Vladimir Putin's hostilities against Ukraine. Khan did not mince words in bringing to light a supposed US-led conspiracy to bring down his government—a conspiracy whose evidence comprises primarily meeting minutes based on a private interaction between a mid-level American diplomat and the Pakistani ambassador to the US. While the history of American interventionism is another story in itself, obstructing constitutional proceedings based on a single conversation between two diplomats has made Imran Khan even more divisive than he was a couple of weeks ago. And it is in that sense of divisiveness, that he calls his nation to either stand by him or, according to him, stand against Pakistan.
In such circumstances, it seems the Pakistani people will ultimately have to go to the polling booths sooner rather than later, to provide a clear-cut mandate to a new government. Eventually, Imran Khan will undeniably lose the legal, moral and constitutional right to govern Pakistan. Even amid these political challenges, it is certain that he continues seeing himself as the brave, gallant and charismatic saviour of Pakistan—as he was on the cricket pitch throughout his career. But his actions have unequivocally split Pakistan into two, and with the notorious generals looming in the background, the puzzled citizens wait to see what destiny holds for a nation historically tormented by its military, corrupted by its politicians, and misused by the West.
Mir Aftabuddin Ahmed is a banking professional based in Toronto, Canada.