Helmet cannot hide identity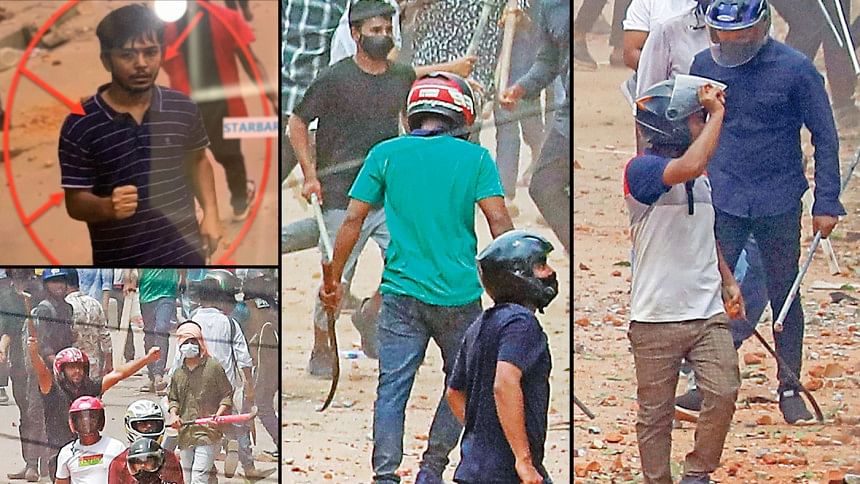 We have become so heartless that we can now watch video of Nahid Mia getting beaten to death – without any hesitation. Once, we identify the "Helmet Gang" as killers, we reach the decision that nothing will happen to them.
A love message, written with mehedi, on the palm of Nahid's wife makes us emotional. But the feeling doesn't last long. After that, shop worker Morsalin's death news comes. He was injured during the students-traders clash in New Market area as well. Instantly, his wife and two children's lives become insecure. Morsalin's daughter will never again be able to ask her father to buy her a hair band.
No one will have spare time to know or to inquire about the state of these families. By this time, three cases have been filed against three named individuals and 1,200 anonymous accused. Meanwhile, the prime accused, BNP leader Mokbul Hossain has been arrested.
Of the cases filed, two are over murder. The victim families have initially informed that they don't want any trial. They believe, justice is hardly delivered and they don't even have the money for trials.
According to the cases, Advocate Mokbul and 200 to 300 unnamed individuals carried out the attacks in the New Market area using sticks, rods and hockey sticks.
Mokbul earlier told The Daily Star that instead of filing case against the real culprits, police filed a politically motivated lawsuit against BNP leaders and its affiliated organisations. He also alleged that police framed him only to harass him.
"I have not even gone to the New Market area in the last four months," he said on April 21, 2022.
As per the case document, police are claiming that Mokbul led the attacks.
So, whose statement is correct? Who is telling the truth?
One of The Daily Star's photographers managed to capture glimpses of deliveryman Nahid getting beaten up by miscreants with rods and hacked to death by machete.
The Daily Star reported, "In the photograph and video, it can be seen that another man, wearing a black helmet, came with a machete and started hacking him indiscriminately. The attacker stepped back after he was stopped by a third man, who was wearing a yellow helmet. The two helmeted men then joined the other students."
Officials of the Detective Branch of police, which is investigating the murder case, said the young man who hacked Nahid has primarily been identified as Zakir. He is a BCL activist, DB officials said.
"Nahid was first hit by Kaiyum, a Dhaka College student. He was wearing a blue T-shirt with white stripes," they said today (24 April, 2022).
Till now, no publicly available photo or video confirms the presence of BNP leader Mokbul or any of the other accused anywhere near the murder scene. There are many closed-circuit cameras between New Market and Dhaka College. Mokbul and the other accused must have been framed by the CCTV cameras if they were present there.
It is not known whether the police have seen it or if they have any information. Cases have been filed against those who were not physically present there. Arrests have also been made. But no case has so far been filed against those who were seen in the video.
A police source, who did not want to be named, told The Daily Star that the police did not want to arrest anyone associated with student politics of Dhaka College in this situation. This may worsen the situation, they feel.
What kind of logic this is, only they know.
Were the cases filed and BNP leaders arrested hastily, as it will not worsen the situation?
The incident centred around a rift between two shops of New Market. Those who carried out the vandalism in New Market area were wearing helmets, taking the side of one shop's employees.
People who led the Dhaka College students the next day in another reckless act of destruction have also been exposed.
This helmet gang first came to prominence during the school students' movement in 2018. During that time, the helmet gang had beaten and bloodied the students and journalists. The media published identities of many of those, who were hiding behind helmets. But the law enforcers neither investigated, nor did they take any action against them.
During the quota reform movement, a Chhatra League leader from Rajshahi University used a hammer to mercilessly beat up a student named Torikul and crippled him permanently.
In a televised interview, the leader claimed responsibility and boldly stated, "I am still within the hall premises. I didn't run away." But no action was taken against him by the law enforcement agencies. Following the same tradition, once again, we saw the helmet gang in action. Witnesses informed, some helmet gang members worked for the businessmen, too. During any clash, helmet is quickly becoming a useful defensive and identity-hiding shield.
What kind of a country and society we are trying to build by letting murder case accused off the hook and shifting the blame on others?
"There is no justice", "we won't get justice", "we don't want justice" – are we not establishing a country devoid of justice?