UP election violence doesn't bode well for sound local governance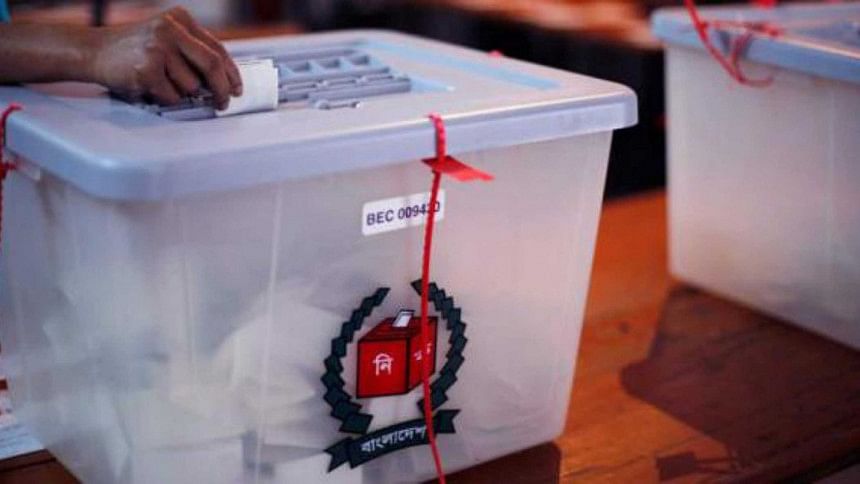 Over the past few weeks, almost every day, we have read news reports on clashes in the lead-up to the November 11 union parishad (UP) elections. On Monday, 20-year-old Md Shihan, who was critically injured in an attack over the upcoming polls the day before in Jadabpur union, in Dhaka's Dhamrai upazila, succumbed to his injuries and died. He was reportedly a supporter of Abdul Majid, the Awami League-nominated candidate for Jadabpur, whereas his attackers are alleged to be supporters of Jadabpur UP Chairman Mizanur Rahman Mizu, a rebel candidate of the ruling party.
Shihan is the fourth victim to lose his life in the recent pre-poll violence. On October 28, Sadir Mia (19) and Hiran Mia (35) were killed and over 20 others injured when two groups clashed over the upcoming elections at Paratali union in Narsingdi's Raipura upazila. According to the officer-in-charge of Raipura police station, Paratali UP member Shah Alam has been embroiled in a feud with his rival "Chhoto" Shah Alam, over establishing supremacy in the area, and the deceased were supporters of the latter.
On the night of October 26, Sajibur Rahman (47), who was a member of Kaptai union parishad in Rangamati, was killed in clashes between the supporters of Awami League-backed candidate Abdul Latif and the supporters of yet another rebel candidate, Mohiuddin Patwari Badal. So far, more than 52 people have been injured in pre-poll violence.
This is not the first time that we have seen such clashes during local elections. According to The Daily Star, around a dozen people have been killed across Bangladesh centring the first and second phases of the UP elections this year. In 2016, we witnessed some of the worst cases of violence ever seen during the local elections. According to Bangladesh-based organisation Democracywatch, 89 people were killed in pre- and post-election violence, and 53 were killed on election days. Of these 142 deaths, at least 60 were the results of factional clashes. While the latest round of elections has not reached such a dire stage, this trend of increasing political violence between different factions of the ruling party is something that should raise an alarm for us.
In the November 11 elections, the daily Prothom Alo puts the number of rebel candidates at 691 against the 848 seats to be contested—that is, 691 candidates who are members of the ruling party, but did not receive the party ticket, so decided to run as independent candidates. These rebel candidates have increasingly become a thorn in the Awami League's side. Although in its 2016 national council, the Awami League adopted a measure that stated that rebels in local body polls would be expelled without being served any show-cause notice, the measure has not proven to be much of a deterrent.
In September, Awami League General Secretary Obaidul Quader warned that such dissidents would not receive any posts in the party and would not be picked as party nominees. Yet, no amount of show-cause notices, warnings of punitive actions and even expulsions from the organisation seemed to have stemmed this tide. According to Prothom Alo, the situation has reached a stage where, in some areas, lawmakers asked party leaders not to nominate anyone and keep the elections open to independent contestants in order to maintain peace. This really begs the question: Given that party-backed nominees are such a huge cause of friction in local elections, why was this system even put into place?
Of course, one could argue that national party-backed candidates are more likely to be able to get things done through a party chain of command, creating more cohesion between local and national government. However, keeping local and national representation separate also has the added benefit of limiting MPs' exercise of power over local administration. When both belong to the same party, it is far too likely that the MP will be able to exert influence in selecting his preferred candidates for the local level seats. And as recent media reports and the factional clashes confirm, there has been a great deal of agitation regarding party-nominated candidates from grassroots levels. Critics have identified a lack of a chain of command and nepotism in the nomination of candidates as one of the major reasons for the continued presence of rebel candidates.
It is true that many of the party-nominated candidates have left much to be desired. On Wednesday, Prothom Alo reported on how AL-backed candidate Shah Alam of Holdiapalong union parishad in Cox's Bazar's Ukhia upazila said that those who will not vote for him will not be allowed to be buried in the local graveyard. Incidentally, during the 2016 elections, he allegedly said, "the police are government goons, they are boat's people. And that boat belongs to me." Similarly, according to The Daily Star, on Monday night, Shariatpur Sadar upazila Chairman Abul Hashem declared that no one will be allowed to ask for votes for opposing candidates. Such behaviour from the members of the ruling party do far more harm to the party's reputation and organisational strength than the existence of rebel candidates; yet very few actions seem to be taken against them.
The Election Commission's silence in these instances are all the more concerning. So far, Chief Election Commissioner (CEC) KM Nurul Huda has said that the commission is "embarrassed" over UP poll-related violence, and it will work to prevent any further incidents. Will such statements build the people's confidence in the Election Commission's ability to hold free, fair, and peaceful elections? A report in this daily detailed how the commission had issued a show-cause notice to one ruling party candidate in Dhamrai's Sombhag union for threatening independent candidates during a campaign rally. While this is a step in the right direction, there are many more such candidates that the election authorities have failed to deal with.
The Election Commission's fundamental role is to ensure smooth functioning of the democratic process. However, the recent trend of uncontested elections and the growing apathy of voters towards local elections demonstrate a worryingly significant weakening of this process. In the first round of the UP elections, 45 union parishad candidates won uncontested, which means 29 percent were elected without a single vote being cast. Although the election commissioners have spoken about how they cannot comment on the parties' internal politics and the decision of opposition parties to boycott the elections, experts have said that the Election Commission must be held accountable for failing to create a conducive environment for an all-inclusive election.
The nomination of undesirable candidates and the election of uncontested candidates at the local level is a significant deterrent to building a strong local government, which is at the heart of every democracy. In Bangladesh, the union parishad is the first stage of contact between the people and the state (their representatives). It is not only about reaching government services to the grassroots, but about empowering ordinary people by giving them access to local, democratically elected representatives. At this level, it is extremely important for the electorate to vote for the candidates and not the symbols, because the relationships they maintain are both social as well as political.
For example, recent studies on domestic violence have found that women mostly prefer to go to union parishad members or chairmen to seek remedies. However, in a majority of these cases, they face victim-blaming or are sent back to their perpetrators after an unlawful mediation by the local administration. This is only one example, but starting from the fair distribution of government allowances to the representation of local needs to national policymakers, locally elected representatives have a significant role to play in any country.
It is, therefore, extremely disheartening to see our local elections mired with political infighting and factional clashes on the one hand, and voter apathy and uncontested elections on the other. By now, it is clear that local elections backed by national parties have not had a positive impact—if anything, it has taken us further away from the possibilities of decentralisation, weakened the political parties' discipline and organisation, and hampered the potential for impartial elections by creating an increasingly polarised electorate. While dealing with these issues will require more long-term actions, in the immediate elections, the least the Election Commission and the relevant authorities can do is ensure that the polls are fair, credible, and violence-free.
Shuprova Tasneem is a member of the editorial team at The Daily Star. Her Twitter handle is @ShuprovaTasneem