50 years of Bangladesh-Japan ties: A new horizon of 'heart to heart' relationship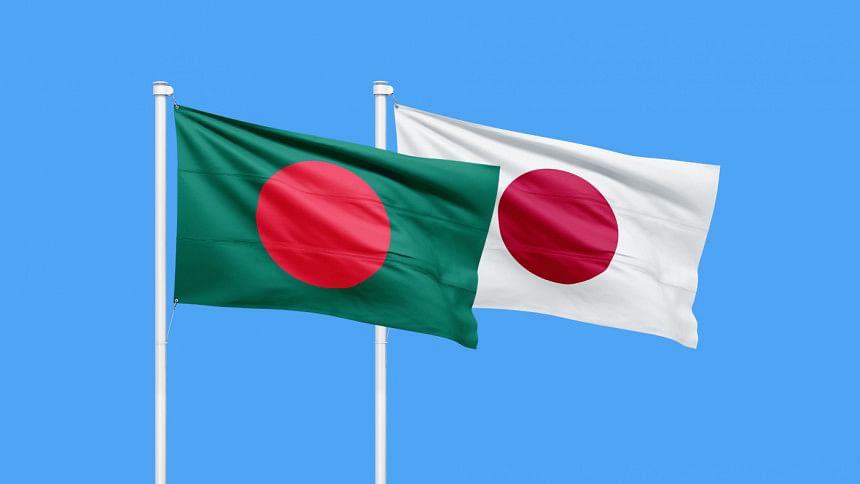 Today marks the 50th anniversary of the establishment of diplomatic relations between Bangladesh and Japan. As the ambassador of Japan to Bangladesh, I am honoured to celebrate this memorable day with the people of Bangladesh.
On February 10, 1972, Japan recognised Bangladesh as a sovereign country soon after its independence. In the letter addressed to Mohammed Abdus Samad Azad, then minister of foreign affairs of Bangladesh, Fukuda Takeo, then minister of foreign affairs of Japan, expressed Japan's wish for the prosperity of Bangladesh and its eagerness to promote friendly relations between the two countries. In his reply, Azad expressed his firm determination to rebuild Bangladesh's economy from the Liberation War through cooperation with Japan. Now, both countries have fulfilled their wish. The friendship and cooperation between Bangladesh and Japan have become more robust than ever, and the economic development of Bangladesh has been remarkable.
The 50 years of diplomatic relationship between Bangladesh and Japan has always been a "heart to heart" relationship. In January 1972, before Japan recognised Bangladesh, Fukuda emphasised the importance of establishing a "heart to heart" relationship with other countries. Then, it was Hayakawa Takashi, a Diet member of Japan, who made efforts to put the spirit into practice.
In March 1972, Hayakawa visited Bangladesh as goodwill envoy of the Government of Japan. While observing a devastated Bangladesh due to the Liberation War, he felt people's enthusiasm and talked thoroughly with the Father of the Nation Bangabandhu Sheikh Mujibur Rahman about future nation-building. The Jamuna Bridge, raised by Bangabandhu in the discussion, was printed on Bangladesh's Tk 100 banknote after its construction, which became a symbol of friendship between Japan and Bangladesh. In October 1973, Bangabandhu visited Japan and received an enthusiastic welcome from the Japanese people amidst the wave of the two countries' flags, which have a brotherly resemblance. Seeing Japan's post-war reconstruction, Bangabandhu thought of the recovery and development of Bangladesh. His successful visit paved the way for the subsequent excellent cooperation.
In 1973, the Japan Overseas Cooperation Volunteers (JOCV) began coming to Bangladesh. JOCV worked together with the local community for the development of Bangladesh, building trust. In 1974, a high-powered business delegation headed by Nagano Shigeo, chairman of the Japan Chamber of Commerce and Industry, visited Bangladesh. The mission visited every corner of the new Bangladesh, including Chattogram, Cox's Bazar, Sundarbans, Cumilla, Kaptai, Sirajganj and Khulna. They found great potential in the country through face-to-face interactions with the people of Bangladesh. From the very beginning of our relationship, Japan demonstrated its willingness to contribute to the development of Bangladesh in various fields, ranging from grassroots support and human resource development to infrastructure-building.
A saying goes, "A friend in need is a friend indeed." As Kishida Fumio, prime minister of Japan, emphasises in his message for the 50th anniversary, Japan has always been a true friend of Bangladesh in difficult times. It has not changed at all, even during the current Covid-19 pandemic. Japan became one of the first countries to start providing vaccines to Bangladesh in July last year. Until today, about 4.5 million doses of the AstraZeneca vaccine and budget support of 75 billion yen have been given to Bangladesh. Japan will continuously cooperate with Bangladesh to overcome this Covid-19 pandemic.
The 50th anniversary of the Japan-Bangladesh diplomatic relationship will elevate the cooperative relationship between the two countries to a new height. JICA's large-scale infrastructure projects will promote the Bay of Bengal Industrial Growth Belt (BIG-B) initiative, launched by Bangladesh Prime Minister Sheikh Hasina and then Japanese Prime Minister Abe Shinzo in 2014. In December this year, Dhaka Mass Rapid Transit (MRT) Line 6 will start its commercial operation, and Bangladesh Special Economic Zone in Araihazar will be ready for international investment. After that, Hazrat Shahjalal International Airport expansion, Matarbari Deep Sea Port and Bangabandhu Railway Bridge will be in line.
The completion of these megaprojects will be a game-changer for Bangladesh. Bangladesh's economic development and prosperity are vital for the stability of the entire Indo-Pacific region, as Bangladesh connects India and Asean. At the celebration ceremony of the 50th anniversary of the independence of Bangladesh and the 100th birth anniversary of Bangabandhu last March, Dhaka played a pivotal role as a centre of regional diplomacy and connectivity under the leadership of Prime Minister Sheikh Hasina. That showed that Bangladesh owns high stature in the region against the backdrop of its rapid economic growth and political stability. Bangladesh will undoubtedly play an even more significant role in promoting regional cooperation and addressing the global agenda.
In this regard, Bangladesh's current efforts for providing shelters and humanitarian assistance to the displaced Rohingyas from Myanmar are worthy of our appreciation. On January 28 this year, the Government of Japan has decided as the first donor to fund a total of USD 2 million to UNHCR and WFP for the humanitarian and protection needs of the Rohingya people on Bhasan Char. Japan will continue working towards early repatriation together with the Government of Bangladesh and the international community.
In 2026, Bangladesh will graduate from the least developed countries (LDC) status and aims to become a developed country in 2041 by achieving "Vision 2041." Japan will continue to stand by Bangladesh in its development journey. Japan will extend practical cooperation to Bangladesh as a partner to realise a "Free and Open Indo-Pacific (FOIP)" vision of peace, stability, and prosperity in the region. Such cooperation includes quality infrastructure, connectivity and maritime safety.
In this milestone year, Japan hopes to improve the business environment. We should build a win-win partnership for expanding trade and investment. Japan will also make the utmost effort to deepen the mutual understanding and exchange of the two peoples. To that end, we look forward to working "hand in hand" with the government and the people of Bangladesh. Let's further develop our "Comprehensive Partnership" to a more strategic one. Japan will not stop moving forward to further widen the horizon of "heart to heart" relationship between our two countries.
Ito Naoki is the ambassador of Japan to Bangladesh.