No respite from air pollution even at home
Lack of awareness and policy initiatives is deeply worrying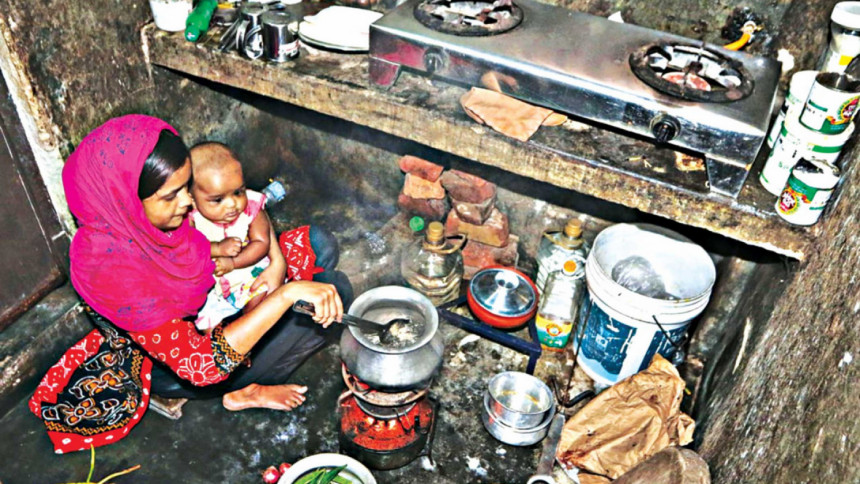 Home is where we feel most protected, away from all the dust, smog, noise, stench and traffic out on the streets. But what if home is not the place of safety we thought it was? For years, experts have been trying to raise the alarm about how indoor air pollution can be as big a threat to our health as outdoor pollution. They now believe the level of indoor air pollutants can even be two to five times higher than that outdoors. Dhaka, as the most air polluted city in the world, is naturally at risk, with a recent study on in-kitchen aerosol exposure identifying its indoor air quality as the worst in the world.
This may not come as a big shock given how frequently we've been topping similar charts, but it should worry us because of the total lack of concern or initiative by the authorities. Citizens, too, seem oblivious of the danger they're in, with little idea of what causes indoor air pollution, how harmful it is, and what can be done to prevent it. In Bangladesh, more than 75 percent of households still reportedly use solid fuels for cooking. Prolonged exposure to this, coupled with lack of ventilation in mostly small kitchens, form a perfect recipe for disaster, especially for women and children who stay indoors for most of the time. Other factors include tobacco consumption, products for household cleaning and maintenance, and central heating or cooling systems.
It is because of long-term exposure to such indoor pollutants that a staggering 113,202 people die annually in Bangladesh, according to an estimate by the WHO. Currently, our average life expectancy is being cut by 2.91 years—1.53 years of which by indoor air pollution. Among notable health complications caused by it are ischemic heart disease, lung cancer, lower respiratory infections, stroke, type 2 diabetes, adverse birth outcomes, etc.
With this level of threat staring us in the eye, not knowing about it or not taking preventive steps is a luxury we can ill-afford. The problem is how we perceive the safety of homes, schools, nurseries and other such indoor settings. Without sufficient awareness of what makes them unsafe from a health perspective, we're basically storing up problems for the future. All indoor settings should, therefore, must have a proper ventilation system. Even using mechanical ventilations like exhaust fans in kitchens can help mitigate harmful cooking emissions. People's awareness and responsible behaviour are vital. 
The government should also do its part starting with a drive to tap into household-level data on indoor air quality to better inform its policies. It should then direct all city corporations and other relevant agencies to undertake proper measures, and run extensive awareness campaigns. Also, since most families living in poor-quality housing may have no option but to make do with damp, under-ventilated environments, the government should come forward to assist them.