Over 90,000 deaths in Bangladesh caused by indoor air pollution in 2019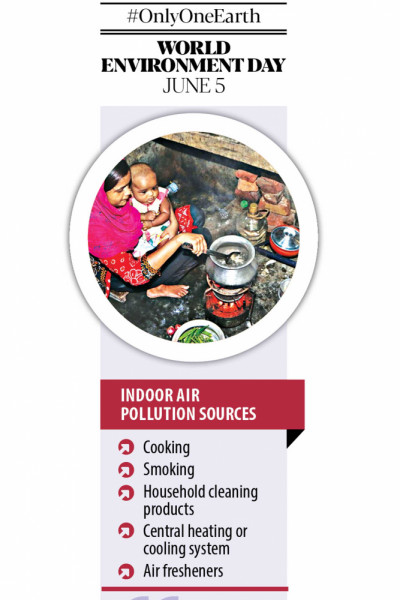 You are vulnerable to toxic air even when you stay home. 
The poor outdoor air quality in Bangladesh often makes global headlines but the state of indoor air largely goes unreported in the absence of government monitoring.
The WHO says 113,202 people die in the country annually just because of indoor air pollution.
Experts observe most of our exposure to air pollution actually happens indoors. According to the Environmental Protection Agency of the US, the level of indoor air pollutants can be two to five times higher than that outdoors.
A recent study on "In-kitchen aerosol exposure in twelve cities across the globe", a collaborative research led by the University of Surrey in the UK, found Dhaka's indoor air quality worst.
The average PM 2.5 concentration in the Bangladesh capital was recorded at 186 micrograms per cubic metre while the Indian city of Chennai ranked second-worst with 16 micrograms per cubic metre of average PM 2.5 concentration.
Particulate matter (PM) 2.5 is a lung-damaging tiny particle. According to WHO, the safe limit of PM 2.5 is 15 micrograms per cubic metre for outdoor air. However, a standard for indoors is yet to be in place.
In New Delhi's air, the level of PM 2.5 indoors has been found "substantially higher" than that recorded by the nearest outdoor government monitors, read a recent BBC report.
"The general perception is that indoor is safe but we found indoor air pollution dangerous for human health as our kitchens in urban settings are very small with a poor ventilation system."
Dhaka frequently competes with the Indian capital for the top position of the world's most air polluted city.
Health experts say indoor air quality has a greater health impact as people stay indoors for most of the time a day.
The life expectancy loss due to air pollution is 2.91 years -- 1.16 years cut short by outdoor air pollution while 1.53 years by indoor air pollution, says another study.
In Bangladesh, more than 75 percent households still use solid fuels for cooking, and indoor air pollution caused by this resulted in more than 94,800 deaths in 2019 alone, it found.
The study, "State of Global Air-2020: How Does Air Pollution Affect Life Expectancy around the World", was conducted by US-based organisations Health Effects Institute and Institute for Health Metrics and Evaluation.
It also said 12 percent of infant deaths in Bangladesh are also linked to exposure to household air pollution.
'EXTREMELY DANGEROUS'
Abdus Salam, a chemistry professor at Dhaka University, also a co-author of the "In-kitchen aerosol exposure" research team, said the study was aimed at getting a picture of indoor air quality.
"Indoor air pollution is a graver health concern than outdoor. The general perception is that indoor is safe but we found indoor air pollution dangerous for human health as our kitchens in urban settings are very small with a poor ventilation system," he told The Daily Star. 
The team found PM 2.5 level reaching up to 1,500 micrograms per cubic metre during the time of cooking and that is "extremely dangerous", he added.
Published in April, the report attributed small kitchens, extensive frying and long cooking duration as reasons for high PM 2.5 concentrations in Dhaka.
The 12 cities where the study was conducted are Dhaka, Chennai, Nanjing, Medellin, Sao Paulo, Cairo, Sulaymaniyah, Addis Ababa, Akure, Blantyre, Dar-es-Salaam and Nairobi.
In each city, five low-income homes were used for one-week continuous air quality monitoring of their kitchens.
According to the EPA, an independent executive agency of the US federal government, the indoor air pollution sources include fuel-burning combustion appliances, tobacco consumption, products for household cleaning and maintenance and central heating or cooling systems.
Some sources, such as building materials, furnishings and products like air fresheners, can release pollutants more or less continuously.
Other sources, related to activities like smoking, cleaning, redecorating or doing hobbies release pollutants intermittently.
Prof Salam suggested setting up a proper ventilation system in the kitchen. He also said mechanical ventilation like an exhaust fan can help mitigate harmful cooking emissions that mostly impact women and children.
Pallavi Pant, a senior scientist at Health Effects Institute in the US, told The Daily Star, "Long-term exposure to household air pollution is associated with an increased risk of ischemic heart disease, lung cancer, chronic obstructive pulmonary disease, lower respiratory infections [such as pneumonia], stroke, type 2 diabetes, and adverse birth outcomes. Household air pollution is also associated with the development of cataracts."
She said exposure to household air pollution is often higher for women and children.
Mohammad Abdul Motalib, deputy director of the Department of Environment, said they cannot say exactly what is the status of the country's indoor air quality as they don't monitor it.
"To make a comment, we need specific data which we don't have," Motalib said.