Time to put flood rescue on a war footing
Coordinated efforts needed to save life and minimise damage in Sylhet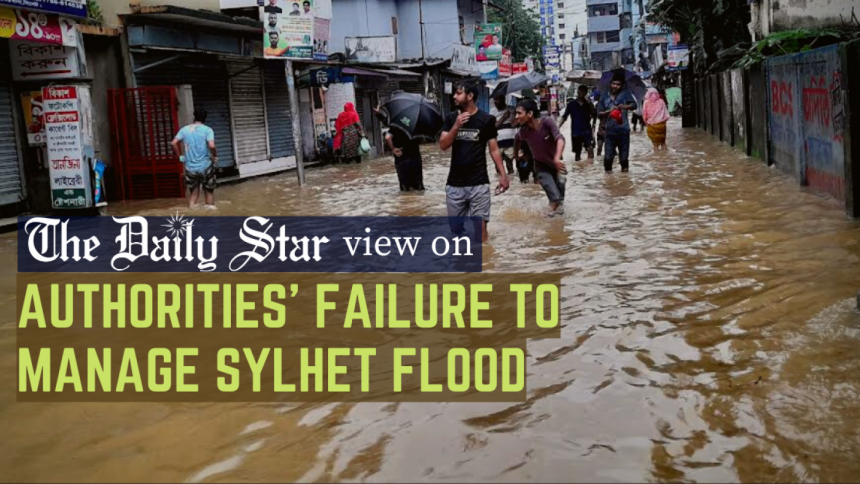 If the humanitarian crisis unfolding in Sylhet division has made one thing clear, it is the poor state of preparedness of a region prone to floods and a country otherwise renowned for handling flooding. True, the scale and intensity of the ongoing flood itself surprised many, with the state minister for disaster management and relief describing it as a once-in-122-years weather event. But that it caught us totally off guard is a sad reflection on our vaunted capabilities. The government's failure to translate satellite warnings into early evacuations on the ground, or to deliver emergency relief in cut-off villages on time, should be seen as what it is: a failure.
As of Saturday night, as much as 72 percent of the entire division, including the hardest-hit Sylhet and Sunamganj districts, went under water following heavy rains in the north-eastern region as well as upstream India's Meghalaya and Assam states. According to an estimate, some 64 upazilas of 10 districts have been affected so far. Communications remain snapped, power supply has been cut off, and medical services suffered disruptions in most areas. People are struggling to get food, drinking water and shelter. Children and elderly people are said to be particularly at risk. And the situation may deteriorate further before it begins to improve, with medium to heavy rainfall predicted to continue until Tuesday or Wednesday, by which time the flood may reach further inland.
But, in all fairness, a disaster of this scale cannot be tackled by the civil administration alone. At the moment, Bangladesh Army, Navy, Coast Guard, firefighters, law enforcers and local council representatives are coordinating with the administration to run rescue operations. The ministry of disaster management and relief has reportedly allocated 400 tonnes of rice, 41,000 packets of dry food and Tk 2.25 crore in cash as relief for the flood-hit people. These figures need to be improved, much improved, if all those who remain stranded or are in flood centres now are to be properly served. What has been particularly encouraging to see is the citizens-led initiatives to reach emergency relief and medicines to those in need.
The priority now is to streamline all such initiatives to make the maximum impact in terms of saving life and minimising damage. For that to happen, the government must take the lead. The next few days will be crucial, even after floodwater begins to recede, because post-flood recovery can be equally daunting and because it may take some time before all online and offline services as well as communications are restored. We urge the government to place its rescue efforts on a war footing considering the emergency, and do everything necessary to take control of the flood situation as soon as possible.