Beware of the danger of driver fatigue on the highways
Authorities' continued lack of concern for road safety is unacceptable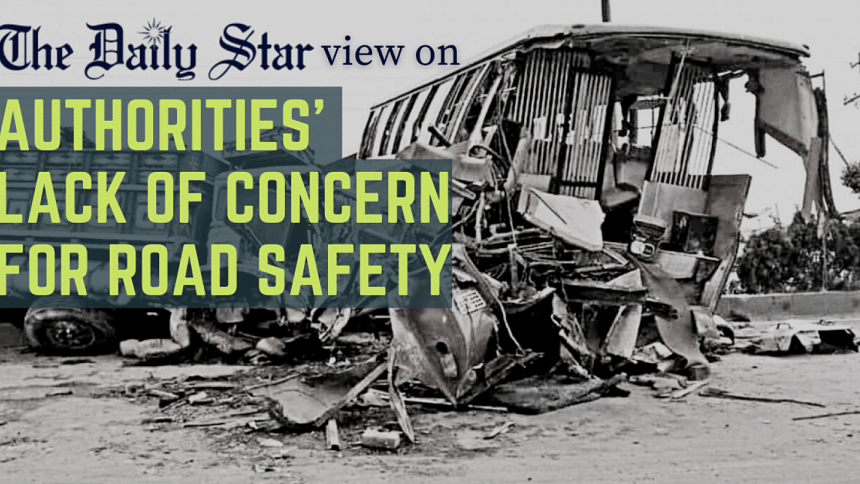 The frightening regularity with which road crashes continue to occur makes us wonder if there is really any authority looking into this, and if the deaths and injuries being reported have any effect on them. In the first five months of this year, at least 2,785 people died in road crashes. This is a huge number by any margin, and would've been enough to shake the foundation of any responsible institution. But not in our case. Otherwise, why would the government still dilly-dally over implementing the Road Transport Act 2018? How many more amendments to this law will need to be made until it is ready to meet its objectives?
Besides proper laws and their execution to fix the transport sector, there is also a need to look at the plight of individuals involved in road crashes. We're talking about drivers and helpers whose employment is seldom formalised, leading to all sorts of problems. The driver who caused the crash in Savar last week, killing four scientific officers of Bangladesh Atomic Energy Commission among others, had allegedly been driving for 38 hours, according to a report. This is a common occurrence in the context of road crashes, as most drivers are paid on the basis of how many trips they are able to make. This naturally causes them to drive recklessly and for inhumanly long hours. Many also do not have licences or updated papers. It is perhaps no wonder that corrupt and influential transport owners would take advantage of this situation to further their profits, in a climate where the government itself looks the other way while a large number of unfit and unregistered vehicles ply the streets.
The authorities' apathy to the dismal road safety situation becomes clearer when you see how the recommendations of experts and professionals are jettisoned. For instance, Bhatiapara Police had suggested that a "central reservation" or median strip be installed at the accident-prone section of the highway in Gopalganj where nine people recently died in a crash. Things could have been different if the authorities just listened to such recommendations.
We, therefore, urge the government to speed up the implementation of the Road Transport Act 2018. More importantly, stricter traffic regulations are required on accident-prone areas of the highways. But it is also essential for transport owners to be held accountable when road crashes occur – not just drivers who are often held hostage by their need to earn an income. We need a complete overhaul of this sector.