A trifecta of disaster
Reckless driving, unfit vehicles and mismanagement behind alarming rise in road accidents, say probe reports, experts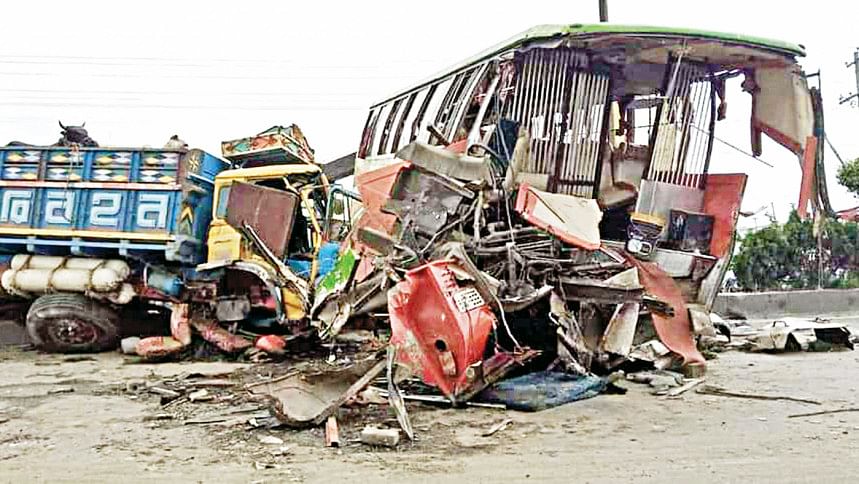 Four scientific officers of Bangladesh Atomic Energy Commission (BAEC) met their untimely demise in Savar. The lives of three couples and three others were snatched away in Gopalganj, and five of a family perished in Rajbari.
All these tragedies were the result of gruesome road accidents.
Like these three incidents, several other major road crashes took place just last month.
Reckless driving, unfit vehicles and small vehicles on highways are the visible reasons behind these incidents, according to probe and media reports.
But, experts said anarchy and mismanagement in the transport sector, which continue unabated, are the root causes.
At least 2,785 people were killed and 3,769 injured in 2,261 crashes in the first five months of this year, according to Road Safety Foundation, which prepared the list using media reports.
The actual number of accidents and deaths are likely to be much higher, as many go unreported.
FATAL ACCIDENTS ALL TOO COMMON
Six people, including four scientific officers of BAEC, one of whom was a pregnant woman, were killed in on Dhaka-Aricha highway in Savar on June 5.
A video of the crash, which went viral on social media, shows multiple collisions involving buses and a truck. At one point in the video, a bus hits the road divider, breaks it and hits the BAEC bus, causing the fatalities.
Later, it was found that the last time the offending bus's fitness certificate was updated was in 2014, and the last time taxes were paid was in 2015. These are supposed to be renewed annually.
The vehicle did not even have a route permit, Sazzadur Rahman, an inspector of Bangladesh Road Transport Authority (BRTA) in Savar, told this newspaper.
In Barishal, 12 people were killed and 25 injured, after a bus of Jamuna Line Transport crashed into a tree in Ujirpur on May 29.
Citing the probe report, prepared by a three-member team, Ziaur Rahman, deputy director (Barishal divisional office) of BRTA, said the bus started operating only a month ago.
"So, the bus had all necessary clearances, but the driver started driving recklessly... The vehicle's speed was apparently around 120 km per hour," Ziaur told this correspondent on June 6.
"The reckless driving continued, even though several passengers asked the driver to slow down," he said.
A case has been filed against the driver, registration of the bus has been suspended, and the probe committee recommended filing a case against the owner too, he added.
In Gopalganj, three couples and three others lost their lives in a crash in Kashiani upazila on May 14.
After the accident, Abu Nayeem Md Mofazzal Haque, officer-in-charge of Bhatiapara Police Station, said they earlier recommended that authorities set up a "central reservation" on this particular section of the highway, as accidents are common there. But to no avail.
'MICRO-SLEEP' OF DRIVERS
Prof Hadiuzzaman, director of Buet's Accident Research Institute, pointed out several reasons behind the deadly crashes in recent times.
He said bus owners hire drivers and staffers on a trip basis, which keeps them uncertain about their income. They try to maximise earnings by working more hours, which ultimately leads to reckless behaviour.
"Due to the long working hours, drivers sometimes go into 'micro-sleep' for one to two seconds, which ultimately causes accidents," he told this correspondent yesterday.
Citing media reports, he said the driver of the offending bus in the Savar crash admitted to dozing off.
He said after several incidents, it came out that many vehicles operate without updated papers. This indicates that operators of those vehicles are dodging or influencing law enforcement agencies.
Currently, BRTA provides fitness clearance by manually checking vehicles, which leaves scope for manipulating the vehicles' condition, he mentioned.
Lack of public transport and the boom of risky three-wheelers and motorbikes are other contributors, he said.
Replying to another question, he said due to the Covid lockdown, operation of public transport remained suspended for months. So, as everything becomes normal, the operation of public transport is increasing and so are accidents.
WHAT AUTHORITIES SAY
Contacted, BRTA Chairman Nur Mohammad Mazumder said they are worried about road accidents and are continuously working on this issue.
"But it is not possible to curb road accidents unless all stakeholders discharge their respective duties," he told The Daily Star yesterday.
Both transport owners and workers ignore safety issues to maximise income, which ultimately causes these incidents, he said.
Authorities will hold a stakeholder meeting on June 13 and a workshop on road safety on June 18, aiming to curb road crashes, he added.