Road transport law goes into effect from today: Quader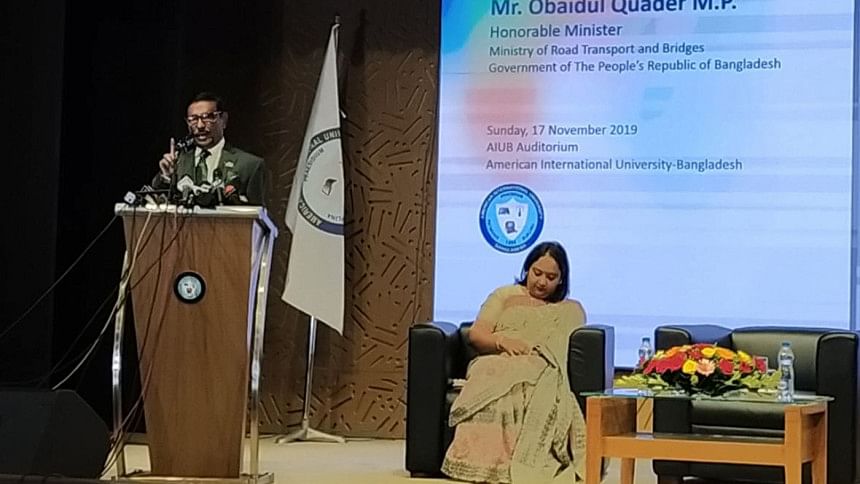 Road Transport and Bridges Minister Obaidul Quader today said the enforcement of the Road Transport Act-2018 began today.
"The new transport law must be enforced… two weeks were given for creating mass awareness on the law. The enforcement of the new transport law began today," he told a discussion in the capital.
American International University-Bangladesh (AIUB) arranged the discussion on 'Road Safety and Road Transport Act-2018' at its auditorium on the campus.
Speaking as the chief guest, Quader said there is no way to look behind as the new transport act will be enforced strictly at any cost, overcoming all challenges.
Penalising a big amount under the new law for violating traffic rules does not mean realising more money, he said, adding once the new transport law is enforced strictly, it would help bring discipline on roads and highways.
Quader, also the Awami League General Secretary, said public awareness is a must to bring discipline on roads, calling upon all to abide by the law to help the government restore discipline in the country's transport sector.
About city bus service, he said there are some seating bus operators in the capital, but they are basically 'cheating' people in the name of seating service.
The road transport minister said road sector is a challenging one although it has seen rapid development in the last decade.
Mentioning that Bangladesh is advancing fast under the dynamic leadership of Prime Minister Sheikh Hasina, he said when the World Bank withdrew its credit from the Padma Multipurpose Bridge Project, the prime minister had announced that Bangladesh would implement the long-cherished project with its own fund.
 Now the Padma Bridge is visible in the country, Quader said, adding "The overall progress of Padma Bridge project has reached 74 per cent now. Duel line of the bridge will be introduced by 2021".
Highlighting the country's development progress, he said Bangladesh has already sent a satellite onto the orbit, while it gained marked progress in all socioeconomic indexes.
Talking to reporters on the sideline of the function, the AL general secretary said when local onions will hit the market, the essential commodity will not be imported.
AIUB trustee board chairman Nadia Anwar and its pro-vice-chancellor Prof Dr Tofazzal Hossain, among others, spoke at the discussion.