It's not an accident if the same mistake is repeated
Depot blast brings out the urgency of safety compliance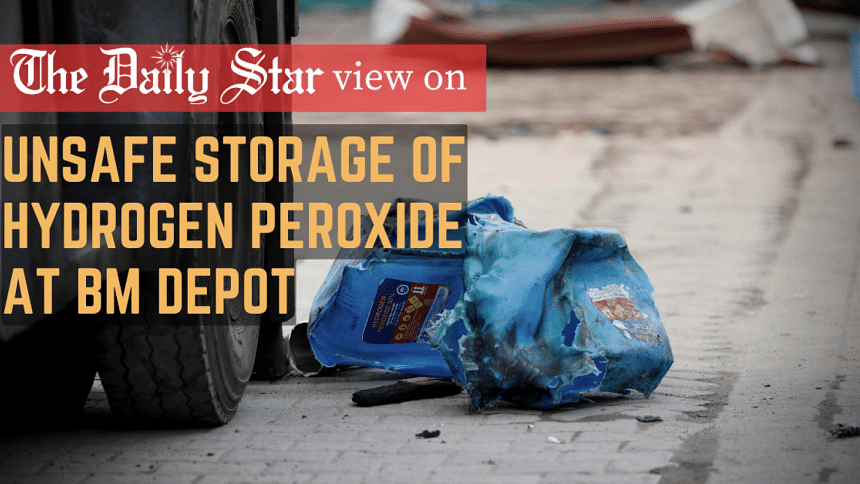 It is said that a mistake, if repeated, is no longer a mistake; it is a choice. Any "accident" caused by the repetition of that mistake is not an accident then; it is premeditated. The same can be said about the BM Inland Container Depot blast that went on to kill at least 46 people. The blast's ferocity was blamed on the storage of hydrogen peroxide – an oxidising agent – inside some of the containers. What makes this more painful is a revelation by The Daily Star that this wasn't the first instance of fire caused by inept chemical handling by Al-Razi Chemical Complex, a subsidiary of the Smart Group of Industries that also co-owns the depot.
According to our report, Al-Razi was warned of the hazards of storing hydrogen peroxide in jerrycans before the Sitakunda blast. It was after an export consignment of the chemical caught fire as the carrier vessel was waiting for port clearance in Cambodia. The ship's floor was fully burnt in that fire, and a subsequent investigation identified unapproved jerrycans in which the chemical was stored as the cause of the fire. The jerrycans, as investigators pointed out, couldn't sustain the pressure of the chemical and exploded.
The Sitakunda blast is but a bigger, scarier and avoidable version of that accident. It owes as much to the unsafe and unauthorised storage of hydrogen peroxide in the depot as to its lack of a proper firefighting system and concealment of information. Had the supervising authorities taken appropriate steps following the Cambodian incident, perhaps we wouldn't have lost so many lives within mere weeks.
But the fallout continues. The Singapore port, which is used to export about half of our foreign-bound products, has reportedly announced a curb on Bangladeshi transhipment of hydrogen peroxide – generally used in the textile industry – through the port. Its export potential will not be the only thing affected by such restrictions and the negative word of mouth. The whole export sector may be affected as well if buyers and port authorities lose confidence in our ability to handle cargoes properly.
All this points to the need for compliance for all involved in the export-import sector. As things stand, our industrial safety record is already appalling, with poor infrastructure and institutional preparedness at odds with international safety standards that buyers have come to expect. We cannot appear to be overselling our competence and not delivering it when needed. Therefore, we urge the government and all responsible stakeholders to learn from the recent debacle and ensure that proper safety protocols are followed at all times so that the failure of one institution doesn't harm all others or, worse still, lead to such catastrophic tragedies.