New era begins
Bangladesh-India transit formally opens at Ashuganj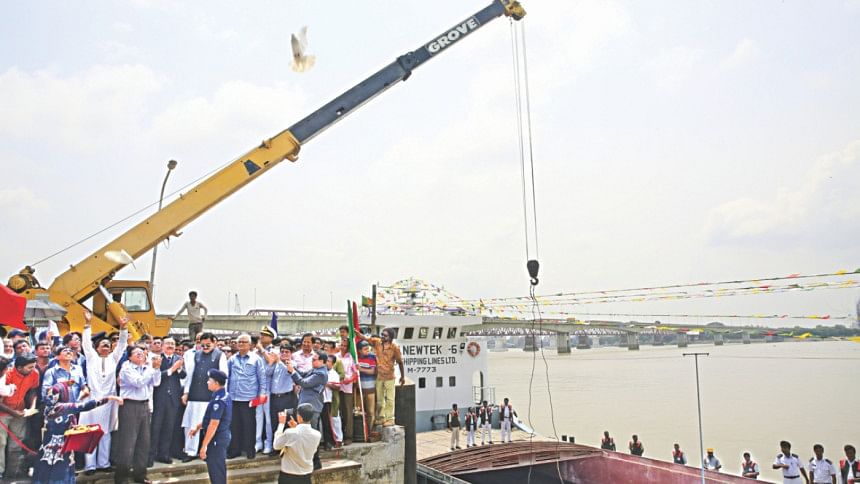 Transhipment of goods inaugurated yesterday by Bangladesh and India promises to boost both the economies by promoting trade and movement of people.
"Today is a very important day in the history of relations between the two countries," said Harsh Vardhan Shringla, Indian high commissioner to Bangladesh, while speaking at the inaugural ceremony.
Both the sides will reap the benefits, said Shipping Minister Shajahan Khan, adding that Bangladeshi ships and trucks would be carrying goods, and jobs would be created for local people.  
On the other side in India's northeastern region, the transhipment facility would ease people's lives, Shringla said. The existing route within India is three times the Kolkata-Ashuganj-Akhaura-Tripura route.  
The Indian high commissioner thanked Dhaka for allowing New Delhi to use Bangladesh's territory to carry goods from India's one part to another.
"This is an extraordinary gesture of friendship of Bangladeshi people to the people of India."   
At the ceremony, representatives of both the countries watched the unloading of goods from the first consignment at Ashuganj port.
Now the goods will be loaded onto Bangladeshi trucks to carry them across the Indo-Bangla border through Akhaura checkpoint. The vehicles will travel another 32 kilometres to deliver the consignment to warehouses in the Indian state of Tripura.  
Initially, Bangladesh will get Tk 192 per tonne as transhipment charge. "But once we put in place scanning machines and automation at the port, the charge will go up to Tk 700-800 per tonne," Shajahan said.
Mashiur Rahman, who has played the key role in negotiations on transhipment arrangement, said people have to understand the geographic reality as Bangladesh is surrounded by India.  
People living in the bordering areas of neighbouring countries depend on each other for their day-to-day activities. "So there should be exchange of goods and movement of people."  
Responding to criticism that Bangladesh would hardly get anything in return for giving transhipment facility to India, Mashiur said India would give Bangladesh an annual fee for using the river route, which would be spent on ensuring navigability of the rivers New Delhi would use.
"Nobody will invest in rivers and roads if goods can't be transported." And so the agreement will bring about a permanent solution. 
Already many government and development partners offered help to improve the transport networks. The government will consider them, Mashiur said. 
A big terminal or jetty would be built at the river port with Indian funds to tackle large volumes of goods under transhipment arrangement, said Ashoke Madhab Roy, acting secretary of the shipping ministry.
A move will be made soon to acquire land for an inland container depot near Ashuganj port. Earlier, efforts for land acquisition went in vain because of opposition from railway, fertilizer and food departments.  
"We will acquire more land for widening the road [from Ashuganj port to Akhaura]," Ashoke said.
Work to maintain eight-metre depth of the 900km Chittagong-Ashuganj river route has already begun to allow uninterrupted plying of ships, he added.   
Mahbub Uddin Ahmed, president of Bangladesh Cargo Vessels Owners Association, said the existing road and river networks should be improved to ensure smooth operations of trucks and ships. 
Steps should also be taken to prevent extortion at the port, said Mizanur Rahman, superintendent of police in Brahmanbaria.  He also expressed concern over the traffic management through the narrow road between Ashuganj port and the highway.  
Local businesses and people will benefit from the development of the infrastructure, said M Mosharraf Hossain, deputy commissioner of Brahmanbaria. 
Mohammad Mozammel Haque, chairman of Bangladesh Inland Water Transport Authority (BIWTA) that leads the implementation of the river protocol on this side, said mostly Bangladeshi ships would be used in the transshipment of Indian goods.
MV Newtek-6 owned by Zed Shipping Lines reached Ashuganj from Kolkata in 12 days. 
Although the unloading of goods of the first consignment began yesterday, it is unlikely that trucks laden with the iron rods will set out for Tripura via Akhaura before Monday because of weekly holidays in Bangladesh -- Friday and Saturday -- and in India, which include Sunday.  
It might take four to five days to deliver the whole consignment to Tripura, said Mahmud-ur Rahman Siddiqui, general manager of Anbis Development Ltd, a Bangladeshi operator that hired MV Newtak-6 to carry goods from Kolkata to Ashuganj.
Rakib Transport, a local transport company, has been given the charge of mobilising trucks.
At present, trucks from Kolkata travel around 1,600km to reach Agartala. The distance through Bangladesh would be only 500km, according to experts and businesspeople.
The cost of transporting goods to Agartala from Kolkata is $67 per tonne and it takes 30 days, said SK Mahfuz Hamid, a member of the Bangladeshi team negotiating an agreement on transhipment with the Indian side. 
The same consignment would take around 10 days to reach Tripura from Kolkata via Ashuganj at a cost of $40 per tonne, according to operators.