Bring children back to school
Govt action needed to make education inclusive and accessible for all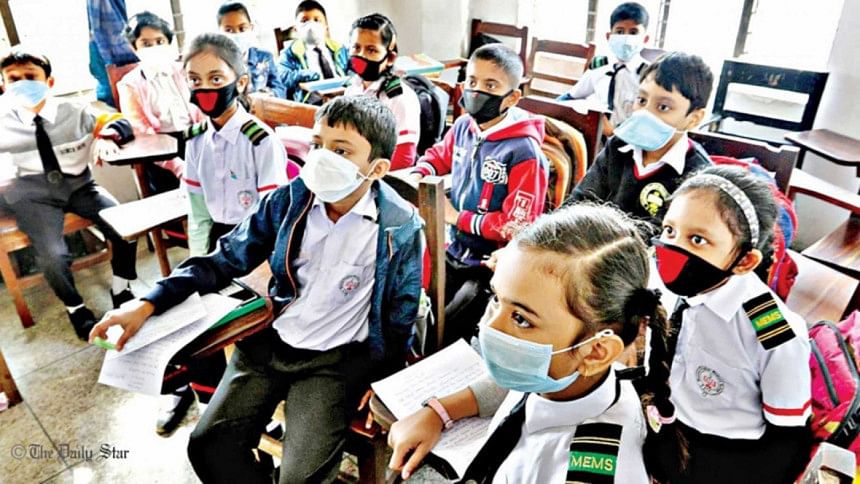 The fact that at least 2.5 million children of school-going age are not receiving formal education is deeply concerning. As this daily has recently reported—citing data presented at a CSO Alliance, CAMPE and Dhaka Ahsania Mission webinar titled "Achievement, challenges and way forward in Bangladesh's Golden Jubilee" —the dropout rate for primary education is currently 17.9 percent, but even higher for secondary education. It was also found that the student-teacher ratio remains too high with there being only one teacher for every 46 students. This, coupled with the dropouts and learning loss caused by Covid-19 pandemic-induced school closures of the past nearly two years, certainly casts a shadow on the future of school education in Bangladesh.
Amongst those excluded from education, most belong to vulnerable groups either due to their financial conditions or because of various disabilities. It is unfortunate that our education sector does not cater well enough to children with disabilities, with a uniform education system for those with disabilities still nowhere in sight. What is more disappointing is that teachers, headteachers and managing committees of many schools are apparently unwilling to allow such disadvantaged students to fully integrate into schools. It was also mentioned during the webinar how only 26 percent of teachers had acquired leadership training while very few were proficient in braille. As a country that is in the process of stepping into the category of being "developing", our educators need to be actively working towards accommodating students from all backgrounds instead of doing the opposite.
In order for progress to take place, it is crucial that such issues in our education sector are remedied on a priority basis. We would urge the government to work on recruiting and training teachers in a manner which would help make education completely accessible for all primary and secondary school-aged students. As experts have suggested, there also needs to be a comprehensive set of national education targets, the progress towards which would be monitored regularly by teachers, NGOs and government bodies. Specialised education materials should be produced for children with disabilities. It should also be ensured that, not only urban students, but children in remote areas and those from underprivileged families are also being taught with up-to-date educational techniques. The government must buckle up now to bring back to school those students who have dropped out due to pandemic-related reasons, and to also make sure the enrolment rate does not decline further. Otherwise, the nation may be set back by years' worth of educational and socioeconomic progress.