Address migrant workers' wage theft claims
Authorities must ensure migrant workers receive their due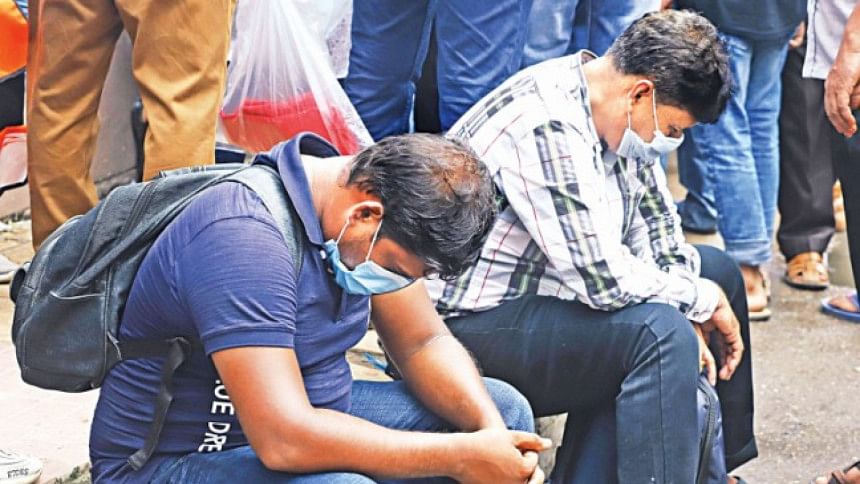 We express our strong support for the demand put forward by experts at a recent webinar, who urged the government to address migrant workers' wage theft claims at regional forums during bilateral meetings with host countries, and via international and UN agencies working on migration. According to the findings of a survey conducted by the Bangladesh Civil Society for Migrants (BCSM), 1,160 Bangladeshi migrant workers who returned home from six Gulf countries after February 2020 had lost, on an average, about Tk 1.8 lakh in wages and other entitlements amid the pandemic. Of the returnees, 67.7 percent said they did not receive due wages regularly after February 2020.
Ever since the pandemic first swept across the globe, we witnessed how it disproportionately affected migrant workers, especially from countries like Bangladesh, Nepal, Pakistan, etc. The mistreatment of migrant workers in host countries ranged from mass unemployment and hunger to imprisonment in quarantine facilities lacking basic amenities and forced deportation. It is worth noting that the same Gulf countries that expelled migrant workers during the pandemic are now denying them entry without Covid-19 vaccines, and have washed their hands of any responsibility towards them, despite the fact that many major sectors in their economies are dependent on them. In this context, it is almost criminal that after being denied some of the basic rights that every worker is entitled to, they are also being denied their due wages and entitlements.
The injustice of it all becomes more obvious when considering the current situation of returnee migrant workers. According to a survey conducted by Brac, UN Women Bangladesh and the Center on International Cooperation at New York University, many of these workers have amassed an average of Tk 76,000, and a maximum of Tk 7 lakh, in migration loans. How will they manage to survive if, on top of that, their employers take away an average of Tk 1.8 lakh in wages from them? Let us not forget that this wage theft is not just detrimental to migrant workers and their dependants, but also to the country as a whole, since valuable foreign currency that would have been part of our remittances is being withheld.
Experts have suggested that wage theft claims can be addressed at different platforms such as the Colombo Process or Abu Dhabi Dialogue, or they can be placed before host countries through a "commission" or UN organisations such as the ILO. There have also been demands of a continued campaign against wage theft in collaboration with regional platforms such as the MFA, as well as the involvement of concerned foreign missions in Bangladesh in creating more dialogue on the issue. We request the government to take these recommendations on board and collaborate with civil society and rights groups to urgently address the issue. In the long run, we must continue to exert pressure on all actors involved in order to dismantle the unjust global labour markets that allow foreign employers to take advantage of migrant workers, especially those employed in low-wage, precarious jobs.