Muslim woman's cheeky selfie with anti-Islam group goes viral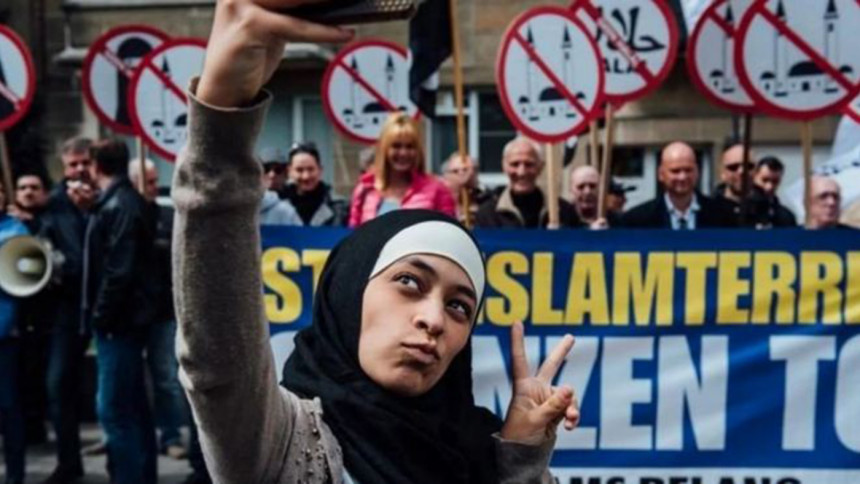 When hijab-wearing  Zakia Belkhiri saw members of a far-right anti-Islam group protesting outside an Islamic lifestyle event she was attending in Belgium she responded like a true Millennial.
The 22-year-old took out her phone and snapped a series of selfies with members of Vlaams Belang - a far-right nationalist group who some have described as "openly anti-Muslim".
The photo above of Belkhiri posing against the backdrop of the demonstrators - some of whom were clearly impressed by her cheek - has since been widely shared on social media.
The actual selfies that  Belkhiri took have received less attention. Here's one: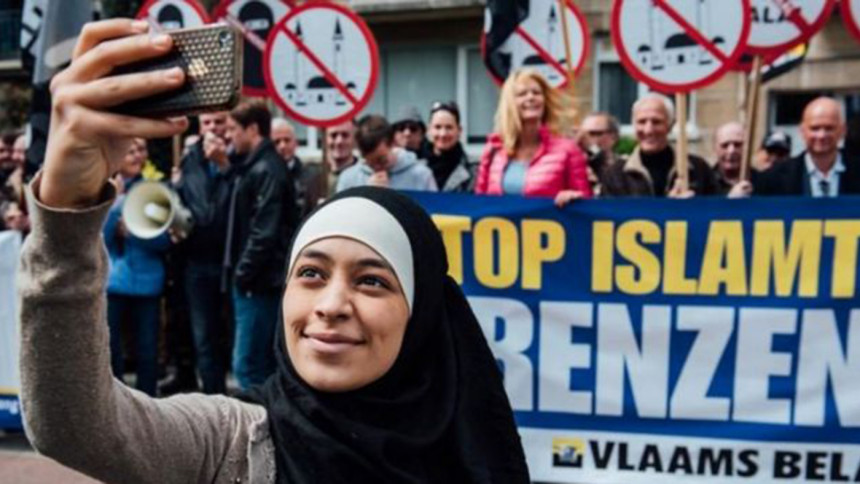 Belkhiri told BBC Trending that she took the photos "to show that things can be different. And that we can live together, not next to each other but with each other."
It appears from photos of the demonstration that some protesters were amused by her actions, even though they held signs and placards which read "no headscarves", "no mosques" and "stop Islam".
Some reports claim they were joined by Voorpost - a nationalist militant group who then distributed slice of pork sausages to visitors of the expo. Filip Dewinter is one of the leading members of Vlaams Belang. He said: "This Islam fair is an apartheid fair, where they preach segregation instead of integration."
The target of the protest was the third annual expo held in Antwerp last weekend. The expo is a lifestyle event for Muslims, showcasing stalls, performances, talks, workshops and a halal food market is open to all members of the public.
Although around 15% of the Belgian population follows the Islamic faith, the recent bombings at Brussels airport resulted in reports that there was increased support for far-right groups. Vlaams Belang's gained 10,000 new likes, a 25 percent growth overnight after the attacks in Belgium.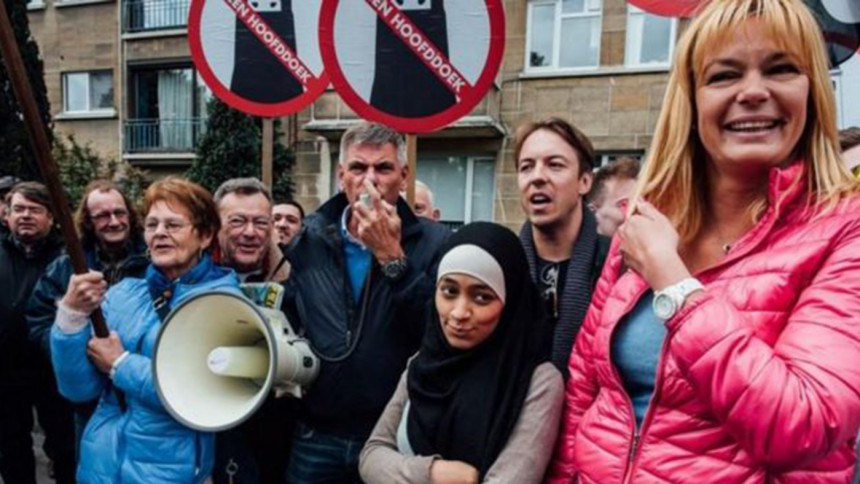 BBC Trending spoke to freelance photographer Jurgen Augusteyns who was there to cover the event and took the photo of  Belkhiri snapping her selfie. "A journalist friend of mine told me to go, you never know how things like this will develop". He described how he saw Vlaams Belang at the entrance of the Muslim Expo last year. He said, "This Saturday there were about 40 protesters. To be honest, it was all a bit dull but when Zakia started to take the selfies it suddenly became much more interesting."
Belkhiri told BBC Trending that she initially shied away from media attention because she "didn't want to look like a girl who seeks attention."
She also added that she doesn't think a selfie can be a form of protest; "this wasn't a protest at all, this was just to share joy and peace."
The relatively friendly response to Belkhiri's selfie diplomacy are in stark contrast to another recent confrontation which produced an image that was striking for different reasons. Two weeks ago the photo of a black woman raising a clenched fist salute in defiance of a march by neo-Nazis in Sweden was also widely shared on social media.