Making the SDGs smarter
Over the next 15 years, the Sustainable Development Goals will influence more than USD 2.5 trillion of money in development aid and trillions more meant to help reduce poverty, hunger and disease, and improve education and the environment. Bangladesh, along with all other nations, now has to decide where to spend scarce resources to do the most good. And clearly not all of the many, many UN targets are equally good, smart or effective.
Since its inception, the UN has had a lot of well-meaning targets, goals and declarations that have made very little impact. At the turn of this century, something remarkable happened when the UN hosted the Millennium Summit, where the largest gathering of world leaders in history agreed to a number of very specific promises, which ended up as the Millennium Development Goals, or the MDGs.
These covered the key areas of poverty, education, gender equality, child mortality, maternal health, disease, the environment, and global partnership. 
The MDGs were not perfect, but they were simple, catchy and acceptable to all, with a clear deadline for 2015. International and national development efforts coalesced around the key goals, such as "halve the proportion of people in poverty from 1990 to 2015". 
Bangladesh made excellent, swift progress on many MDGs. It focused on poverty alleviation, food security, infant death and maternal mortality. Poverty was reduced from 56.7 percent in 1991-92 to 24.8 percent in 2015, and the under-five mortality rate was 151 per 1000 live births in 1990 which came down to 41 per 1000 live births in 2013. The infant mortality rate was 94 per 1000 live births in 1990, which was reduced to 32 per 1000 live births in 2013.
A new study from the Brookings Institution finds that at least 21 million extra lives were saved due to accelerated progress because of the MDGs. The research finds that "especially on matters of life and death, 2015 outcomes were not on track to happen anyhow". Some shifts were dramatic, and Africa was responsible for many of the greatest incremental gains.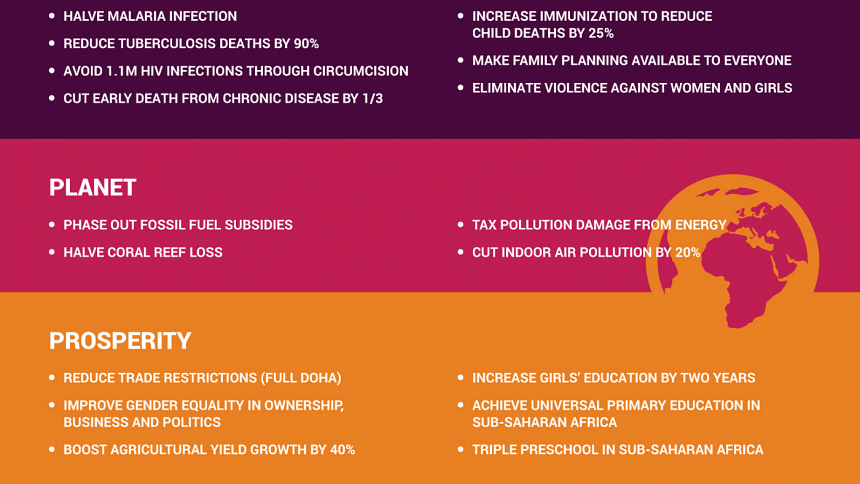 The MDGs fired the global imagination: With just a small number of simple targets, world leaders promised to help the poorest. Although not all goals were met, they helped push us to a much, much better place.
Where the MDGs succeeded, it was because they provided donors and governments with clarity over objectives. 
Sadly, the UN decided to reinvent the wheel when it embarked on its process to replace the MDGs with what would become the Sustainable Development Goals.
Just one target alone – providing universal primary education – would require at least USD 17 billion of additional spending per year. Another – eradicating poverty – would require annual investments in infrastructure of USD 5-7 trillion globally according to a UN General Assembly intergovernmental committee.
The SDG process tried to be all things to all people.  Aiming for inclusivity, the UN talked to everyone. However admirable that approach may be, it meant that the goals quickly expanded in scope. Indeed, at one early stage, almost 1400 new development targets were on the table, having been suggested by 120 different organisations.
The Copenhagen Consensus Center set out to improve the outcome and implementation of the SDGs, by commissioning sorely-needed economic evidence on the benefits and costs of the proposed solutions.
In total, peer-reviewed analyses were produced by 82 of the world's top economists and 44 sector experts. A Nobel laureate panel of economists prioritised many proposed targets in terms of their value-for-money.
Ultimately, the 8 goals and 21 targets of the Millennium Development Goals were replaced in September 2015 with an impossibly long list of 17 goals and 169 targets. This is far too many. Reading the final 15,000 word agenda, one might conclude the UN simply threw everything they had heard into the document.
The chief problem with this laundry list of targets is that trying to prioritise 169 things is very similar to prioritising nothing at all. Promising everything to everyone means that the targets give no help or direction for Bangladesh to focus its spending or attention.
The OECD has estimated that meeting all 169 specific development targets would cost USD 3.3-4.5 trillion annually – about the same as the United States' 2016 federal budget, and much, muchmore than the nearly USD 132 billion spent globally on overseas development aid last year.
Just one target alone – providing universal primary education – would require at least USD 17 billion of additional spending per year. Another – eradicating poverty – would require annual investments in infrastructure of USD 5-7 trillion globally according to a UN General Assembly intergovernmental committee. 
In truth, estimates vary because nobody is quite sure how much the SDGs will cost. But what is clear is that few if any countries will be able to afford to do everything. Bangladesh will have to choose carefully among the many beguiling targets to find the ones that do the most good. 
This is no different from most donor countries where few are on track to increase development funding anytime soon. In the United Kingdom, voters want to renege on a previous foreign-aid commitment – amounting to 0.7 percent of GDP – by a margin of two to one. As a candidate, President Donald Trump said that the USA should "stop sending foreign aid to countries that hate us." And in Australia, the government has already slashed its aid budget to an all-time low, measured against gross national income.
If we can't count on full funding for every SDG from either nations or development budgets, then we should spend what we have wisely. 
A big problem area in the SDGs is with the targets that aim for absolute goals – the eradication of extreme poverty for example, or universal access to education, or the end to hunger. These are all noble aspirations, but unfortunately the evidence suggests these will all be practically impossible to reach in just 15 years, by 2030. In general, it pays to be wary of unrealistic, absolute aspirations and instead focus on achievable goals. 
Now that the SDGs are being implemented, the Copenhagen Consensus research can be very helpful to the UN and governments like Bangladesh to achieve the most good possible. 
It shows us clearly that focusing on some targets would 

achieve a huge deal, and others very little. Spreading money and energy thinly among them reduces the overall good that we do. 
When faced with too many choices, decision-makers should first focus on those targets that will do the most good.
Indeed, as the eminent panel of Nobel laureate economists found after studying the Copenhagen Consensus research, the world could achieve four-times more good if it sharpened the 169 targets to a list of just 19 "phenomenal" investments. 
Achieving four-times as much with every dollar or taka would make a world of difference. 
There is a compelling moral case for us all to focus first on the areas where the most good can be achieved. 
Several of these 19 phenomenal targets help people directly through health benefits. Tuberculosis (TB) is a 'hidden' disease. Over two billion people carry the bacterium that causes it, about 10 percent of those people will develop TB at some point, and about 1.5 million people each year die from TB. But treatment is inexpensive and, in most cases, highly effective. Spending a dollar on diagnosis and treatment is a low-cost way to give many more years of productive life to many people. Ebola may get the headlines, but TB is a much bigger problem.
Reducing childhood malnutrition is another excellent target. A good diet allows children's brains and muscles to develop better, producing life-long benefits. Well-nourished children stay in school longer, learn more and end up being much more productive members of society. The available evidence suggests that providing better nutrition for 68 million children each year would produce over USD 40 in long-term social benefits for every dollar spent.
There are excellent targets involving the planet as well. Governments around the world still subsidise the use of fossil fuels to the tune of over USD 500 billion each year. Cutting these subsidies would reduce pollution and free up resources for investments in health, education and infrastructure.
Protecting coral reefs turns out to be a surprisingly efficient target as well. There are benefits in terms of biodiversity, but healthy reefs also produce more tangible and immediate benefits. They increase fish stocks – benefitting both fishermen and consumers and attract visitors who explore their beauties – benefitting everyone working in the tourist industry, as well as the tourists themselves.
Perhaps the most important, over-arching problem facing the world is poverty, which still afflicts billions of people. Poverty is the ultimate source of many other problems. The immediate result is high rates of infant mortality, as well as poor cognitive skills and reduced 
productive capacity among surviving children. The ultimate result is a cycle of poverty.
Better nutrition and better schools will help alleviate poverty, but there is another target that promises to be even more effective: lowering barriers to international trade. The historical evidence on this point is compelling. In China, South Korea, India, Chile and many other countries, reducing trade restrictions has lifted incomes and reduced poverty, and triggered decades of rapid income growth.
Poverty reduction was the first item in UN's list of Millennium Development Goals, and the numerical target was achieved. Why? Income growth in China was a big part of the story. And how did the Chinese achieve that remarkable feat? Most evidence suggests that international trade was a key ingredient. Trade produces immediate benefits by opening up markets, but it also facilitates the flow of ideas and technologies, producing even greater benefits over a longer horizon. A successful Doha free trade agreement could lift 160 million people out of extreme poverty.
This list of phenomenal targets will not solve all the world's problems, but neither can any list under realistic budgets. The list can concretely help the UN, and nations like Bangladesh, to make choices like a savvy shopper with limited funds. 
Choosing good targets will vastly increase the benefits to people around the world, as well as generations to come. Governments should forgo the instant gratification of promising everything to everyone, and instead focus on choosing smart development goals.
The same approach can also be applied at a national level, as was done for Bangladesh over the last year. An Eminent Panel of Bangladesh development experts and a Nobel laureate economist considered an entire volume of new research commissioned by the Copenhagen Consensus Center – well over 1,000 pages of new evidence on the costs and benefits of Bangladeshi policy options.
As was shared with the readers of The Daily Star, the Eminent Panel highlighted three top priorities for Bangladesh. 
The first of these, similar to the SDG research, was to step up the fight against Tuberculosis. TB kills 80,000 Bangladeshis each year. Halting this death toll would stop nearly one in every eleven Bangladeshi deaths. A cost-effective TB treatment strategy using community health clinics would cost just Tk 7,850 per patient, and treating one person can save multiple lives. In total, each taka will achieve 21 taka of good.  
Bangladesh should also focus on digital solutions, the Eminent Panel found. Making procurement more efficient would avoid delays and cost overruns and increase efficiency. Each taka spent on digital procurement will achieve 663 taka of good. In addition, creating electronic land records would provide an impressive 619 taka of benefits per taka spent. 
And the other top policy endorsed for Bangladesh is infant nutrition. Bangladesh has had great success fighting hunger, but there is more work to do. Stunting affects around 6 million Bangladeshi children under the age of five, decreasing cognitive development, and leading to worse health outcomes, school performance, and productivity. Programmes to fight malnutrition by delivering nutrients and micronutrients to young children and pregnant mothers would see stunting fall from 36 percent to an estimated 29 percent—averting stunting in roughly 450,000 children. 
Focusing on the costs and benefits can help at a national level for Bangladesh, but it can also help globally, especially for the SDGs. Poverty, hunger, disease, education and the environment are all far too important for us to simply say that good intentions are good enough. We should focus on achieving the most that we can with every dollar or taka that we spend.
The writer is director of the Copenhagen Consensus Center, author of The Skeptical Environmentalist, Cool It, and The Nobel Laureates' Guide to the Smartest Targets for the World 2016-2030, and a visiting professor at Copenhagen Business School.