Nikkei hits 20,000 after 15 years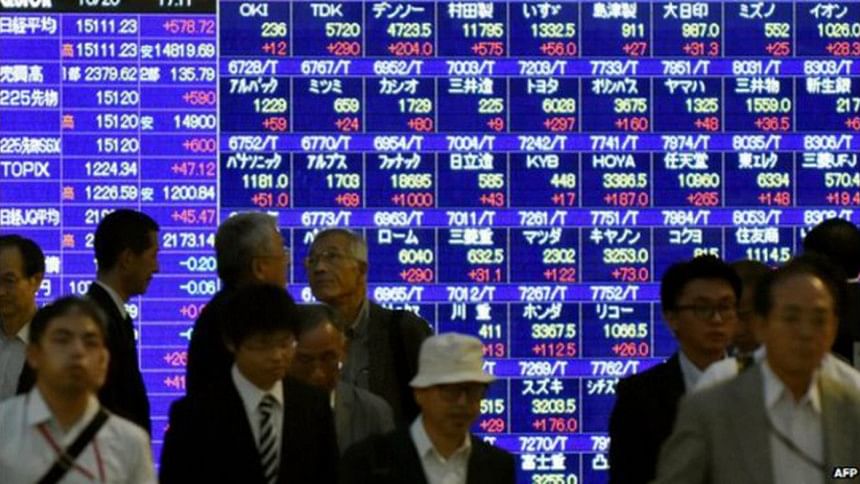 Investors were focused on Japan as the country's benchmark Nikkei 225 index traded above 20,000 for the first time since April 2000, reports BBC.
In Tokyo, the index was down 0.1% to 19,909.32 after hitting 20,004.99 in early trade.
Investors hoped for larger shareholder returns and a recovery in domestic consumption.
Shares were also boosted by Wall Street ending higher after US energy stocks performed strongly.
The Nikkei is up nearly 15% this year.
China inflation unchanged
Chinese shares were higher with inflation data coming in slightly above expectations.
Consumer inflation stayed at 1.4% in March compared to the same month last year, but that was above market expectations of 1.3%.
China's producer price index remained in negative territory, down 4.6%, with forecasts for a 4.8% annual fall.
The Hang Seng index continued its week-long rally, up 1.1% to 27,252.32, while the Shanghai Composite traded flat at 3,956.61.
Meanwhile, the chief executive of the Hong Kong Stock Exchange said they would "substantially increase" the quotas for the stock connect program between Hong Kong and Shanghai.
His comments come after Chinese investors used up the entire 10.5bn yuan ($1.7bn; £1.1bn) daily quota for buying
Hong Kong stocks through the trading link for the first time on Wednesday, sending turnover to a record.
Australian shares were higher, with the S&P/ASX 200 index up 0.2% to 5,945.2.
Shares of mining giant BHP Billiton weighed on the benchmark, down 0.8% on lower iron ore prices.
In South Korea, the Kospi was up 0.9% to 2,078.21.