Panic over coronavirus led to negligence, death: family of patient alleges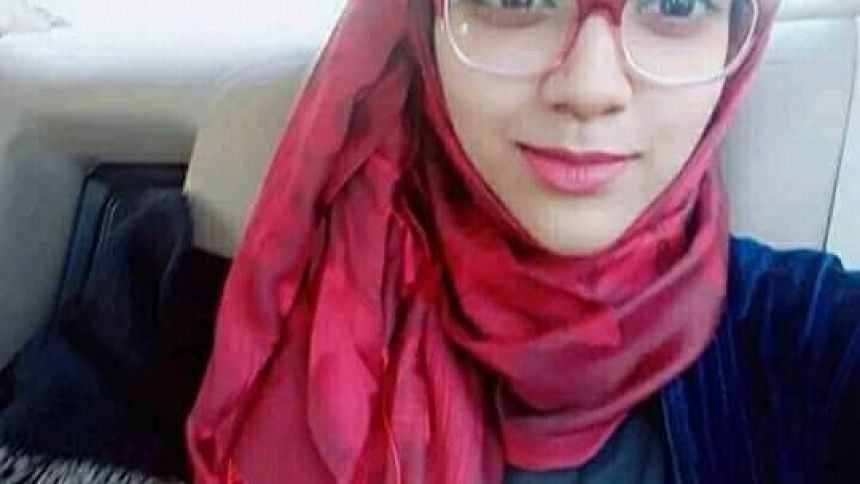 A young Bangladeshi returnee from Canada, whose final hours were allegedly a blur of negligence of Dhaka Medical College Hospital (DMCH) doctors, died due to gastrointestinal complications on Saturday noon.
The doctors' inattention stemmed from their suspicion that the patient had coronavirus, claimed members of her family.
As DMCH is not equipped to test patients for coronavirus and the medical staff did not have protective suits, they allegedly refused to approach the patient until it was too late.
Nazma Amin, 24, was an undergraduate student studying in the business school of the University of Regina in Canada's Saskatchewan.
She flew back to Dhaka last Monday and started complaining of stomach aches.
Her family members said she was not able to eat at all -- every time she tried to eat, she was either nauseated or had terrible stomach aches.
On Friday night, her family took her to a hospital near their home in Mohammadpur.
"The hospital authorities said she needed to be kept in an intensive care unit (ICU) and must be transferred immediately. This was very late into the night," said Nazma's father Amin Ullah, who added that they could not find a hospital with an ICU bed to spare.
They then took her to DMCH.
She was admitted to a ward and given intravenous saline, oxygen support and medication, Amin Ullah said, adding, "Her pain had subsided a little as well."
But then the nurses' shift changed at 8:00am and a new batch of nurses came in.
Around 11:30am, one of the nurses asked Amin what happened to Nazma.
While describing the symptoms, Amin mentioned that the girl recently flew in from Canada, he said.
This apparently simple information turned the situation deadly for Nazma.
At the mention of Canada, the nurses began screaming, "She's from Canada! She also has a fever!" They ran to the doctors to announce that the girl has coronavirus, Amin Ullah said.
The whole ward fell into chaos and all the doctors and nurses left it or slipped into their offices, refusing to come near the girl.
The Daily Star correspondent visited the ward where the girl breathed her last and spoke to some of the staff members there.
"When the staff heard that a coronavirus patient entered the ward, everyone panicked. I was there too. I felt like my world has come to an end. What if the girl has infected me and I infect my family? So, I ran out of the ward," a ward boy said.
A nurse said, "Look, everyone fears for their lives. Even nurses."
Dr ABM Jamal, professor at the department of surgery, said, "When it was first revealed that the girl was a Canada-returnee, the ward fell into panic," He, however, added that the situation normalised soon after.
"The staffers did not have protective gear and were concerned that they may have been exposed to a coronavirus patient for hours," said Director of DMCH Brig Gen AKM Nasir Uddin. They also did not have any coronavirus testing kits and could not even confirm whether she had the virus or not.
"We had to call representatives from the Institute of Epidemiology Disease Control and Research to come in and check if she had coronavirus or not," he said. He added that they dealt with the situation with utmost urgency.
She tested negative for coronavirus, but by then over an hour had gone by with no monitoring and the patient's condition had deteriorated.
Around 12:30pm, a doctor stepped forward, put on gloves, wore a mask, and approached the patient. He had a syringe containing an antibiotic, hospital sources said.
It was still too late. Soon after the antibiotic was administered, Nazma died.
Dr ABM Jamal said, "We are suspecting that she had intestinal perforation, meaning there was a rupture somewhere in her intestine.
"When she was admitted, she lost a lot of body fluid and had hypovolemic shock."